In June 2021, just after the Covid travel restrictions were loosened, we decided to spend a two and half weeks holiday in Portugal. The program should be quite diverse with surfing, hiking, cities, culture and meeting friends. In the following article I try to give an overview how we did it, what worked and so on. The total costs were a bit more than 3000€ for two (flight one person around 300€ with luggage, car+tolls 1350€, fuel 200€, 250€ on accomondation (majority we stayed with the van for free) rest on food, entrance fees and other costs).
First question is how to fly in: Faro, Lisbon, Porto are the biggest airports. We flew to Faro and returned from Lisbon. In the end mainly depending on price and times, if you want to visit the whole country it doesn't matter much where to start, just having different airports might be convenient as it saves time (on the other hand complicates a car rental).
Car/Van/Caravan: if you've your own the question is obsolete what to get. We rented a small Renault Kangoo which served us great. Since March 2021 wild camping is prohibited in Portugal and it makes it a bit more difficult. Financially similar or maybe a bit cheaper would have been just renting a small car and stay in normal accommodation every evening. Our car was around 80€ per night (no toilet in it), bigger/more equipped vans (indiecamper, yescape) start from 120€. Small rental car you can get sometimes from 15 per day, accommodation between 40-60 for two for decent places. A van is a nice experience and thanks to it we saw places we would not have gone to otherwise, so definitely cool to do, just don't do it for saving money and wildcamping definitely got more strict/illegal in Portugal. But that are many other nice options, some for free, some for money and just from our list you can make still a nice trip and I bet there are many unknown nice, hidden places to stay overnight, which just need to be found (and then please don't leave any trash or neither poop behind, it's disgusting and smelly!). Our rental company was Oceancamper in Faro and can only recommend it.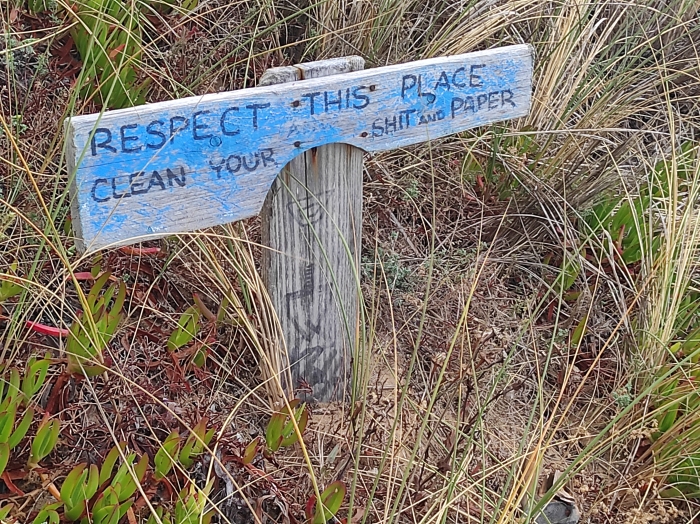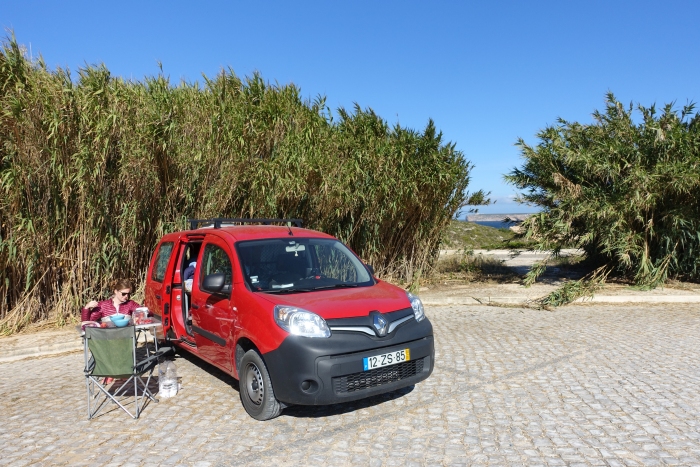 Several times we slept at less nice parking lots but just chose for breakfast something nice, in the back you see the Cape Sao Vicente.
Where to stay overnight with a Van: as mentioned wild camping is forbidden, doesn't mean that it's impossible. So these are the main options (the ones we actually tried are in the list below):
"Normal" camping sites: there are many of them, can be quite price (more than 20€ for two).
Park4night app: many of the mentioned places where we stayed at we found via that app (easycamp farms are not shown there), plus in addition there are some farms which you can find via the app (or homepage) where you can stay sometimes for free, sometimes for a small fee. Also no now illegal spots shown with a tag that you might pay fine there.
Farms: easycamp is one homepage which is actually a great idea but we did not try it in the end. Problem with the van is that we needed a toilet and could not stay at farms without because peeing at someone's house seemed more rude than just in a dark park. You pay between 10 and 25€ per night, but get in exchange some of there products (often wine) and can also use sometimes toilets,... Just need to check every on the way indivdually about these things and also when check-in is as it's often limited to office hours.
Motorhomes (green symbol on Park4night): for free usually, no infrastructure for vans, just places to empty dirty water for caravans.
Parking lots of Lidl: some Lidl had big signs with campers welcome and even toilet for free, so that can come also quite handy. Not all have it though, don't know about the general policy.
Homecamper: cheap stays at private people, have not used it.
To summarize: we just checked in park4night and easycamp (unfortunately it never fitted, too far away, no toilets, bad opening hours,...) and planned our route a bit according to it. Like this we saw places where we wouldn't stop otherwise (Viseu as a positive surprise), but as well spend nights on rather dusty parking lots. The ones we saw and checked are all mentioned below.
Following our schedule of the Portugal round trip. The perimeters were that we got the car in Faro and needed to return it there, on day 4 we met a friend in Badajoz/Spain and flight back was from Lisbon, therefore we visited it afterwards without a car.
Camping Sites
source: mapy.cz; editable link
Parking lot Faro (start point on map): bit outside the city but close to a park and as well to the airport. Calm, clean but no infrastructure. Maps location.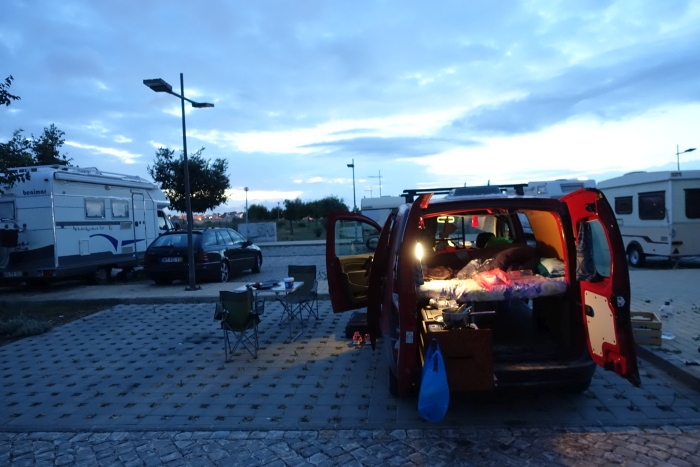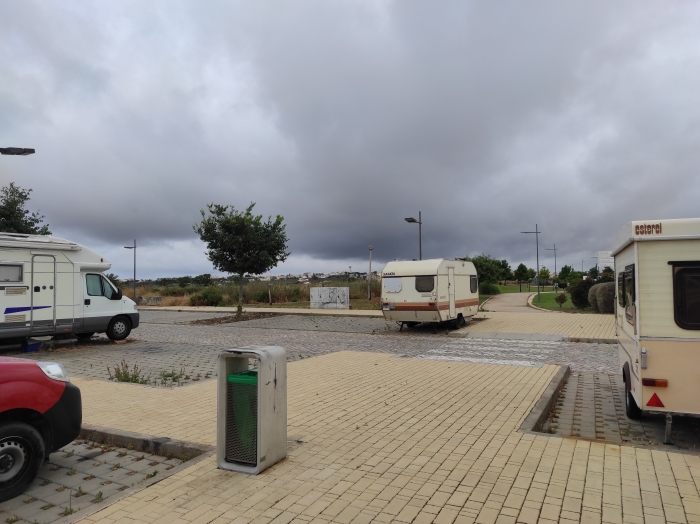 Lidl Lagos (2): this is where we spent the night. It was a bit under construction and we got woken up in the morning by workers but there was a small hut outside with toilets and sinks (unsure if it will stay or was just for the construction site, but was definitely awesome to have). Big sign welcoming campers and walking distance to the center. Location.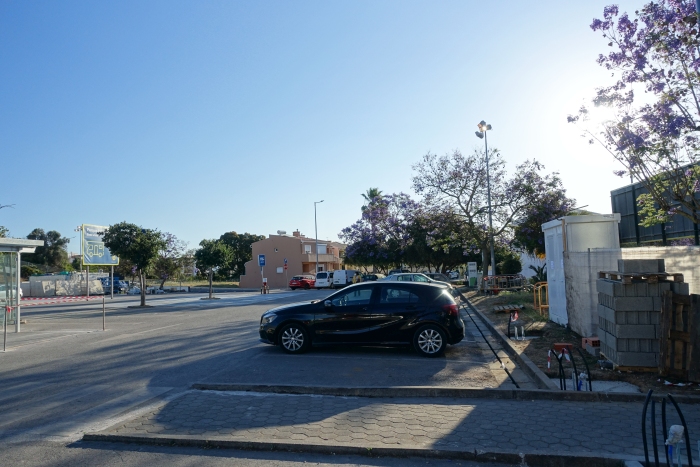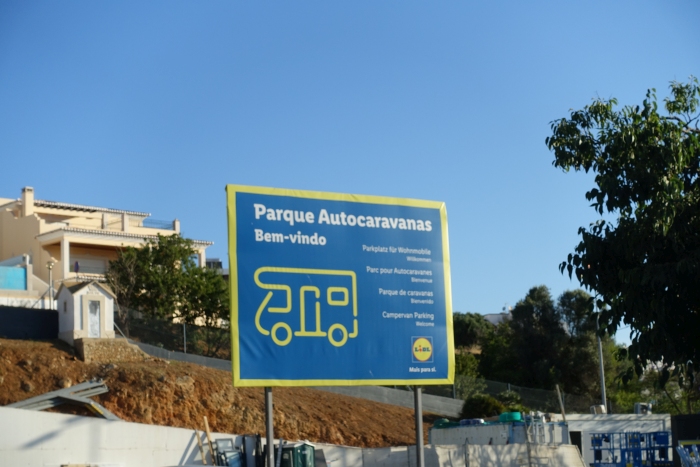 Parking lot Lagos: also for free, no infrastructure though. Location.
Lidl Vila do Bispo (3): also with a big sign welcoming campers. Location.
Parking lot second night (4): it's parallel to the road and a bit hidden, just an old road, still illegal but served us for one night well. Close to Arrifana and other popular beaches. Location.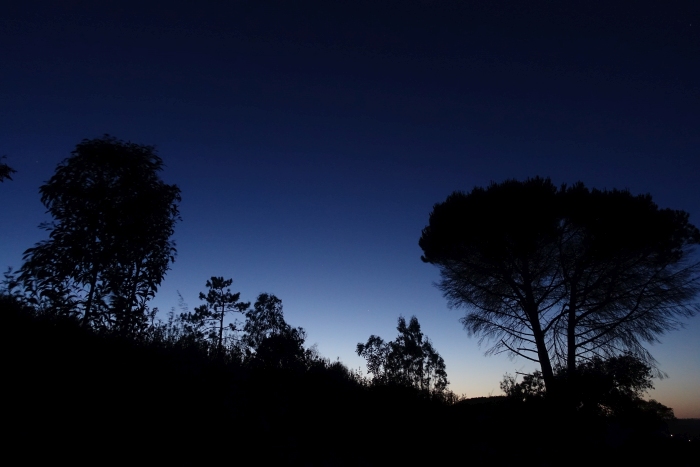 The atmosphere after sunset was actually very nice there, in the middle of nowhere.
Quinta do Rossi (5): a few kilometres away from Vila Nova de Milfontes it's a very special camp. It's for 2 people 9€ per night (electricity, dogs cost extra), there is one shower and toilet and also WiFi. Best is a bar set up by a German, who got stuck there when travelling and it's just beautiful and chill to sit there in the evening with the other travellers. Many people got stuck there for longer than planned and they also start cooking and will have a outdoor kitchen soon. In the end we stayed four nights there, beaches in walking distance, surfing beaches and Vila Nova in driving distance. Location.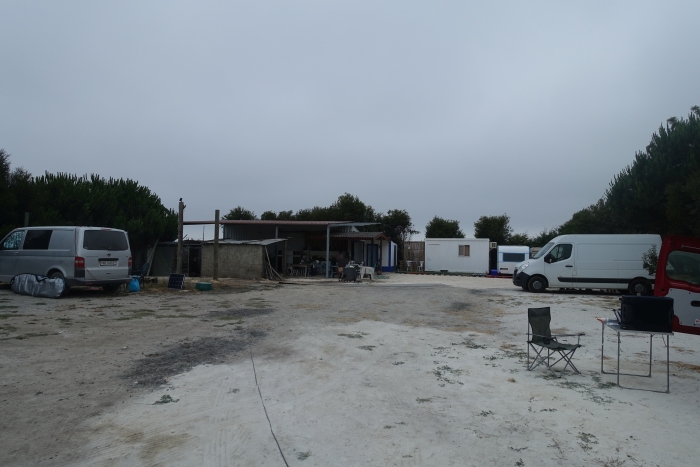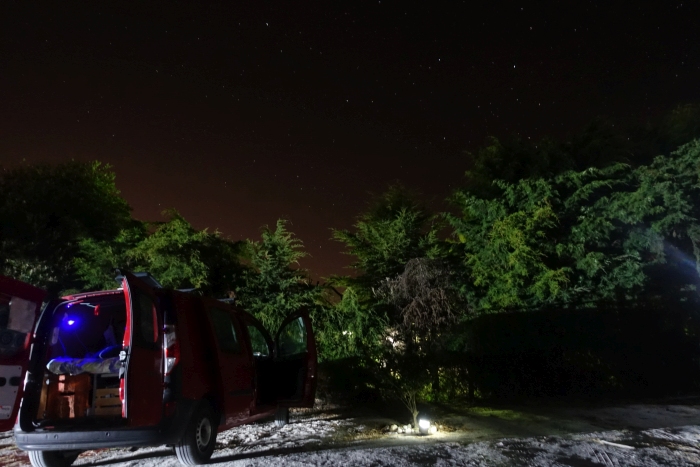 Quinta da Padrela (9): located around the Douro valley, completely surrounded by grapes, it's just great: you can stay for free on a piece of land at the vineyard. Jose is a super nice host who have many tips. There's also toilet and shower free to use, when there are no "paying" guests it's even possible to use the swimming pool. In exchange for this awesomeness, you buy some wine after a wine tasting ;) Location.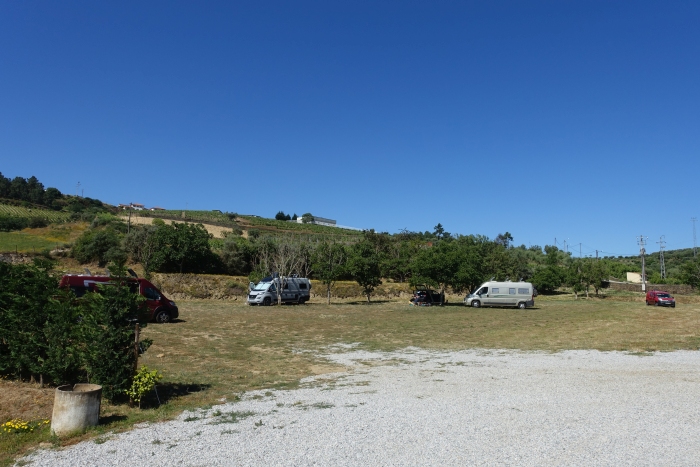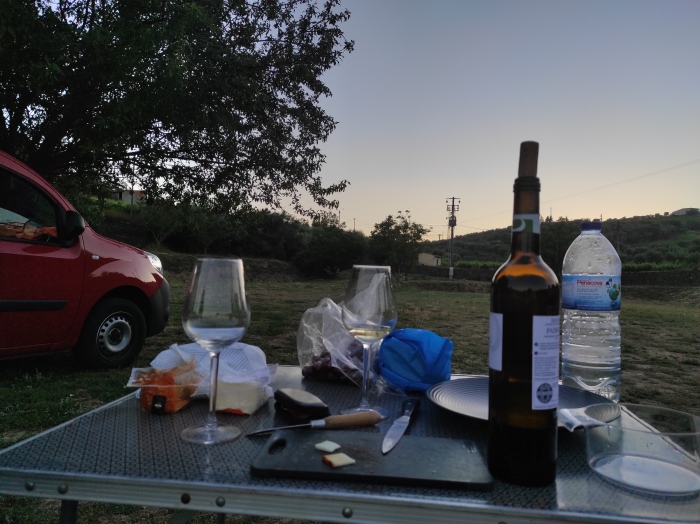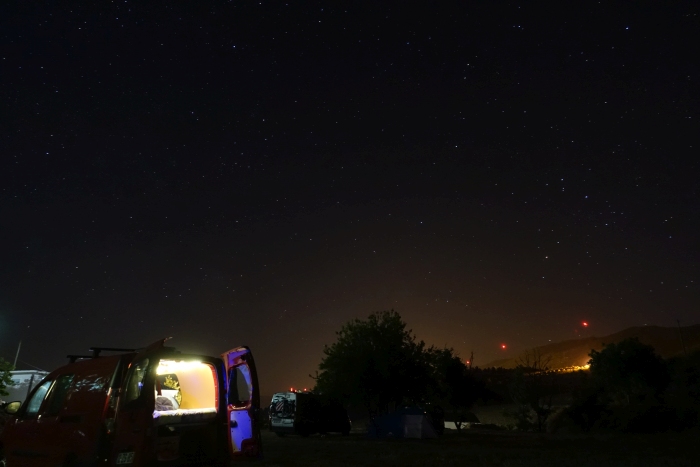 Paiva parking (10): there's an official place not far away from the river (like 15min walking) but way nicer was to spend the night at the parking lot next to the river. The park rangers gave their permission to stay there overnight which is of course way nicer than a dusty piece of land, as long as there's no trash left behind. Offical camping area. That´s our parking lot.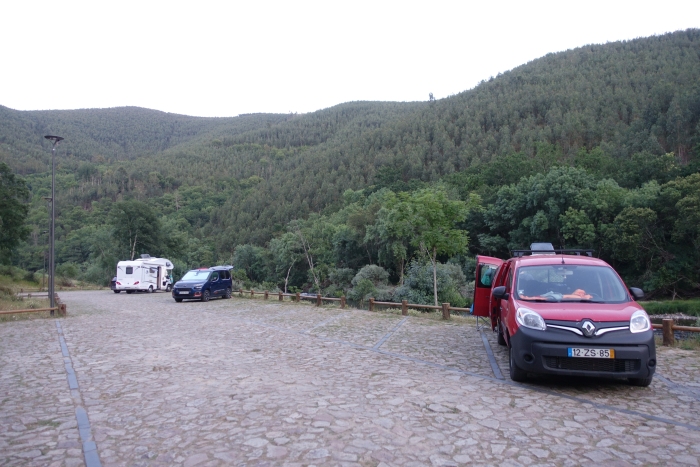 Motorhome close to Coimbra (7): Calm, not much there but closest to Coimbra I think. Location.
Motorhome Badajoz (6): no facilities, walking distance to the city, just next to a great park for running and a river...
Great location to visit Badajoz and was quiet. One minute walk to the bridge bringing you to the centre. Location.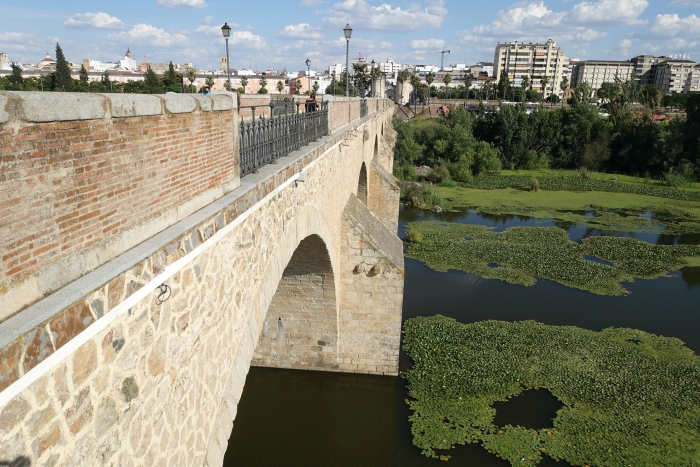 Motorhome Mafra (12/Ziel): maybe the nicest motorhome, big parking lot, quiet during night and you can even see the UNESCO heritage Mafra palace, walking maybe 2min and there are then also coffee places with toilets, etc.
Think best option around there for visiting Sintra (25min drive) and the other sights around. On the picture below you see in the back the palace, just to show how close to centre you can stay. Location.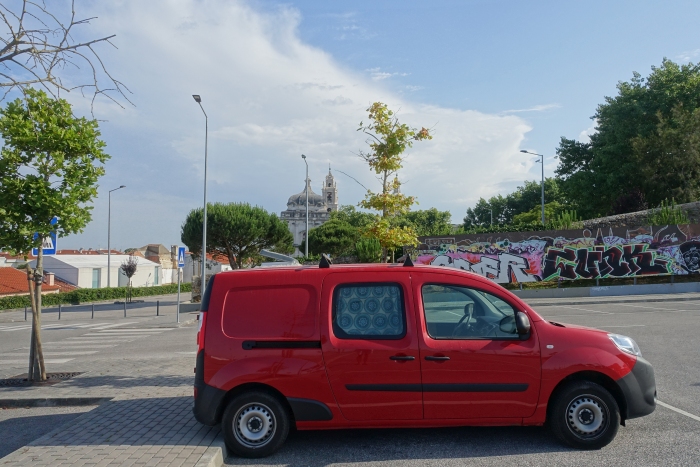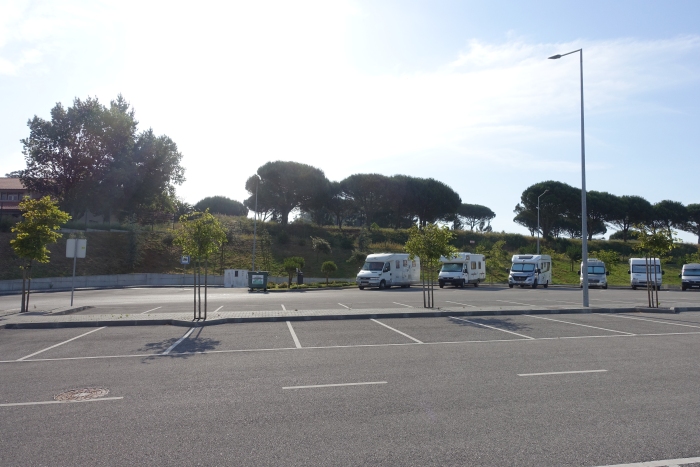 Motorhome Cerradas (Ziel): close to Mafra, during night we could even see the palace of Mafra which was very nice. Closer to Sintra than Mafra but would advise rather using the Mafra one longer and drive a couple of minutes longer as it's more quiet and way nicer located. Location.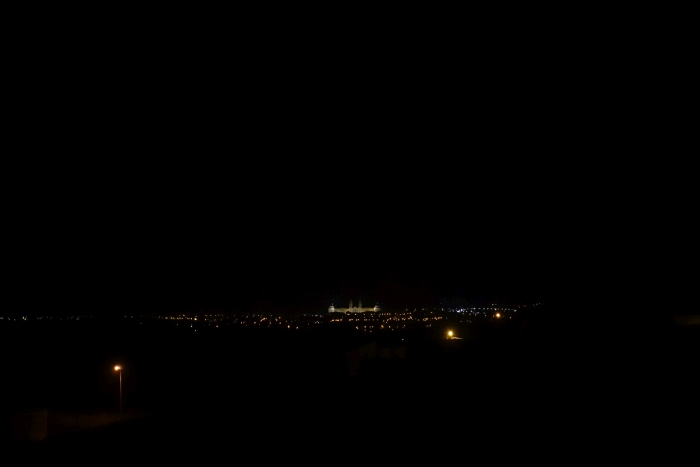 Motorhome Aveiro (11): next to bus and main station. 20min walking to the city, was on the way for us but if Aveiro is worth a extra visit is the question. Once there it doesn't hurt to wander a bit around their channels. Location.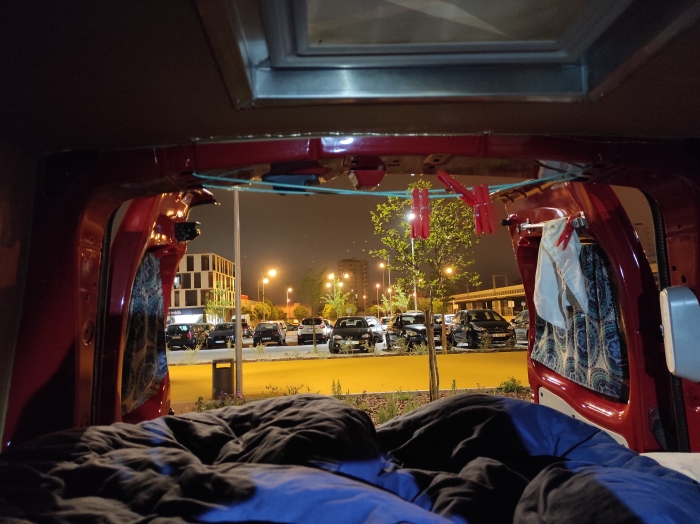 Day 1: we got our car in the morning in Faro and started straight along the coast towards some beaches and nature: Praia da Marinha, parts of the Percurso dos Sete Vales Suspensos (from Parking Praia do Carvalho
to Praia do Benagil and back) and some other beaches. Our night we spend in Lagos.
Algarve
Benagil: the cave is very famous! We skipped it as we thought we saw many other nice and similar rock formations but there are many boats going there. Swimming also seems possible (havent done so cannot recommend), think my choice would be either a kayak or a SUP to explore everything around a bit as well and for not going with a bunch of tourists on one boat.
Cabo de Sao Vícente: most south Western point or so of Europe. Nice walking a bit around, cool cliffs. Honestly expected more.
Old fortress of Beliche: on the way to the Cabo. That was a nice positive surprise, from the fortress there's a walking path all the way to the sea which was great.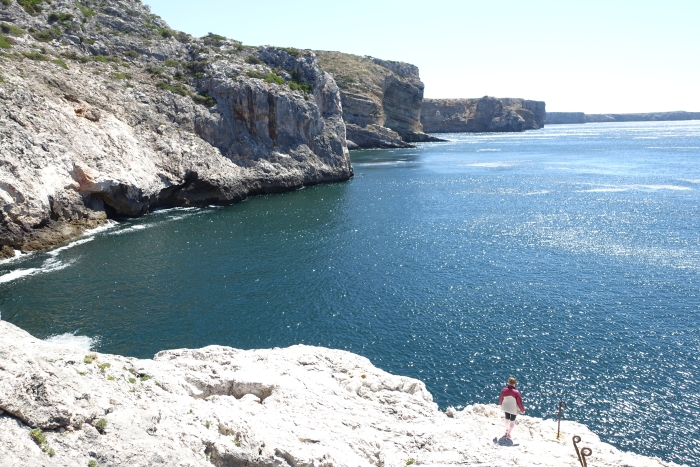 Percurso dos Setes Vales Suspensos: great hike along the coastline with many caves visible going from Praia da Marinha 5.7km towards Praia Vale Centiarmes. We walked just parts of it but would definitely recommend connecting 2 beaches like that. We went from Praia da Carvalho to Praia do Benagil, starting from Praia da Marinha is as good. Well marked.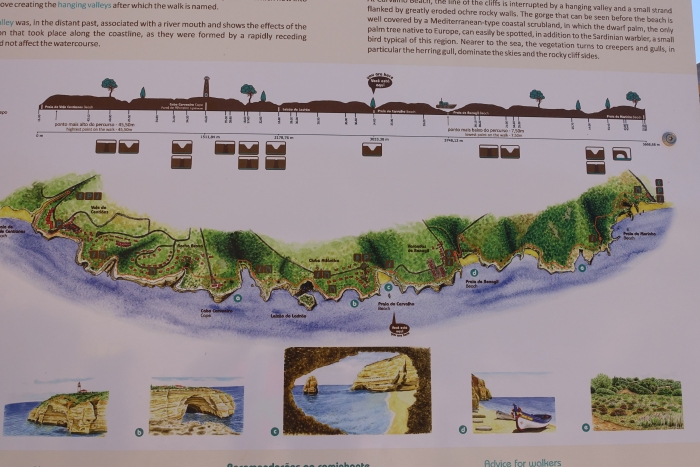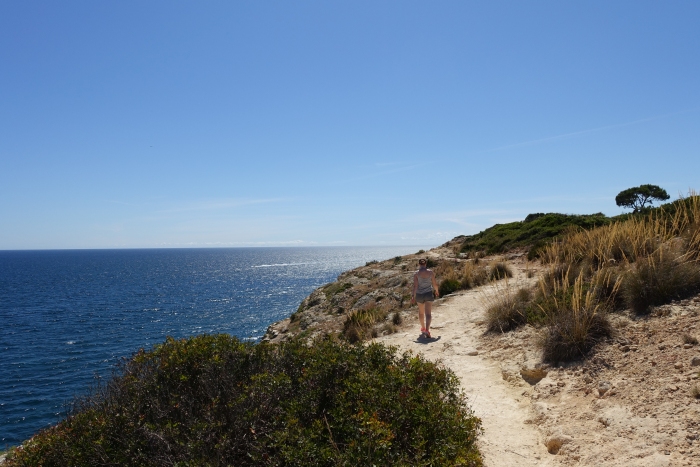 Cabo de Sao Vicente: most south Western point of Europe. Great cliffs around, very windy. The museum and lighthouse itself are open to public on Wednesday afternoons.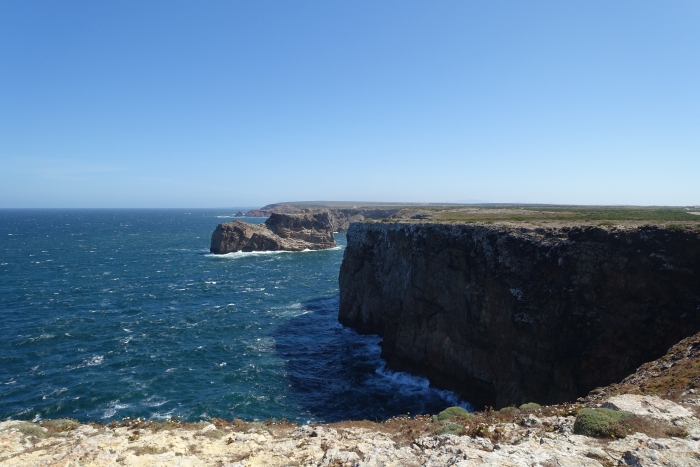 Day 2: we drove in the morning via some beaches to Cabo de Sao Vicente. The most south Western point of Europe, just next to it the old castle of Beliche, which has an awesome stairway towards the sea. Afterwards beaches and moving northwards, sleeping around Arrifana.
Day 3: our first day of surfing was on the program. One of the most popular, best and therefore more crowded beach was our aim. Very well protected and very regular waves make it a surfing paradise for beginners and also advanced. Only one surf school has their hut at the beach so we contacted several with WhatsApp to ask if they offer lessons in the morning and got our spots soon secured. After surfing we changed to another less crowded beach but I would advise after the first lesson to get the equipment the whole day to keep on practicing. One lesson and afterwards self-practicing is the best solution for the beginning and then another lesson once you manage getting up in the white, foamy water well.
Afterwards visited Vila Nova de Milfontes and slept in a camp bit North of it.
Day 4: we started towards Evora, sightseeing there and continued the 90min drive to Spain without any problems. Just across the border in Badajoz we met a friend and spend the evening and the next morning there.
Badajoz

Badajoz:
Text to be written! Notes: Stroll through the old town till the ALSomeThIMg. Don't miss the great main square!
Bar street:
Along the river are nice things
Best: breakfast place!!!!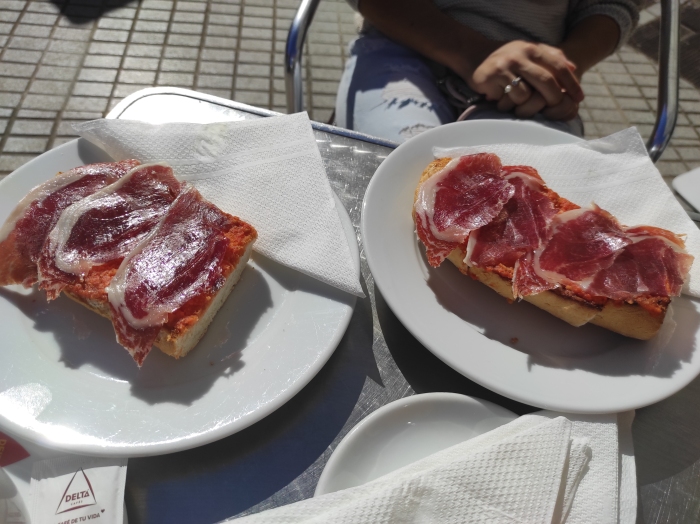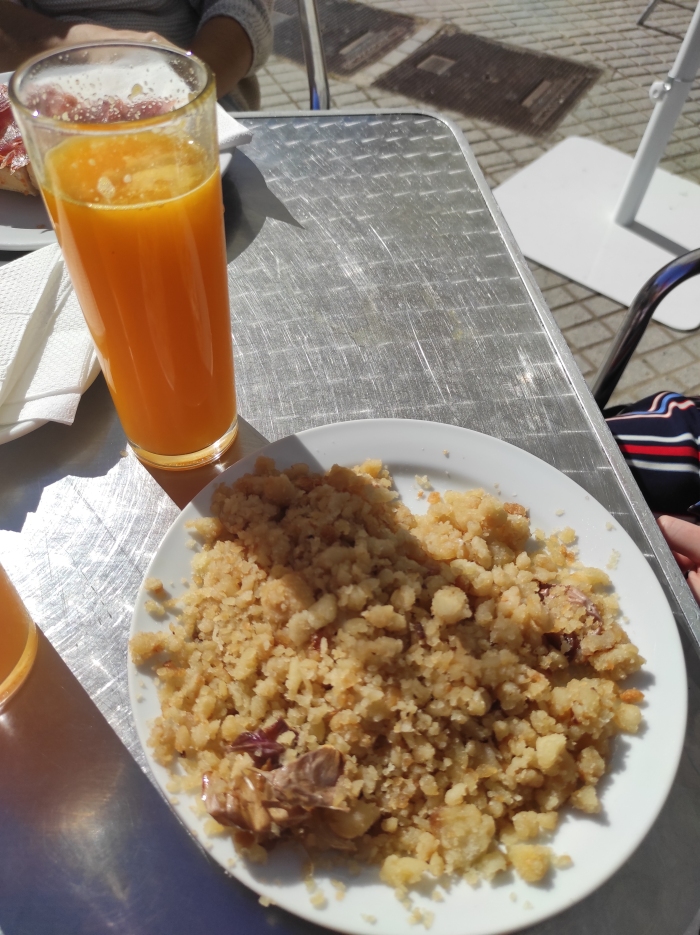 Day 5: in the morning breakfast in Badajoz and then towards the monastery of Tomar. Very close is as well Fatima and Batalha but we decided to split the monasteries, visit the other on our way southwards and continued to Coimbra. Here our sightseeing got a bit short, would have liked to stay longer but there was no legal parking lot close to the center so we stayed in Viseu over night.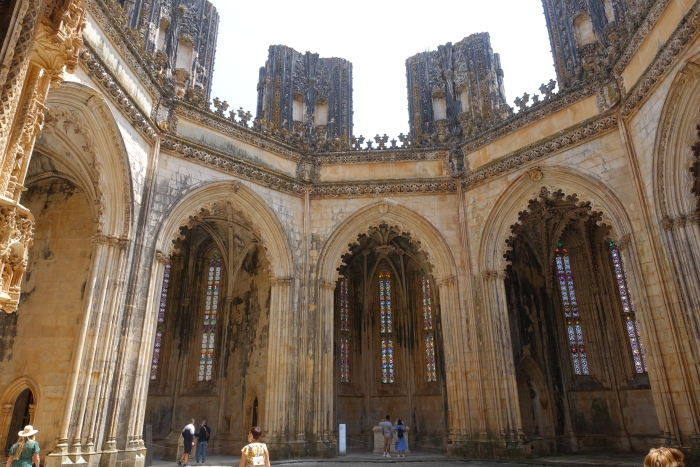 Above and below: Batalha monastery.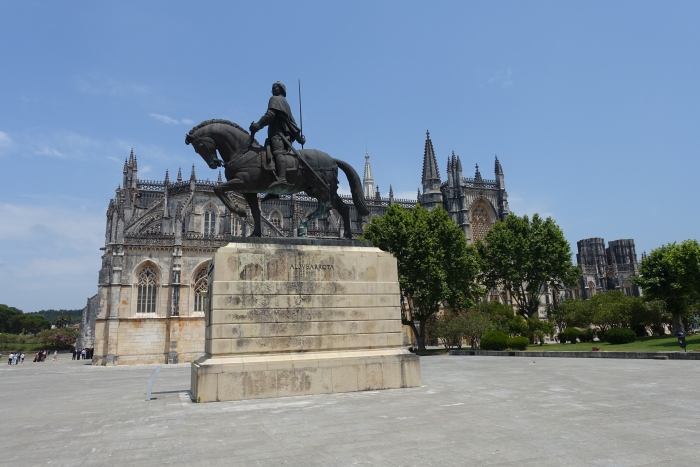 Day 6: in the morning visited Viseu, as we have already slept there and this was a very positive surprise. Never heard of the town before but cute old town and for the morning and catching some breakfast it was just perfect. Afterwards we drove towards Douro valley and made on the same day a boat trip from Pinhao towards the East (10€ for an hour, just go there and check the offers, in the end all very similar I suppose).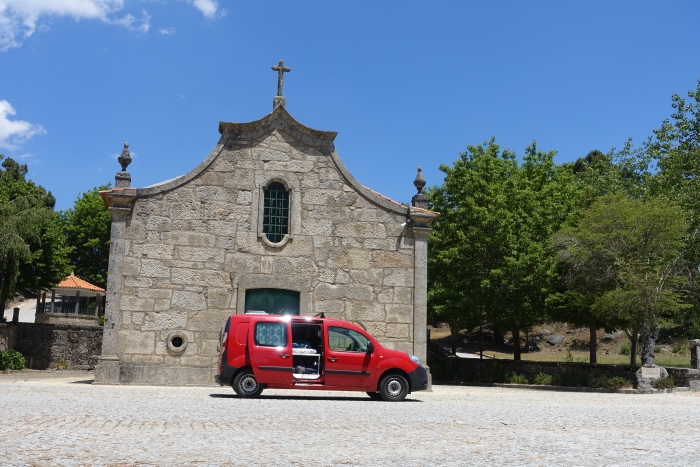 Douro
Douro text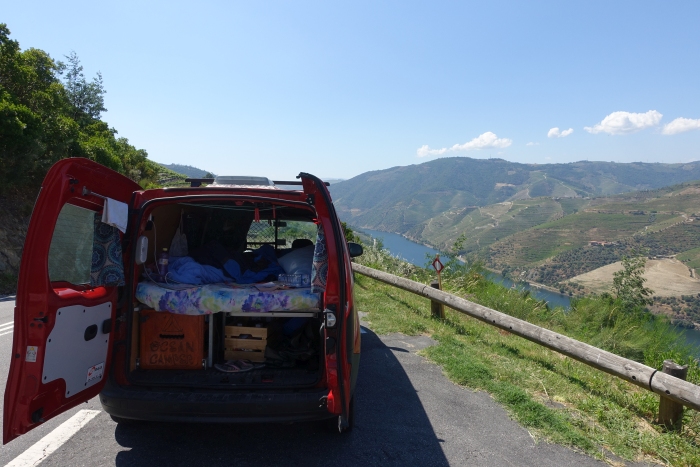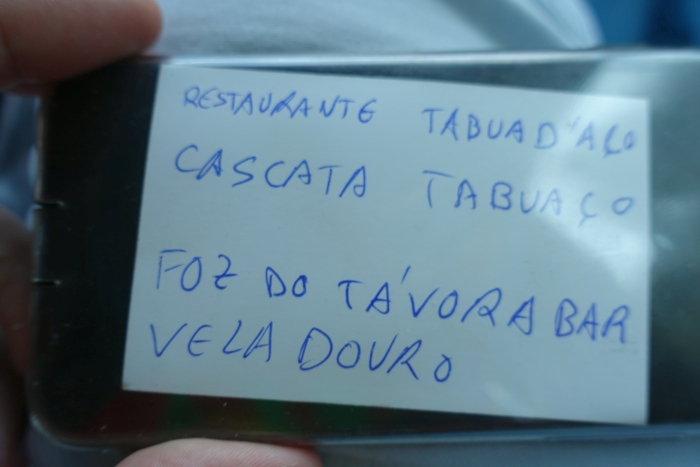 Day 7: more Douro, winetasting (was timewise not possible on the previous day at our Quinta) and a relaxed day at the pool. Our original plan was to go from Douro to Geres national park but we decided then against it and spend extra time in Douro and on beaches to have less stress and use for hiking the Alps again, if you've enough time to spare adding from there two nights in Geres is definitely a recommendation.
Day 8: upon recommendation from our host we drove along Douro towards the Passadicos to Paiva, a wooden walk along a river. Was a super positive surprise and was a good and closer replacement for Geres national park. There is also the world's longest pedestrian suspension bridge, which just recently opened. For this a reservation ahead is needed, which we didn't had but the walk alone is worth it and halfway there's a great, small beach to cool yourself down in the river. One way is around 2-3h and you can take a taxi back to your parking lot or just walk back the same, which we decided to do. We slept just around there (see below the camping spots). Entrace fee to the Passadicos is either 2€, when you book online or 4€ if you just buy them there.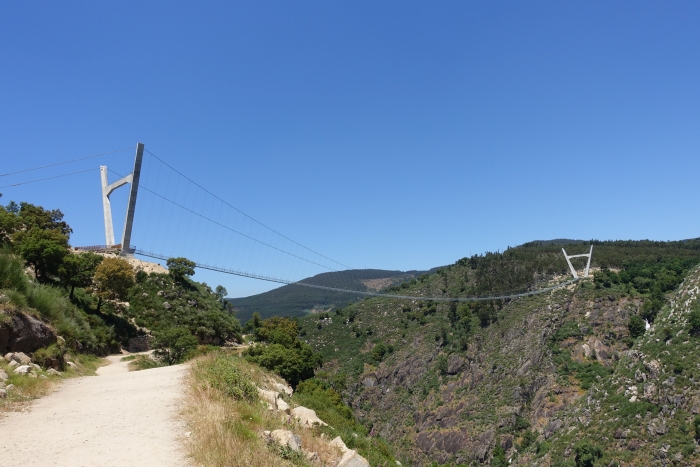 Day 9: continued in the morning to Porto and sightseeing there. Due to the lack of legal parking lots we continued in the evening to Aveiro and slept at a motorhome there.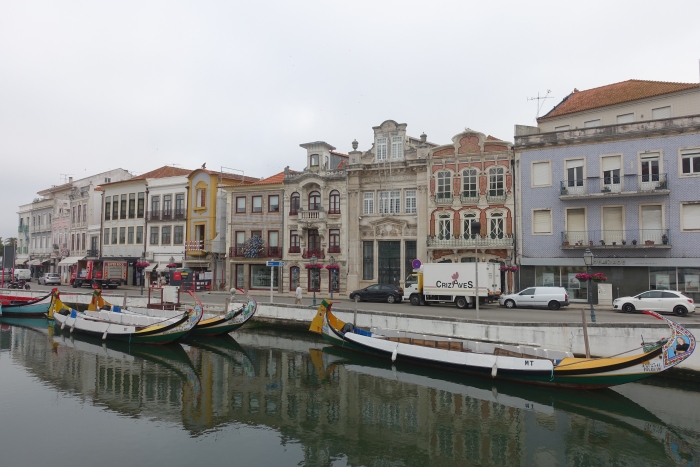 Aveiro, channels with boats and some old houses, but honestly, no need to stop there.
Porto
Livraria Lello: beautiful library which inspired JK Rowling for hogwarts castle (especially the stairway). You queue for sometime and pay 5€ entrance fee, which so far sounds okay. The voucher is then deductible from a book, one per book, but what personally pissed me off is, that most books I was interested in (Saramago, classics) were completly overpriced (with a nicer design) in comparison to other book shops. One Saramago book is 7€ more than at the shop in Coimbra, so the 5€ discount not really a big help there.

Day 10: went through Aveiro as we slept there. Whereas Viseu was a positive, such a surprise, Aveiro is something which really can be skipped. Some channels flowing through the city with boats and slightly like Venice but not missing anything there.
Afterwards we drove to Batalha (awesome monastery and important place for Portugal history: erected after a won battle it also hosts the Tomb of the Unknown soldier), Fatima we skipped but would also be just around the corner. On to Nazare (we just had very small waves this time, the big ones are during winter season when the pros try to reach new records) and a beach stop at Sao Martinho do Porto and during evening a stop in Obidos. This city is awesome! Completely surrounded by a city wall, narrow streets of cobblestone, in the end you see everything fast but a longer stay (without van definitely a place to stay overnight!) would have been okay as well.
Our night we spend at a motorhome in Mafra with a view to the Palace.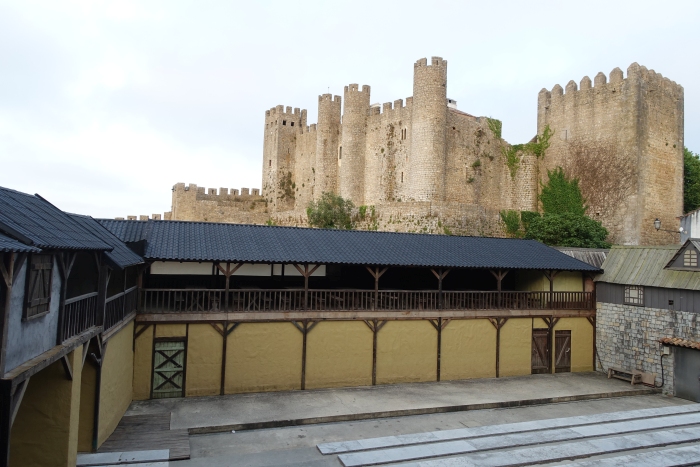 Obidos, unfortunately the pictures do not show how awesome the city is. Small medival town, completely surrounded by a city wall (just like Dubrovnik).
Day 11: day at the beaches of Ericeira, also perfect surfing spot! During evening we went to Azenhas to Mar (was okay) and then to Cabo da Roca. This is the most Western point of Europe and nice cliffs and lighthouse to see. The atmosphere got very nice straight after the sunset because finally the sky lightened a bit. Sleeping around there or already in Sintra.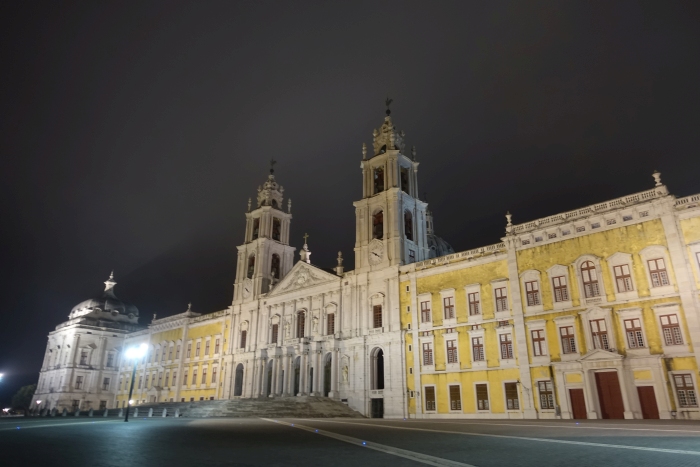 Mafra palace, 30min driving from Sintra, with good camping option 2min walk away.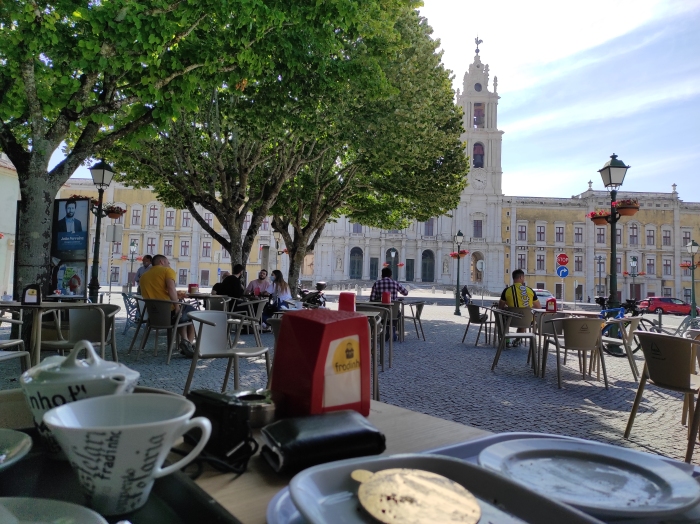 Day 12: whole day palaces of Sintra and continued then to Vila Nova de Milfontes again, to stay longer, 3 nights, at a super nice camp there, which we already experienced on th way northwards.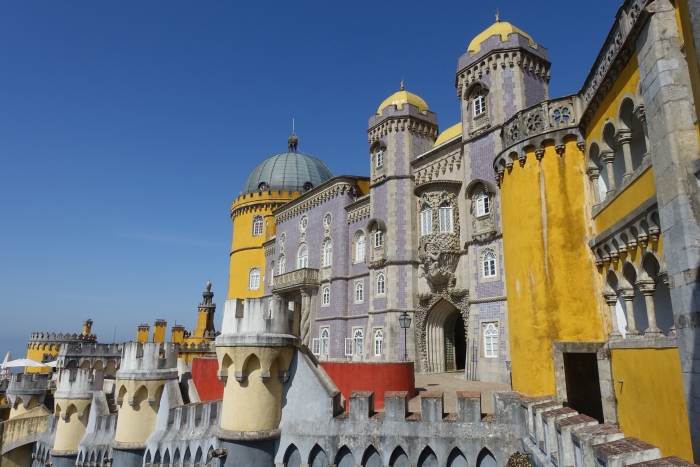 Day 13: beaches and surfing: Malhao.
Day 14: beaches and surfing: Sao Torpes.
Day 15: more towards the south and after stops in Tavira (super nice town and if you're around Algarve don't miss it) and the Ria Farmosa nature park (bird reservoir, worth going there around Olhao for a 3km roundtrip, from July till April there are flamingos, we saw maaaaany crabs).
Day 16: in the morning we returned our car in Faro and therefore already spend the night there to have less stress. Took then the bus to Lisbon (just check which times/prices fit best: Flixbus, starting from 5€, and Rede Expressos, we paid 17€, are the bus services. Direct train connection as well in the morning and afternoon.)
Detailed Lisbon info in the Lisbon section.
Day 17: Lisbon.
Lisbon
Best viewing point: Miradouro da Senhora do Monte: most total view including Castelo and Ponte 25 de Apríl.
Mosteiro dos Jeronimos: beautiful church and monastery (similar architecture like Batalha but with more love for details, smaller/less yards though). Worth the entrance fee (if one monastery is enough choose this over Batalha) but in case you want to save the money: the church entrance is for free and the minimum to do! 10€ is not cheap, for two extra the archeological museum is also included, not too special but some mummies and probably worth the money if there's time.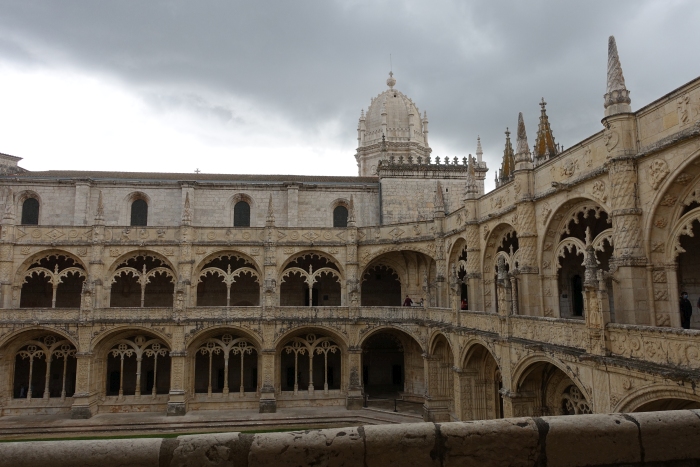 Padrao dos Descobrimentos: viewing platform on top of the monument for the Portuguese explorers. Small exhibition on ground floor, ours was about photographs from the former colonies, nicely done. View not too special and would say it's not needed.
LXfactory: half way between city center and Belem (40min walking each direction, just under the bridge). Old industrial area (textile and publishing houses) was changed into a super nice and hip area with small galleries and many, many restaurants, all packed in one street and definitely a recommendation, just for the area!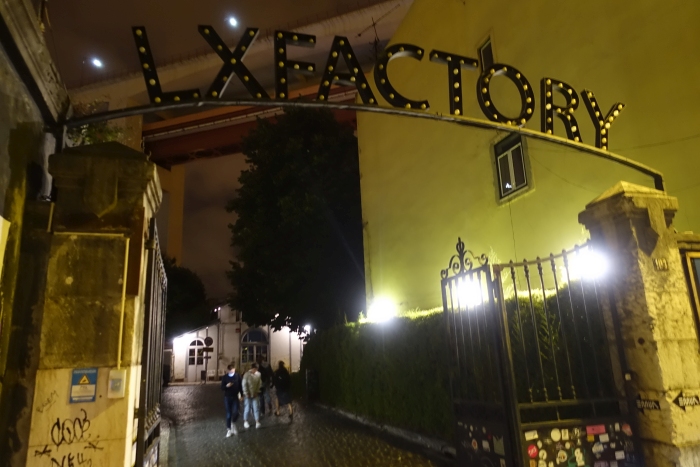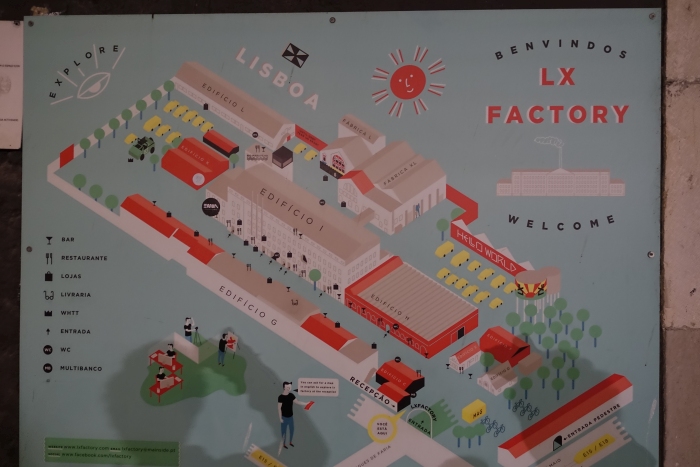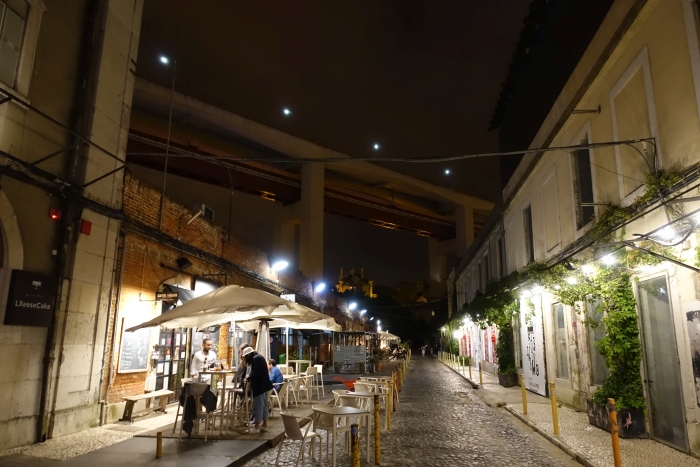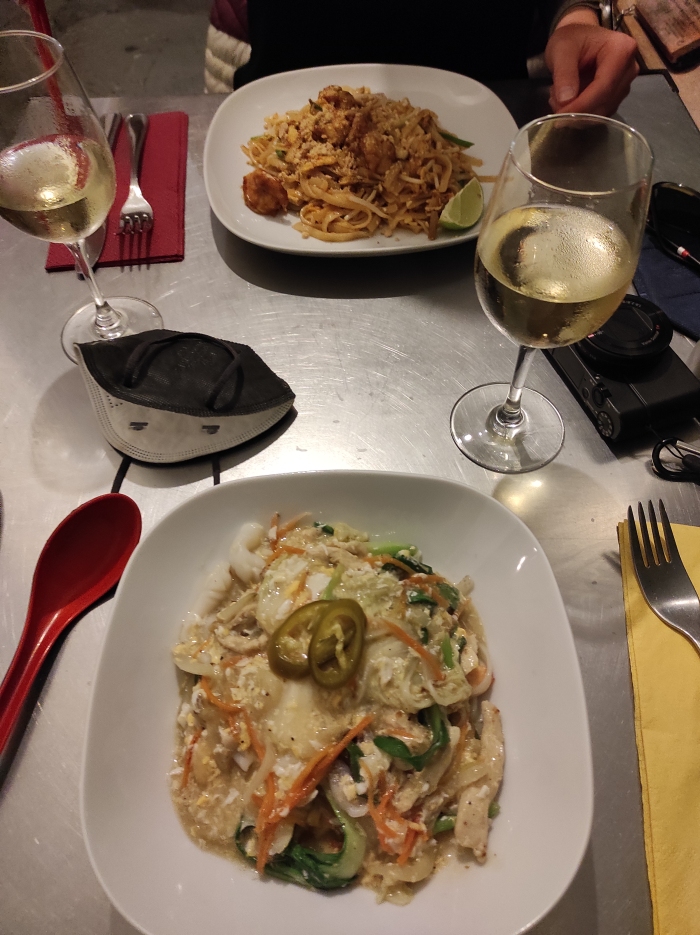 MAAT: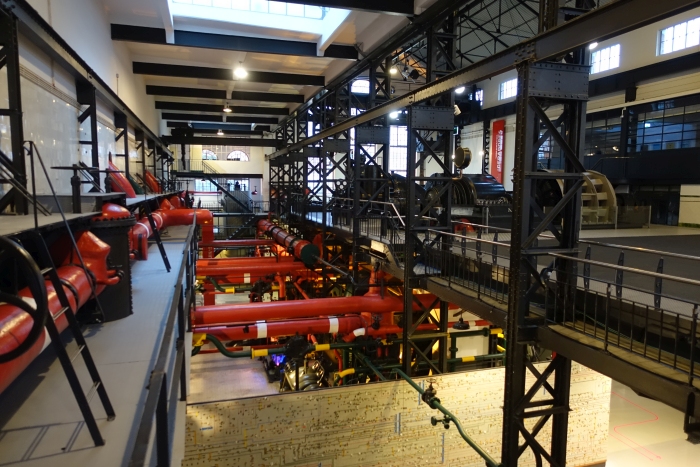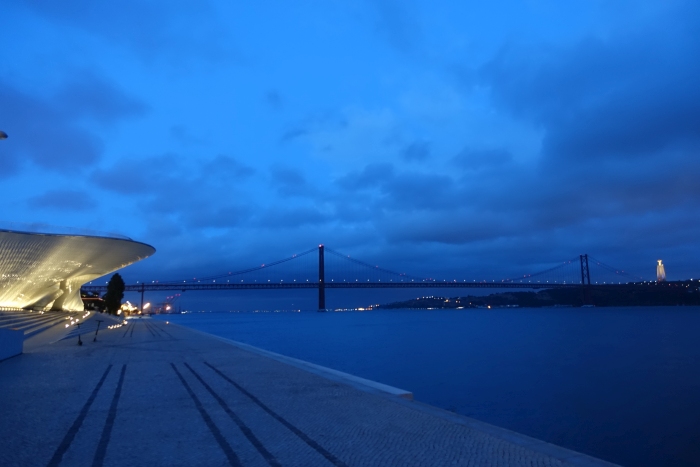 Saramago center: Restaurants:
For less hipsterish food:
Fish restaurant in Cacilhas
Portuguese restaurant from Mackenzie!!
How I'd do 48h Lisbon:
Day 1: tram 28E to Largo da Graca and viewing point Miradouro da Senhora do Monte. Walking via castle and cathedral (Se) back the Praca Commercio. Checking the area there, including Bairro Alto. If motivated in the afternoon with a public ferry to the Cristo Rei statue and ending the evening at a fish restaurant in Cacilhas.
Day 2: Tram/bus to Belem: white tower, walking to monument of the explorers. Stroll around the sea side towards the bridge (optional Museu Colecao Berardo, Museu Nacional dos Coches or our choice: MAAT, modern art and in addition old electricity factory with the enormous old machines on display). Stop at FX Factory, afterwards either with publics or walking back to the center. For the evening walking around Cais do Sobre (Time out Market, touristic but many, many great Portuguese dishes packed into one market hall and offering a great atmosphere) and having in the evening a drink in vibrant Pink Street.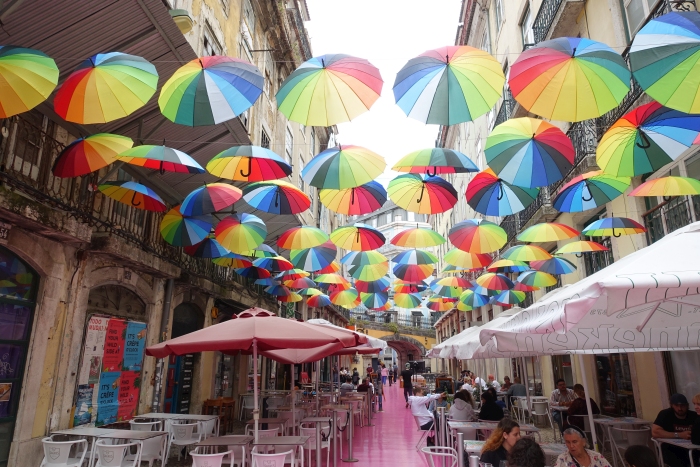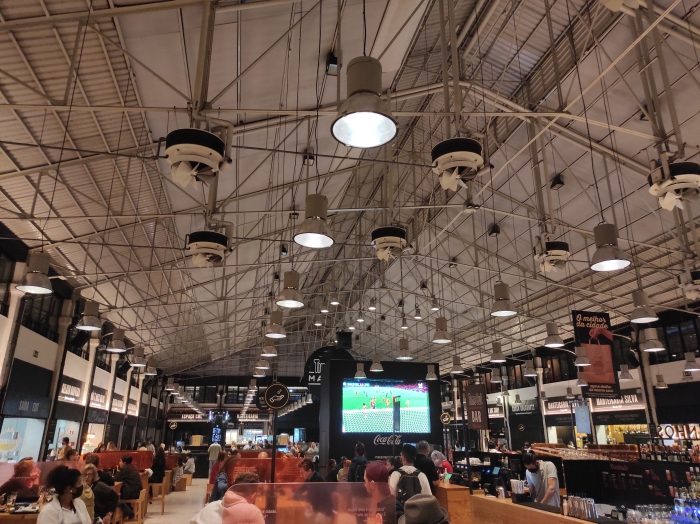 T
ime out Market
Day 18: Lisbon and flight back.
Beaches
Beaches, from east/Faro to West:
Praia da Marinha: one of the more famous beaches. Beautiful with cliffs and sandy beach.
Praia da Benagil: just next to the famous cave. Rather small and a bit packed due to the location. From here you can swim to the cave as well (not sure how safe though) or rent equipment (kayak, sup) to ride there.
Praia do Carvalho: of the first three beaches our favourite. Nice size, view and less people than on the two above.
Meia Preia, Lagos: I think the longest sand beach we have seen, due to the lack of cliffs less spectacular.
Praia do Martinhal: long sandy beach.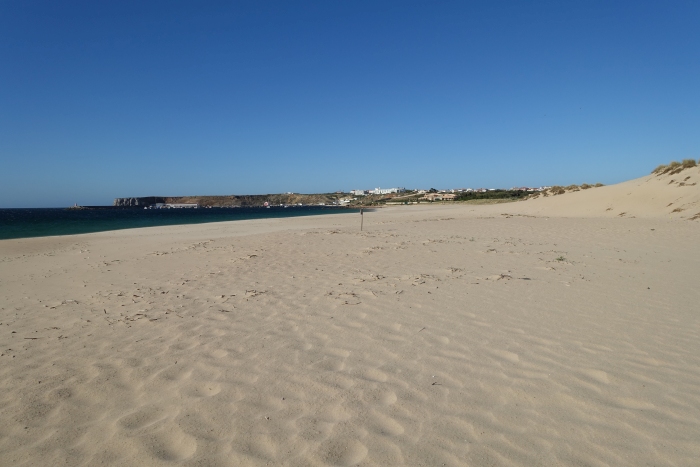 Praia do Beliche: closest to Cabo de Sao Vícente and one of our most favourite ones, not too many people but great cliffs and sea!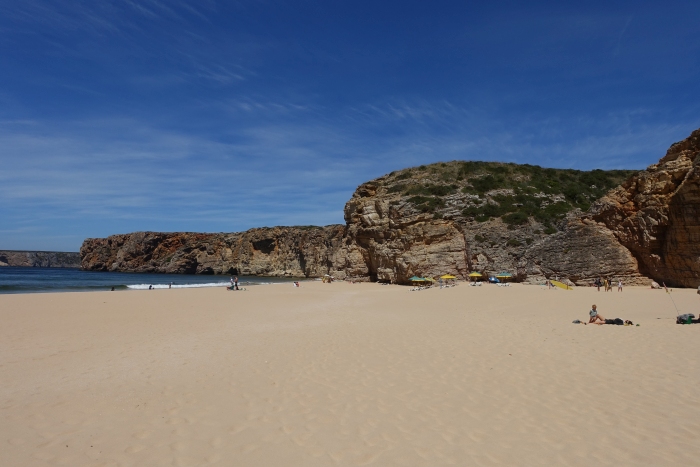 Praia do Amado: nice beach, surfing schools.
Praia da Arrifana: one of the most famous for surfing. Several schools offering there service there, protected from all sides from the wind and super regular waves. Packed with surfers and people in general though.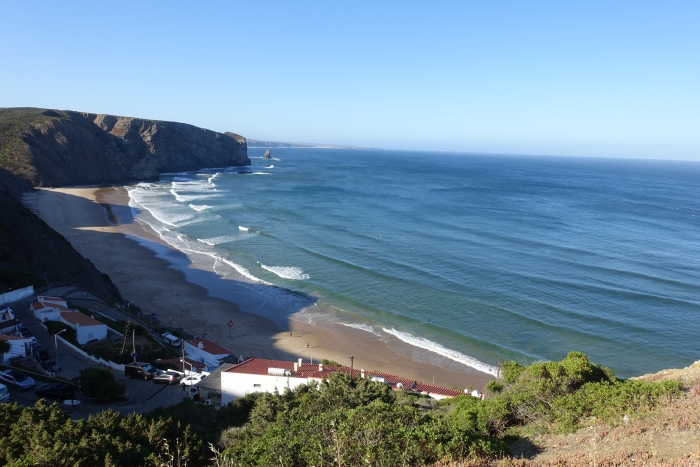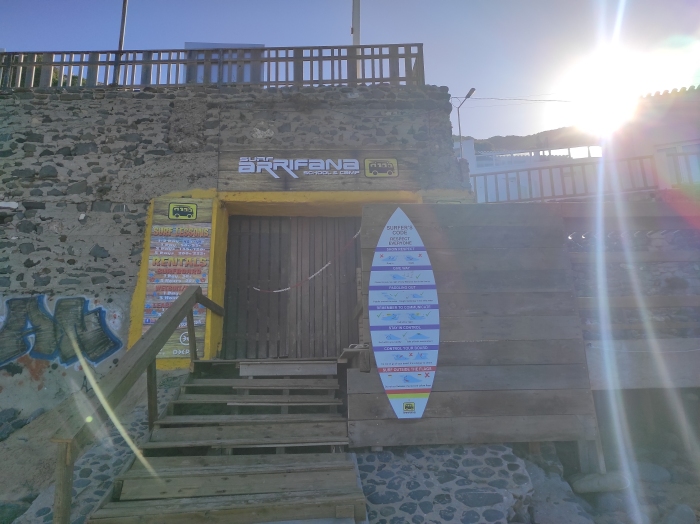 Praia de Monte Clerigo: close to Arrifana, more windy, bigger, less crowded, awesome walk along the coast as well. Rocks gave some shelter.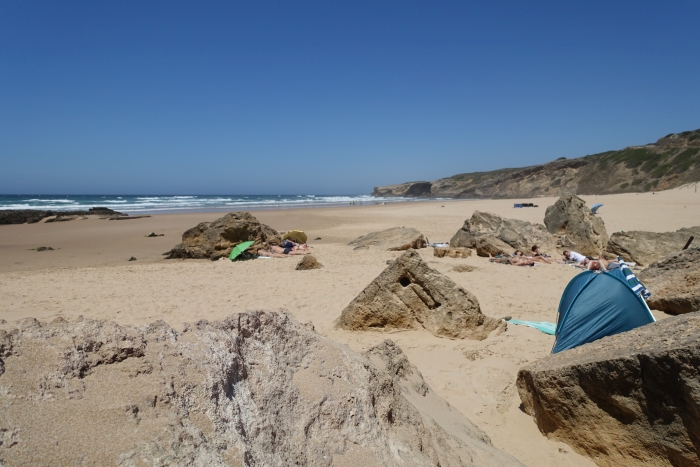 Praia da Amoreia: long sandy beach with a kind of extra lake which is just connected during high tide to the ocean.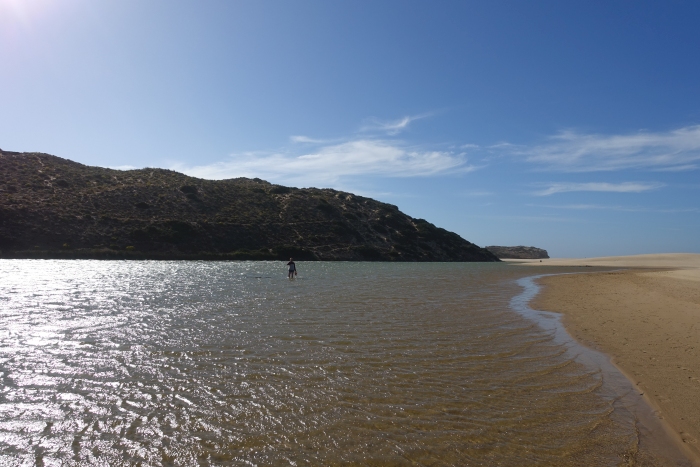 Praia do Malhao: walking distance to Quinta do Rossi, super nice long sand beach. Highly recommended and was way less crowded than the ones further south in Algarve. Tiny surf rental with very kind people (board and wetsuit for a while day for 40€, also offering lessons), waves better during low tide, suitable for beginners.
https://www.google.com/maps/place/SurfMilfontes+Beach+House+-+Surf+Rentals+%26+Lessons,+Praia+do+Malh%C3%A3o,+7645-221+Vila+Nova+de+Milfontes,+Portugal/@37.7847757,-8.8009992,16z/data=!4m2!3m1!1s0xd1ba34423587d91:0x3afa90d9bc735e2d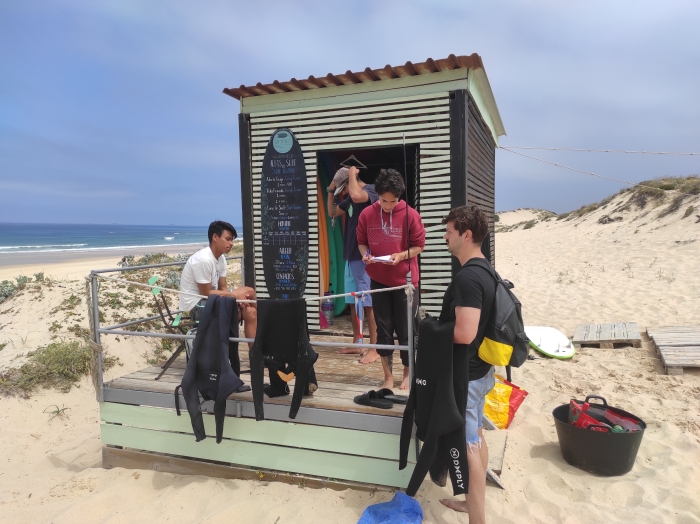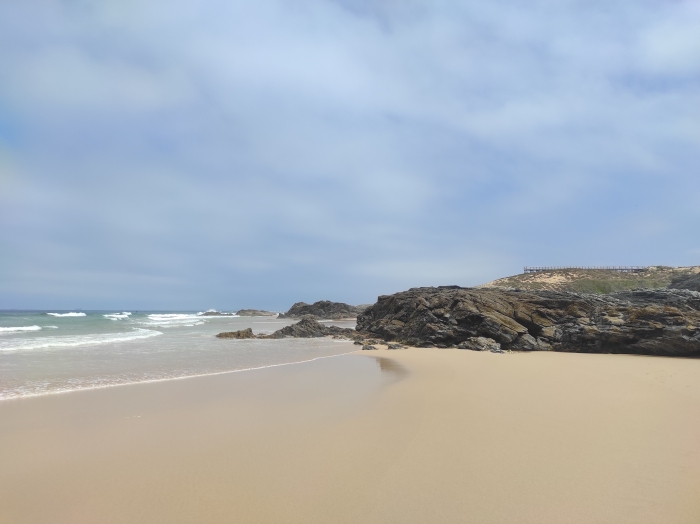 Praia do Sao Topes: maybe the best surfing beach in Alentejo. Rental and also surf schools.
https://surfschoolesla.business.site
/ Contact via WhatsApp is very uncomplicated to ask for lessons.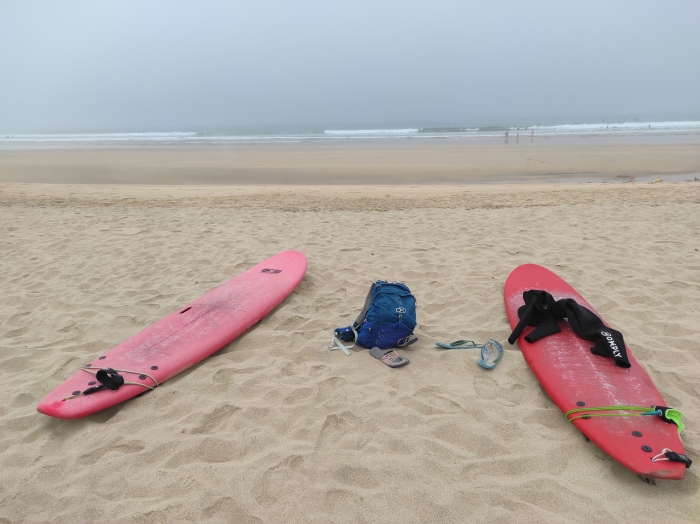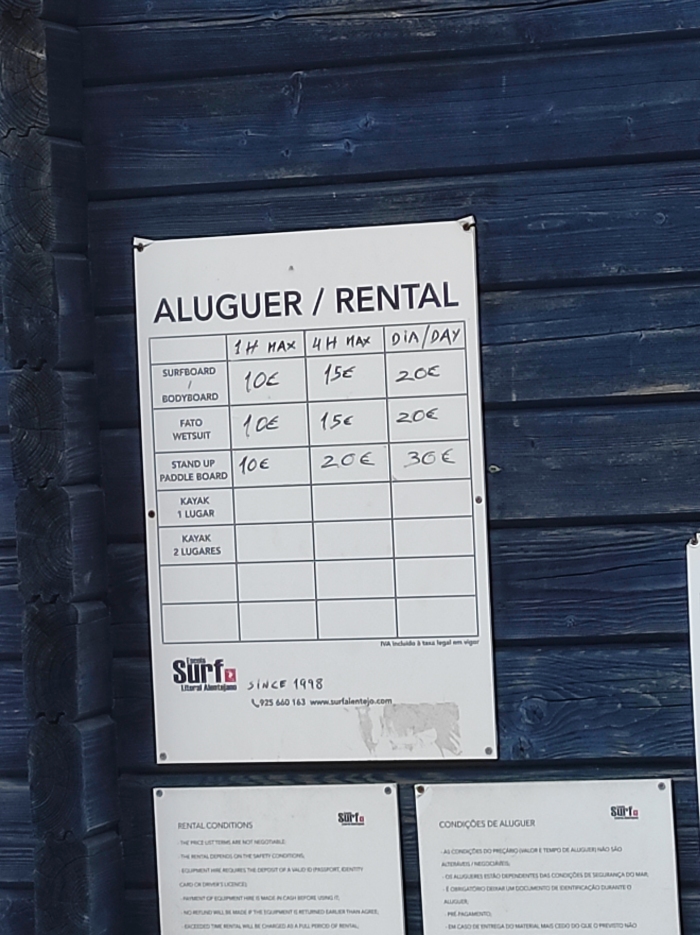 1d rental of board and wetsuit costs 40€, the 4h for 30€ should be sufficient thought.
Restaurants:
Lagos one: dropped by as we saw it packed with Portuguese people, dishes all looked good, we just had a soup and an amazing cake.

Vila do Bispo:
A Eira do Mel: food was very nice but for the price a bigger portion would have been nice, was highly praised in the guide and didn't fully come up to the expectations.

One at main square: people were queuing to get in, fish menu similar like in A Eira do Mel, I suppose a decent alternative, usually a good sign when locals wait to get a table. But we went with the travel guide recommendation in the end.

Guide: bookmark Evora: closed and house for rent.


Two weeks iternaries:
Day 1: getting car in Faro: either south coast or already Lisbon
Day 2: Lisbon
Day 3: Lisbon (if more time here wanted, just cut a day at the coast or cut Douro)
Day 4: Tomar, Coimbra
Day 5: Douro (or replace by Geres national park when more in the mood for hiking) (or add Geres if more than two weeks of time
Day 6: Douro
Day 7: Porto
Day 8: Batalha, Nazare, Obidos
Day 9: Sintra, sleeping there or afterwards to Ericeira or Casceis
Day 10: west coast (for example: Mafra, Ericeira, Cabo da Roca)
Day 11: south coast/west coast: swimming, surfing, walks, sightseeing (Malhao, Vila Nova de Milfontes)
Day 12: south coast/west coast: swimming, surfing, walks, sightseeing (Arrifana, Cabo de Sao Vicente)
Day 13: south coast/west coast: swimming, surfing, walks, sightseeing (Benagil, Siete Valle hike, Lagos)
Day 14: car return in Faro

south coast/west coast: swimming, surfing, walks, sightseeing

Day 1: getting to Lisbon and getting car (Lisbon sightseeing I'd do in the end but up to personal preferences)
Day 2: Tomar, Coimbra
Day 3: Douro (or replace by Geres national park when more in the mood for hiking) (or add Geres if more than two weeks of time
Day 4: Douro
Day 5: Porto
Day 6: Batalha, Nazare, Obidos
Day 7: west coast (for example: Mafra, Ericeira, Cabo da Roca; or immediately further South)
Day 8: west coast
Day 9: West coast and south coast: Cabo Sao Vicente, Lagos,...)
Day 10: more along the coast, up to personal preferences and driving back to Lisbon and returning car
Day 11: Sintra
Day 12: Lisbon
Day 13: Lisbon
Day 14: Lisbon and travel out
unclear pics: