Great views towards Kitzsteinhorn and challenging 3000m peak to do in a nice two days trip!  In front the two reservoirs for hydroelectric plants (Moserboden and lower the Wasserfallboden).

Access car
Very close to Zell am See; parking somewhere around Fusch
Access public transportation
Train and Bus: via Salzburg to "Bruck-Fusch Bahnhof" and continueing from there with bus number 650 to "Fusch/Glocknerstraße Ortsmitte"; from there you will find signs, first going through the town and after a few minutes the hike starts.
In case there is no bus connection at your time of arrival between Bruck-Fusch Bahnhof and Fusch (or back) just try to hitchhike; took us 5min till someone stopped as it´s a busy street connecting Zell am See with the Großglockner high alpine road.
Overview from Vienna (same, just shorter from Linz/Salzburg): leaving Vienna Hbf at 6:30 or 8:30, railjet to Salzburg, changing at 9/11:08 to train to Bruck-Fusch Bahnhof (direction Wörgl), 1.5h later getting out and changing to bus for 10/12:45 direction Ferleiten and getting out as mentioned at Fusch Ortsmtte.

Return: leaving Fusch with bus at 17:24, changing 3x and arriving in Vienna at 22:30. To make it like this as a 2d trip you need to start early for the peak.
Hike
Day 1: From the bus stop you walk through the town, following signs and soon you will end up on a forrest road where you follow the signs till the hut. The hike should be between 3,5 and 4 hours and especially once you will get closer to the Gleiwitzer Hütte (2176m inside the national park Hohe Tauern) you will find yourself in high alpine terrain with many blueberries around. At the hut you have the options to either continue or sleep there to prepare for a long second day.
Day 2: In the early morning (breakfast would be available but we skipped it) we started to Hoher Tenn. Marked path which starts straight from the hut; there will be already some climbing on a well secured "chimney", proper iron steps but if you do not feel comfortable here do not forget that you also need to come back that path again and especially don´t go to the Hoher Tenn as it will just get more difficult. Bauernbrachkopf (unspectacular peak just along the path) is then a good aim and there you can turn around. To Hoher Tenn it is around 5h, the lower peak is closer and then you can hike around 20min to the higher. Before reaching the top you will have to climb over some small iron sticks on a slighty overhanging wall (maybe 3m high, climbing difficiutly III) with a deep view down, there´s a rope to hold or even to use a via ferrata kit. After this there are no difficulties anymore ahead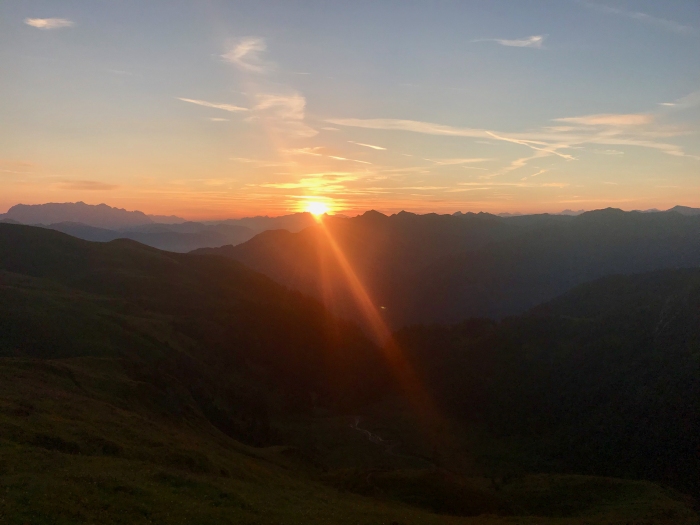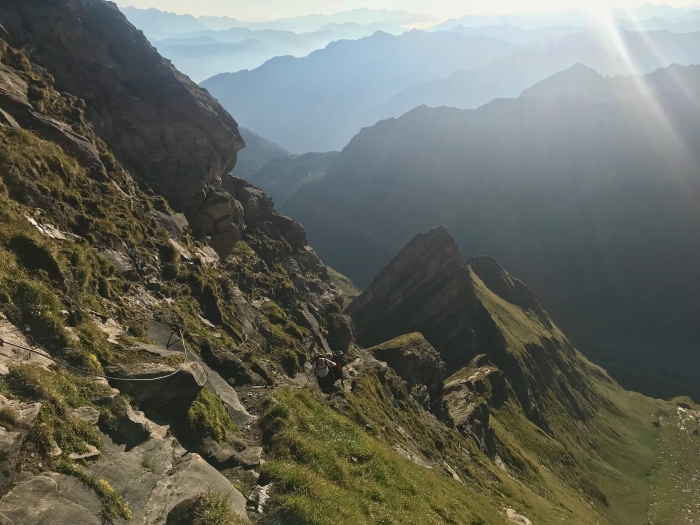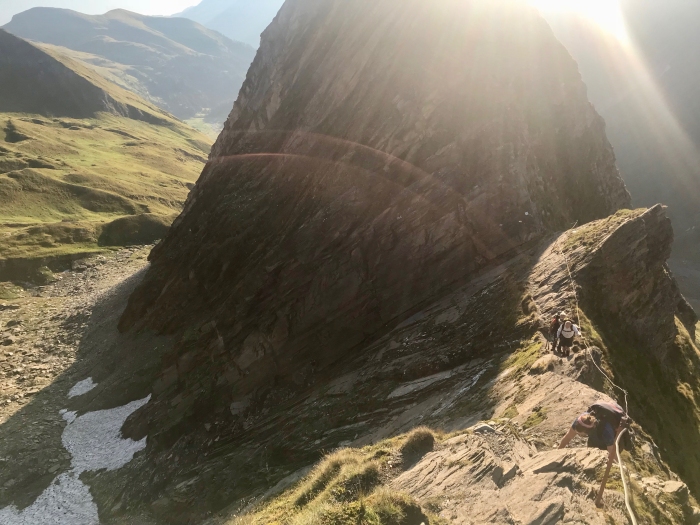 Descent: Way down is just on the same path. Relaxed version is staying in the hut but it is also possible to go all the way down (around 7h and around 2500m descent!!) and you will make it back with train (last bus at 19:04 with connections to Salzburg/Vienna during weekdays, on weekend it is already at 17:24, check schedule of bus 650) or can continue on the Grossglockner high alpine road to Osttirol.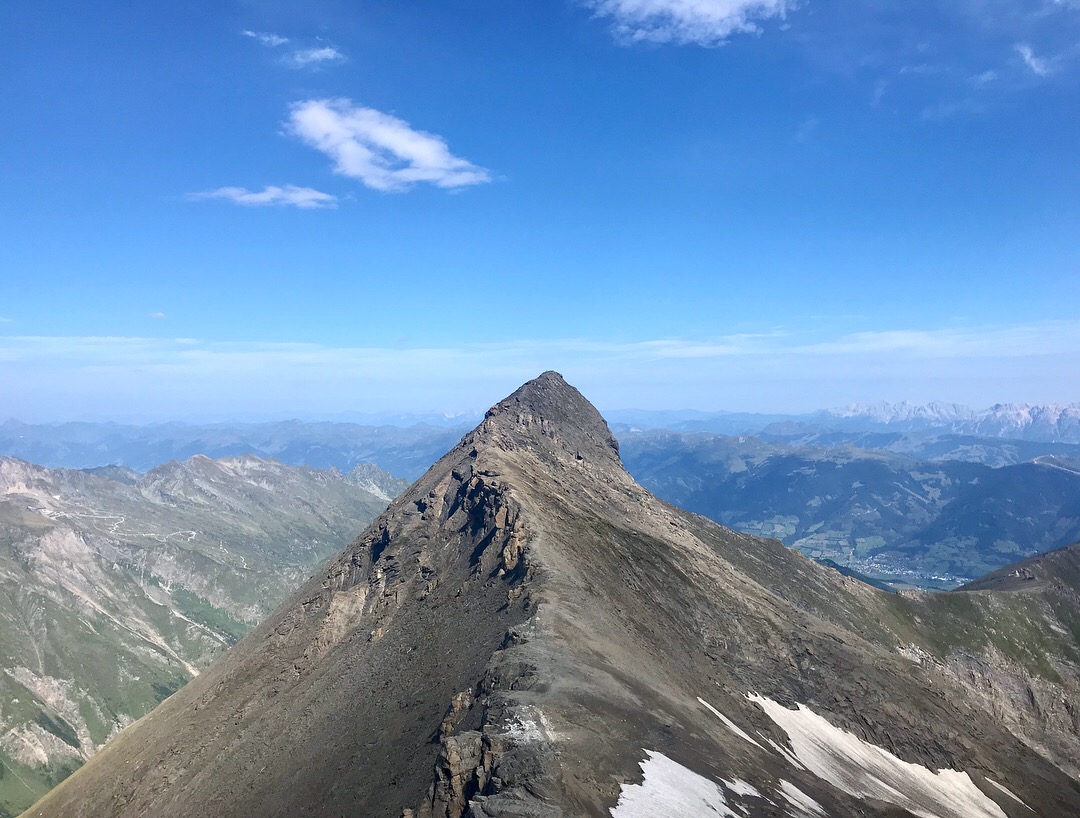 Sleeping
At the Gleiwitzer Hütte: hut for around 50 people.
Advantages
From Linz/Vienna/Salzburg you can make a one night trip by public transportion and have an easy (Bauernbrachkopf 3125m) and challenging 3000m peak (Hoher Tenn; double peak, higher peak 3368m, lower 3317m). Views on the peak day the whole time to Kitzsteinhorn (known for it´s glacier), Großes Wiesbachhorn (3564m), water storage damm Mooserboden and from the main peak directly to the Glocknergruppe.

Disadvantages
Overhanging short wall to reach Hoher Tenn; if you do it with only one night on the Gleiwitzer Hütte rather long second day.

Hope you enjoyed the pictures above, now several of the "Schlüsselstelle" (most difficult part). You can also turn around before and still had an amazing view, a long ridge and 3000m peaks.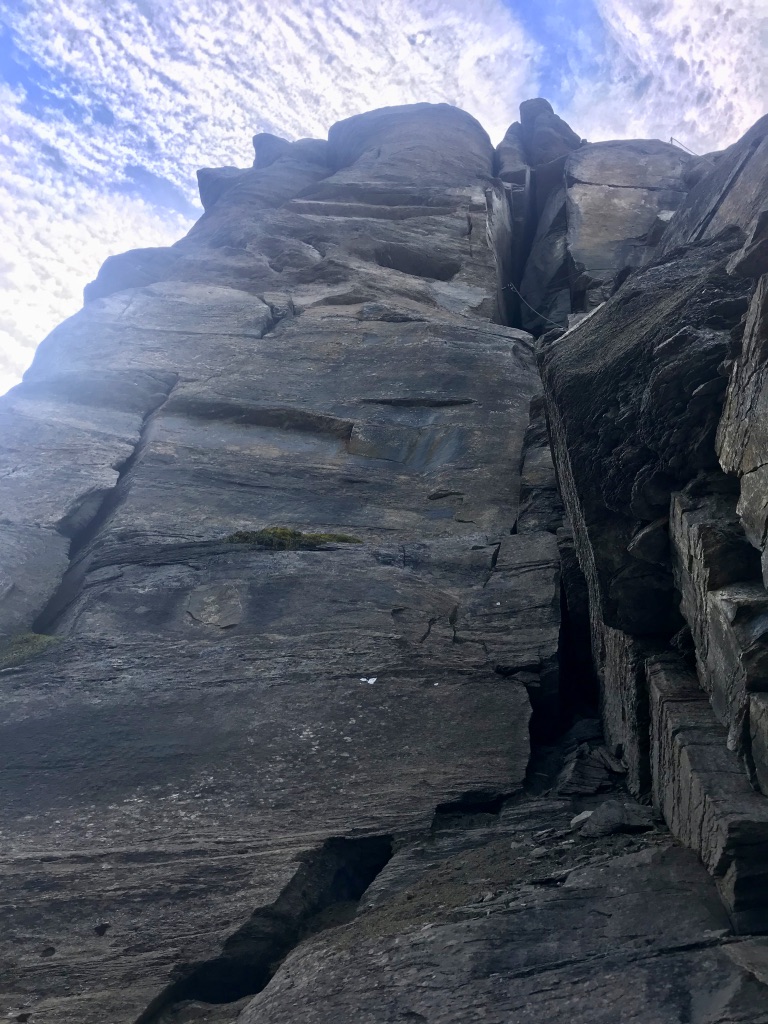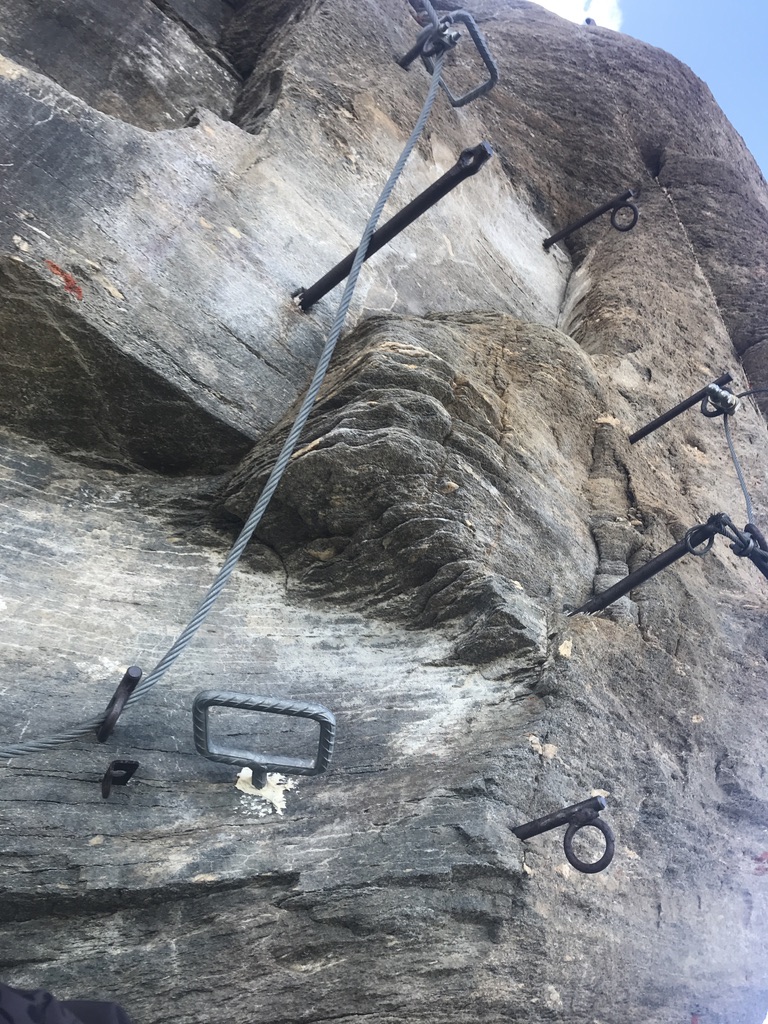 After several hours of hiking you will have the pleasure walking up this iron sticks on a short but slightly overhanging wall. The iron rope to the left you can use for holding or maybe even bringing a ferrata kit. The picture below shows the abyss next to you, in the back the storage lake, more than 1000m lower than you. So please: be more than confident and experienced climbing such a wall and do not be afraid of heights, the same path you also need to walk back.