This hike will start in the Bergsteigerdorf Hüttschlag in the Großarltal and will lead you to the neighboring Kleinarltal with a beautiful mountain lake (some sources say the biggest high alpine lake in the Ostalpen) and from there with bus back to your starting point. We left to St. Johann im Pongau on Friday after work and then returned back home on Saturday with one night of camping.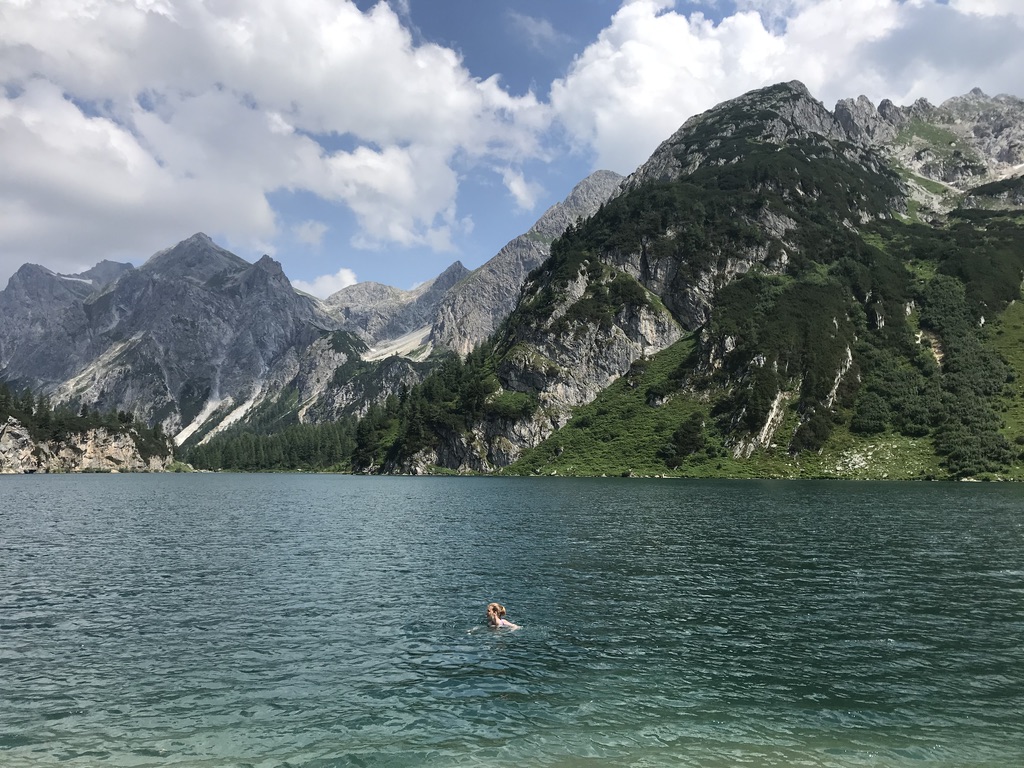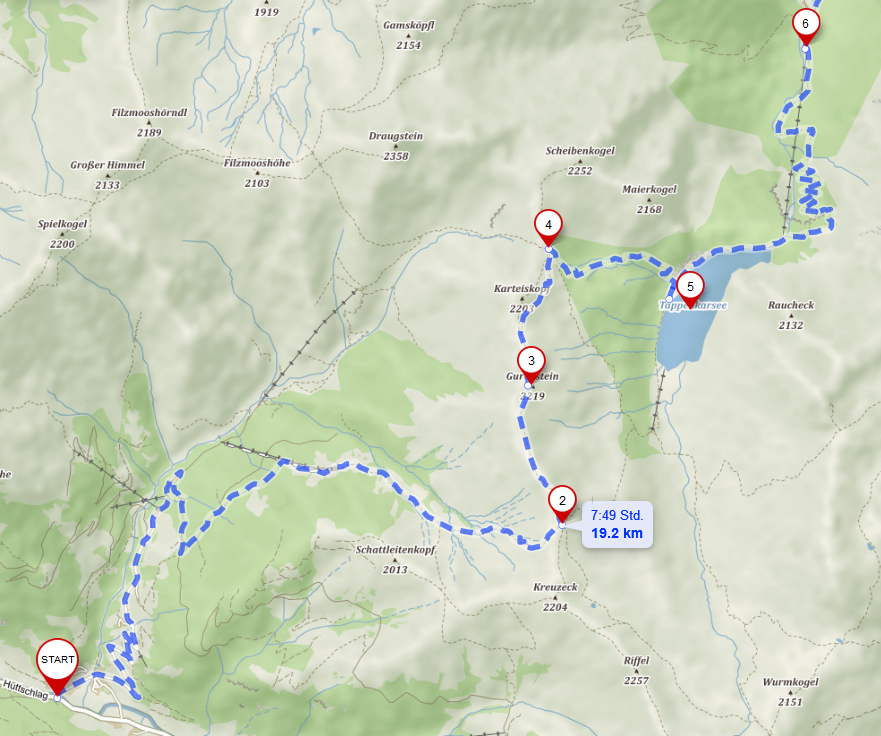 Source: mapy.cz

Access car
Close to St. Johann im Pongau. Parking lot is at the Halmoosalm but then you cannot do a roundtrip that easily, so either adjusting the whole trip a bit to get back there or better leaving car in St. Johann im Pongau taking bus to Hüttschlag and then bus to St. Johann again.
Access public transportation
Train to St. Johann im Pongau (from Salzburg an hour) and then bus number 540 which goes every 2h to Hüttschlag Karteis (start) in around 50min. At the bus stop you will already find the signs, in around an hour you will reach the Halmoosalm.

If you arrive late in the evening you can stay a night in a tent in St. Johann im Pongau. Completly new showers and nice employees at Camping Wieshof, just 15min walking from train station; if you arrive very late contact them but it s also possible. There is also camping in Hüttschlag.
Return: From the Kleinarl Jägersee (from Schwabalm (6), big parking lot, you can also try hitchhiking to Jägersee to save an hour walking or even down to Wagrain to avoid waiting for bus and save some money); in Wagrain either waiting for bus or trying more hitchhiking for St. Johann im Pongau).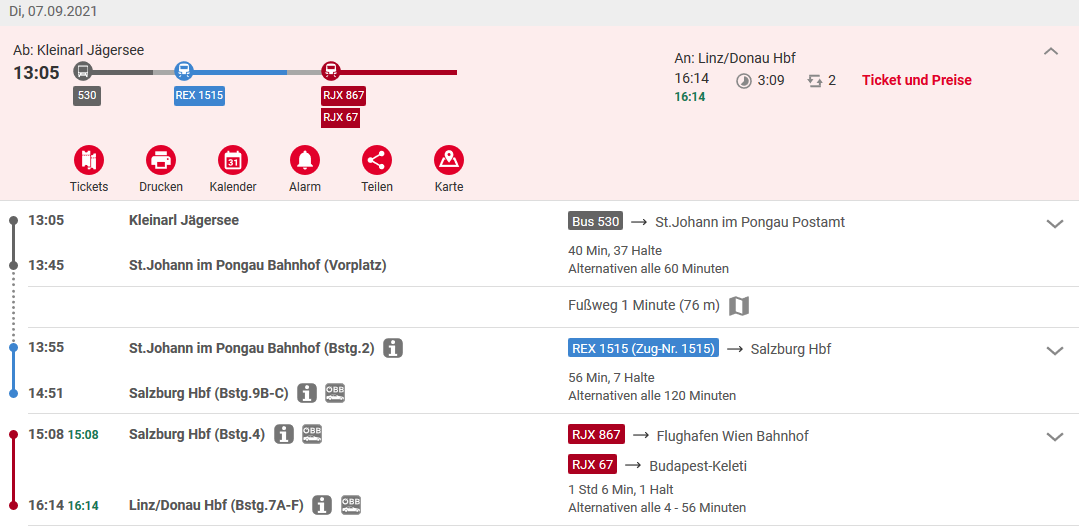 Just one example connection for the way back. To Hüttschlag you just take a bus from St. Johann to Hüttschlag.

(If you have a guest card of the region ask the bus drivers for discounts!)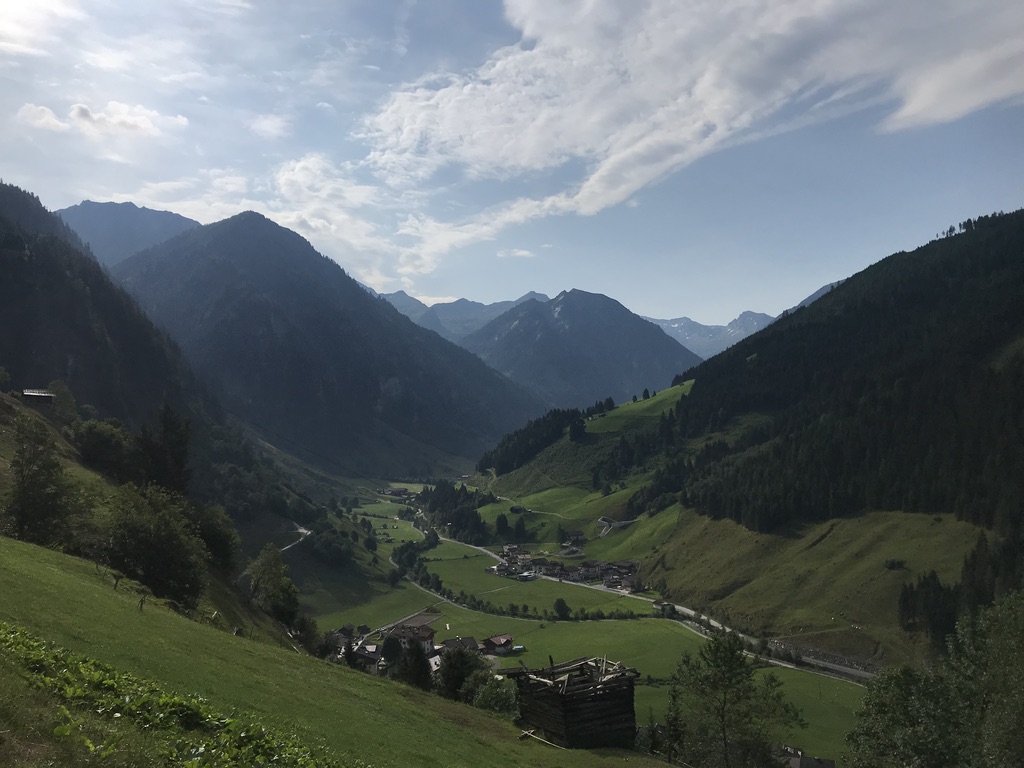 View to Großarltal with Hüttschlag
Hike
From the Halmoosalm you have two options which are timewise similar; this map should give you some help with the overview:
to Karteisalm (1h; not serviced) and to Karteistörl (another 1,5h; (2) on the map); from there you have the optional peak Kreuzeck

then either via the ridge to Draugsteintörl (1h; (4) on the map) and down to the Tappenkarseealm (0,5h)
or immediately down to the Tappenkarseehütte and from there along the lake to the Tappenkarseealm

to Draugsteinalmen (two serviced huts) and via the Draugsteintörl to the Tappenkarseealm (or via the ridge and a longer detour even to Karteistörl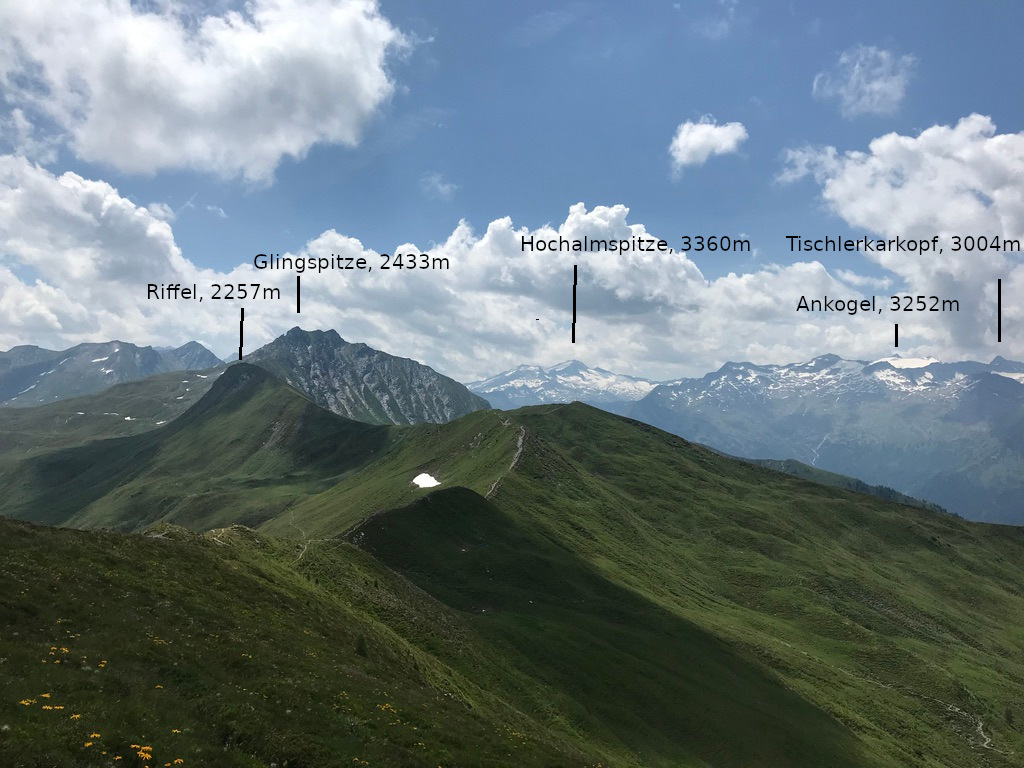 Panoramic view with glaciers on Hochalmspitze and Ankogel, approximately from Gurenstein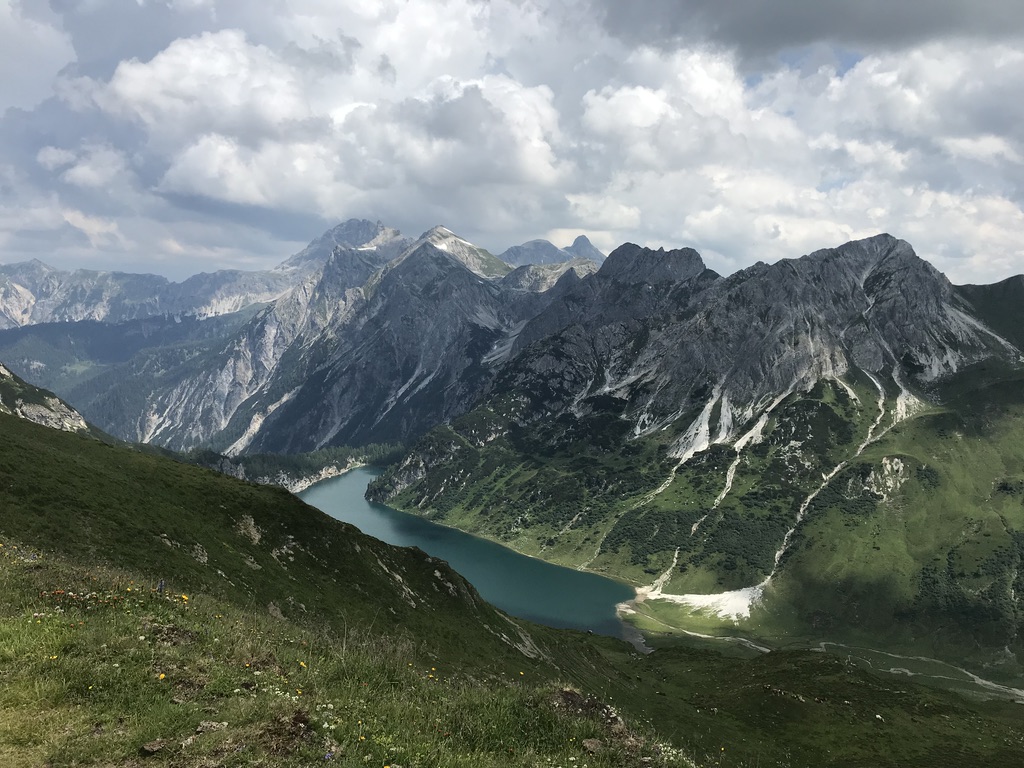 View to Tappenkarsee. The Tappenkaralm is located at the half of the lake, the Tappenkarhütte more to the right back, further into the valley.

The back of the valley seemed beautiful and also rather remote. Some 10h walking later you will be in Kärnten at the Kattowitzer Hütte or can continue to the storage lake Kölnbreinspeicher
Definitly plan some time at the lake, we have even been inside although the temperature is how you expect it on such an altitude. From the Tappenkarseealm (where you will get your well deserved lunch), to the Schwabalm (1,5h) and then to Jägersee (1h) to bus stop.

Sleeping
Options of camping in St. Johann im Pongau or at Tappenkarseehütte.


Advantages
The whole time great views to green grassland, cows and glaciers in the back. The Grossarltal is not very touristic but latest at the Karteistörl and the Tappenkarsee you will not be alone anymore, so it is a good way combining two different valleys with different approaches to tourism.

Options for roundtrips with car
Parking at Schwabalm, to Teppenkarseealm and Tappenkarseehütte, spend time around the lake or go further back in the valley and maybe onto Kreuzeck, then just same way back.
Parking in Halmoosalm: one trip follow the one of the two above either to Karteistörl or Draugsteintörl and then via the ridge to the other Törl (saddle) and the other option for the way back