Gesäuse is the name of the youngest Austria nationalpark in the North of Styria on the border with Austria. The name arrives from the river Enns which has a steep water gap here. On a very short distance it has a decline of 150m and shaped amazing mountains around. The highest is "only" 2369m high, the Hochtor, but most hikes start at a very low level (500-800m) and therefore it is quite some elevation to cover for ascending the main peaks. It is a very famous region for climbing: there are sport climbing areas and a small ferrata park in the valley but really known it is for the north faces of Hochtor and Dachl. These are 600-800m high and give an amazing impression when standing underneath. They give the panorama for maybe one of the nicest camiping sites in Austria: camping site Forstgraben. Run by the federal state it is rather cheap, you can buy regional products in the shop/reception, there is a fire place and just awesome location between the north faces and the Enns. As it is in the valley close to a river it will be rather cold and moist the whole time. In different (upcoming) articles I will give you several ideas of hikes (Großer Buchstein, Hesshütte, Grabnerstein).
What is also nice with the Gesäuse is that there are hardly hotels, the ones which exist dont look too big and are partly in old castles, the only skiing area has 3km of slopes (Kaiserau, also good for cross country skiing) and super close is the famous monastery of Admont. In its library in winter 2012 maybe the oldest existing fragments of German language were found. Approximately 1200 years old and Charlemagne might have been the initiator. It is one of the oldest existing books in German language, a dictionary translating latin phrases in three columns: hardly used ones into comonly known words and these into Old High German.

In Dec 2020 the great conjunction of Jupiter and Saturn was pretty close and the forecast for flat area miserable with all foggy, but for the mountains all clear. So started my research a bit where to go best for some photos, one option is Hohe Dirn, where a small astronomy area is existing, then just every other mountain/hill high enough and the most tempting was Gesäuse. They claim to have the darkest sky of Austria above Johnsbach and have pretty amazing night sky advertising pics with milky way and so on. Doing research where to go best was not that easy as no concrete locations were published. Some star watching hikes start at Buchauer Sattel, so I choose this as an destination. Advantage is that you have a great view towards all the Gesäuse main peaks.
I personally went up the same way (636) like when going up (to be sure that the path is safe with it is dark and icy) but you can also do it as a nice roundtrip, have optional peak, optional ferrata. So pretty amazing variable hike there.
Access car
At Buchauer Sattel there is a bigger parking lot with information maps and hiking signs.
Access public transportation
Just next to the parking lot there is the bus stop Buchauer Sattel. In Dec there is just one bus per day so this was not an option, in summer it is better. Alternatively hitchhiking shouldnt be a deal either as it is a busier road and you can just be dropped out at the highest point.
From Wien Westbahnhof there is once per week a direct train to Gstatterboden, pretty nice offer and would be good if it is also used! Leaving Vienna at 6:20, arrving at 9:52; train back at 17:08 and arriving in Vienna at 20:40. So either a nice calm day trip with some time to read in the train or a proper one week holiday.

Hike
From parking lot at Buchauer Sattel there is path number 636 and 628 to choose. Path 628 was partly along a street, partly through the forest, if you want you can also follow the street the whole time to have a very steady path. Path 636 is more of an hiking path and just follows in the beginning the street and is steeper. Just before the Grabneralm they combine again and both will bring you in around 1,5-2h to the Grabneralm.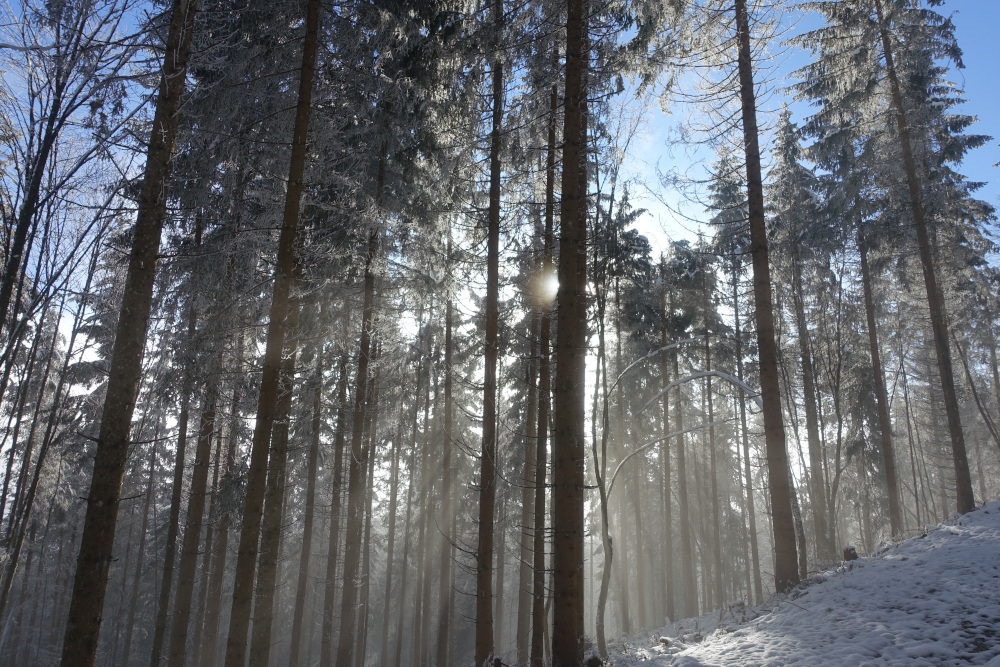 During summer it is a served hut, during winter (2020) there was a fridge to self service you with beer, radler and lemonade, just bring coins to pay as there is no change. For just having a relaxed day the tour ends here and you can choose either way to go back (maybe better going 636 up and 628 down to avoid steeper parts for descenting), the views are amazing to see the whole Ennstal in front of you and all the Gesäuse mountains and northfaces.
 From here there are the following options:
Main reason why I decided to go to Gesäuse for that weekend was the clear sky. No clouds, jupiter and saturn conjunction (behind the trees unfortunately) gave chances for great pictures. For every person liking astrophotography it is amazing and with better equipment and more time way more is possible of course. The nationalpark also organizes photography workshops.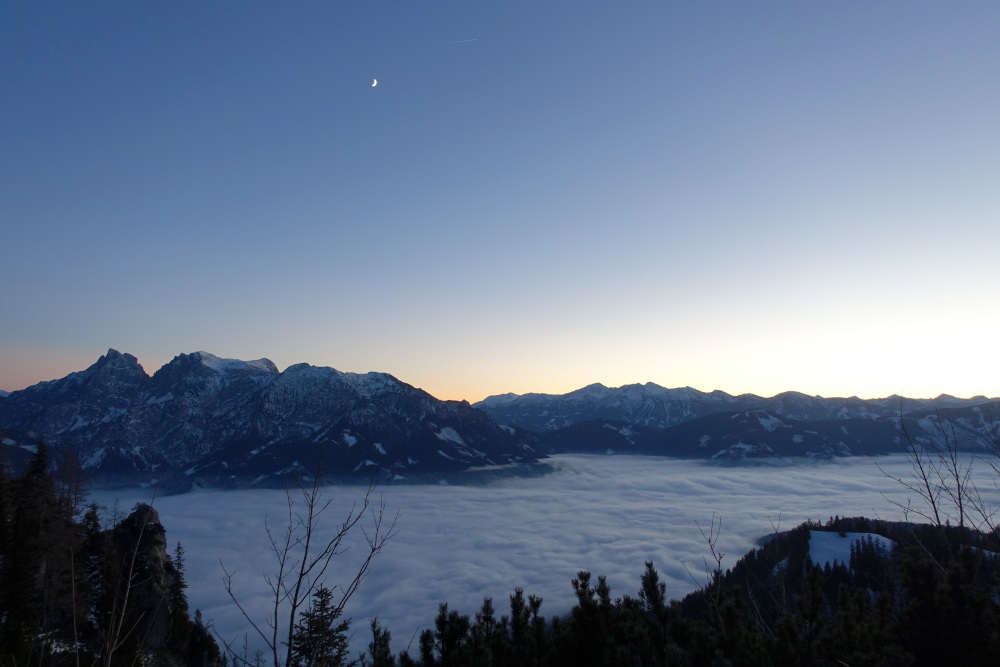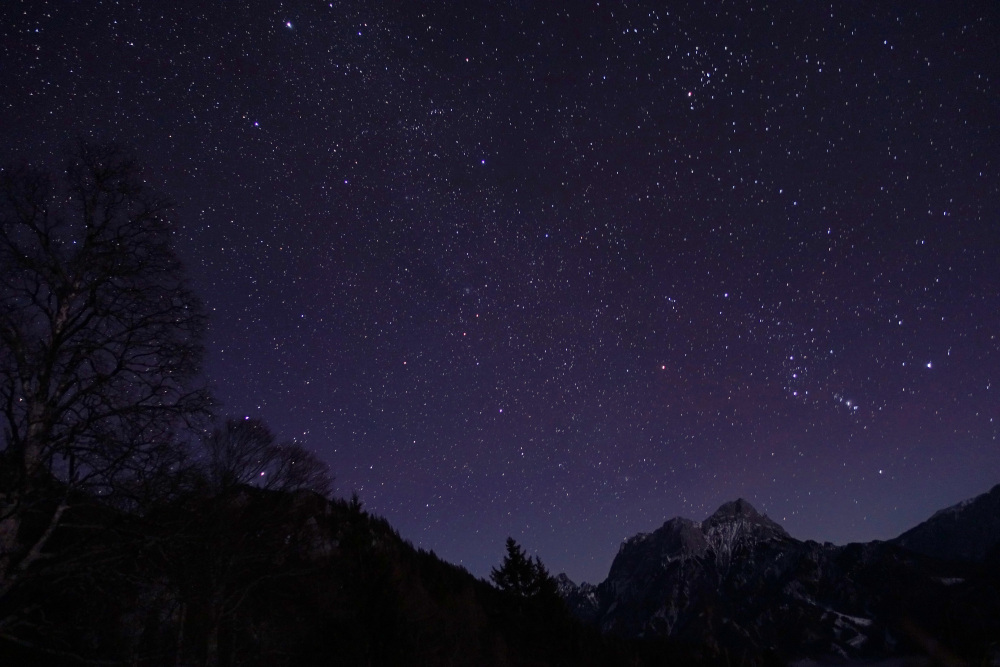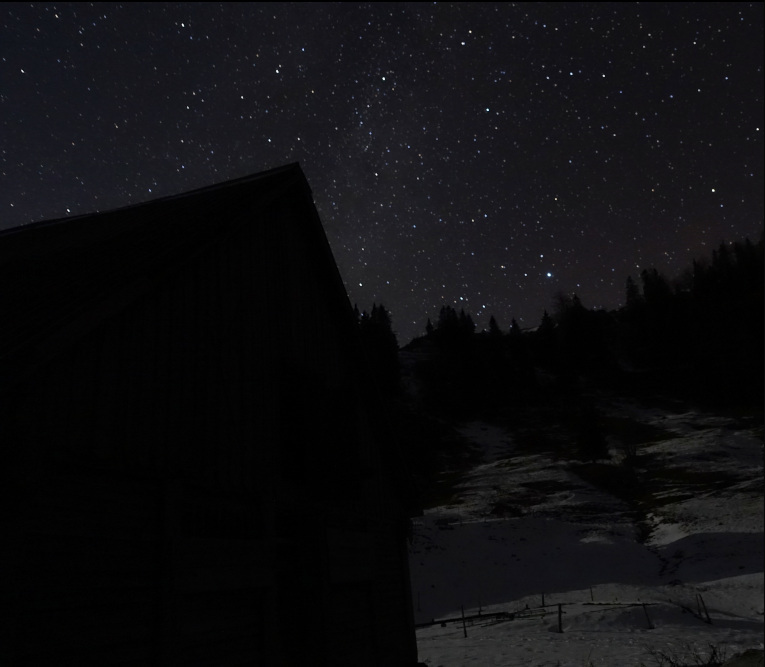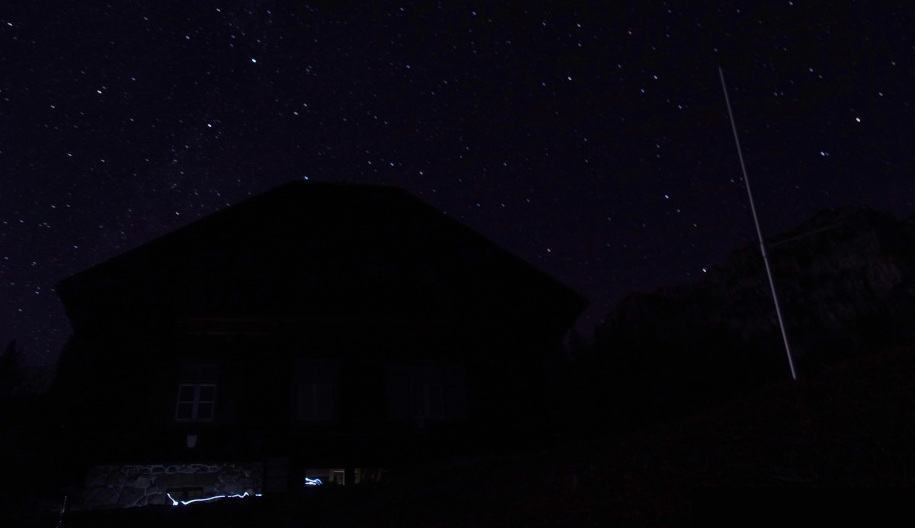 Sleeping
Not needed as it is all a day trip but camping site in Gstatterboden is awesome. For other accomondation just check Gesäuse homepage. For climbing/via ferrata/astrophotography holiday Gesäuse is perfect. Many different locations and possabilties.
Advantages
Having one of the best/darkest skys in Austria and great panorama. Mountains might me not that high and there are no glaciers but no mass tourism, no cable cars and super cliffy, edgy mountains are awesome.

In April I went for another attempt: