In the following text I will try to give you an overview and ideas how to plan a holiday up to several weeks in Greece. Based on my own 3 weeks holiday I will give suggestions where to shorten, where you can extend so in the end it is hopefully quite flexible and everyone can just decide which parts are worth it and what might be of less interest.
First question what you want to see and how long there is time. Greece is quite big: there is the mainland with Athens and mountains, Peloponnese peninsula connected via the Isthmus of Corinth with central Greek part and then there are many, many islands where several are worth staying for a week or more themselves (Crete and probably any other if main aim is sea and relaxing). But we wanted a nice picture of culture, mountains, sea, main tourist sights and some calmer areas. Best idea is to start either on islands or the mainland and then end up with the other to save on one flight or ferry and especially save on time. We ended on the Cyclades islands to have the relaxing part in the end and as there were flights home from Santorin. The whole trip took part in September 2020, so during the Covid-pandemic but it worked very well.
All info might change, so happy if you provide more tips/tell me wrong information; if something is unclear feel free to contact me!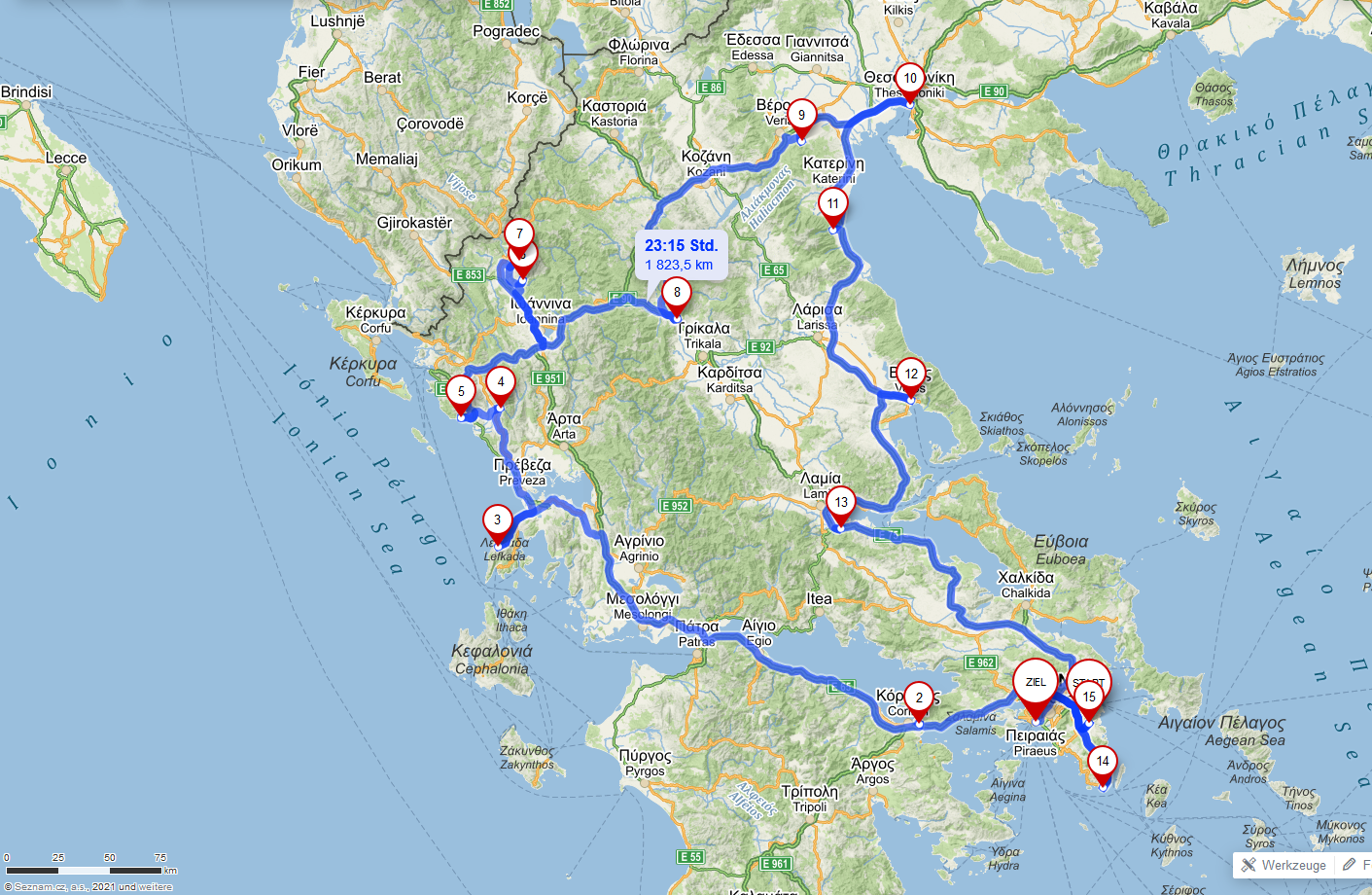 source: mapy.cz; here the editable version.
It is a bit difficult to combine our trip with the additional options so I will just start with ours, add some info during the schedule and then add more in the end.
Till Day 1: flying into Athens (on card point number 15), Athens sightseeing, we had three nights there. If you´re efficient and do not need every museum then two full days were enough. Things to do there:
Athens tips
Acropolis /Parthenon: when you here about Athens, what come first in your mind, will be probably the Acropolis. Actually acropolis is only the name of the whole hill/citadel and the famous temple is called Parthenon, even more than one acropolis theoretically exist as it only means "highest point of a city", but I think everyone refers to the Athenian one. The regular entrance fee is 20€, but there is also a combined ticket for 30€ for all  the other archaeological sites (agora, Olympeion, Hadrian´s library) combined. As long as you have enough time, this would pay off in my opinion. During winter there is in general cheaper entrance fee, so another reason to travel off season!
Acropolis museum: located just next to the Acropolis, the museum houses many statues and models to show you the history and development of the Acropolis. Especially when you are an EU-student I can recommend going there because the entrance is for free. Normal price depending on season between 5-10 so also affordable.
Panathenaic Stadium: it was already used as a stadium during ancient times but then it declined but was then beautifully reconstructed for the first modern Olympic games in 1896 in Athens. For the games in 2004 it had a smaller roll  but was still used as a stadium to let the marathon and other long distances competitions end at such an iconic place. One of the biggest single events held there was a basketball final in 1968 between AEK Athens and Slavia Prague, where around 80 000 people watched the game. Entrance fee for adults 5€ and it includes a great audio guide in many languages and for everyone being a little bit interested in Olympic games I can highly recommend going there!
Kap Sounion: we did the Kap Sounion with the car at the end of the road trip but it is also possible to going there with publics from Athens for half a day. Another possibility is sleeping at a hotel just next to it, there is also a beach so you can combine an amazing temple and swimming super close to Athens. Organized tours are probably also available, just search for them in case.
Exarcheia: close to Syntagma square but to the other direction of the main touristic stuff lies the neighbourhood of Exarcheia. It is known for it´s anarchist history and hosted several important events of the recent Greek history: between 1967 and 1974 the NATO-country Greece was ruled as a military dictatorship with the blessing of the US. One of the biggest uprisings against this regime took place in Exarcheia with students of the Polytechneion university and many more people protesting. The regime beat down the students using tanks, more than 2000 people were arrested, around 24 people died. Just one week later as a result from the protests a even bigger hardliner staged a counter-coup but finally the dictatorship ended in 1974.
The second time it hosted clashes between protestors and police was in 2008: a 15 year old was killed by a special officer and sparked off protests and riots. Rising frustration of the young generation during the global economical crisis supported the developments. These protests are repeated every year and it is also said to be a sign to show the police that they still depend on its citizens, still every year cars are burning and people get arrested. But outside these protests it is a very vibrant and young neighbourhood, many students and migrants since the refugee crisis, with bars and a good nightlife!
Psyri: after being dodge for a long time it got gentrified over the last years and hosts now many, many restaurants and bars. When we were there we mainly heard Greek, so to dive deeper into Greek lifestyle rather search some restaurant around here than something straight around the Acropolis. Plateia Iroon is the main square and from there into all directions the gastronomy is spreading. We went for lunch to the tiny restaurant Avli  it´s a bit offside the main road and nicely hidden in a yard of a house without any advertising or waiters annoying you with their menu. First day we heard many loud voices and guitar playing so thought it is a private party but when we figured out it is a restaurant we decided to go there the next day. The menu is rather small (and cheap), had a mixed plate and was really good. Best was the atmosphere, nice sheltered from all the houses and just the narrow yard and all around us only young Greeks and we were definitely the only tourists there at that moment. I think the whole neighbourhood is also nice for accommodation: close the historical stuff but more lively around.
Day 1: picking up the car at the airport (alternatively city centre but decided it is more convenient avoiding city traffic and also for returning as it is close to Kap Sounion our last stop). Then via the highway to Isthmus of Corinth (2), just off the highway for a short stop there (there are signs are a big parking lot so not difficult to find). We continued the same day all the way to the peninsula of Lefkada, therefore skipping whole Peleponnes, partly because other areas seemed more tempting but also because I have been already there some years ago (Nafplio, Olympia). Patras we also skipped and just used the famous Rio–Antirrio Bridge to cross back to mainland Greece.  It is one of the longest multi-span cable-stayed bridges and due to the danger of earthquakes a true architectonical masterpiece. On the way there was quite a lot of highway toll to pay, more than 20€ throughout the day but this highway is just way faster than staying on mainland and Corinth plus the bridge around Patras are probably already reason enough going there. In the evening we arrived on Lefkada (3).
Lefkada tips
Very close to Zakynthos but via a swimming bridge/road connected to the mainland and therefore easier to reach lies the island of Lefkada. We stopped there for 24h and did quite a lot there, but retrospectively seen I think I´d either stay longer or skip it completely to safe some time. It´s super popular for Greek tourists, so I´d say better than some of the neighbouring islands without drunk English speakers. Lefkada itself is very hilly and has some mountains rising more than 1000m from sea level in the middle of the island so I suppose it also interesting for hiking but did not do anything like this there although it seemed quite tempting.
Porto Katsiki: is the most famous beach on the island and quite similar to the famous smuggler´s beach with the ship wreck on Zakynthos. In the morning around 9am we were the first but till lunch it filled up, luckily no boats arriving with another bunch of people (off season and corona have advantages). What we did not keep in mind is the amazing cliff covering the beach and making it famous: it also puts a huge shade over it and just around lunch time the sun appears. So better starting there later (or if it´s incredibly hot using the mornings then). Water was amazing, super clear, many rocks to climb on. Agremni beach is the name of the other famous but we had only time for one so cannot say much more.
Nydri waterfalls: located at the inside of the island it is a waterfall when there is no drought beforehand. The walk there is very pleasant through nice rock formations but during our visit it was just a joke of a waterfall due to the lack of water.
Vasiliki: we slept in that town. It has a beach and is very close to all the sights we wanted to do so thought it´s quite time efficient staying there. There are several bars, restaurants and a small supermarket so was just sufficient for the night. There is also a new road to the Kap.
Kap Lefkada: at the most southern point of the island lies the Kap Lefkada with a light house. Just the ride there is already worth it seeing the great cliffs to your sides and from the Kap there are views towards Ithaka (the island where Odysseus might have came from) and Kefalonia. Sunset might be amazing from there but for this you need a clear sky (which we obviously did not have), bring some snack and enjoy it. Also with covered sky I would not miss out that point, especially as it is close the Katsiki and both things can be easily combined.
Day 2: After going to their most famous beach (see the tips), we jumped around noon into the car and continued all the way north up. We decided to do some stopovers but still to drive to the Vikos canyon in the evening/during night to have it more relaxed the next morning. But sleeping over somewhere on the way is definitely also a good option! So on the way up there is the source if the Acheron river (4), this was in the Greek mythology one of the three rivers surrounding the underworld. Somewhere I read that Achilles was put there into the water from his mother but this should be another river. There you have quite some nature activities, hiking through a gorge, kayaking etc. We just had a very short stopover, walked to the source and then back to the parking lot. Took in total like an hour. Afterwards driving to Parga (5): it is often described as a secret tip off the main touristic paths. I can imagine that this refers to international visitors but for Greeks it is not true and at the cute seaside there are many, many restaurants and souvenir shops. Amazing view to the sea straight from the terraces and cute, narrow streets are making it definitely also worth for staying over night. But we decided differently and were on a stricter schedule so still continued further up north to Vitsa (6) around the Vikos gorge.
Vikos tips
The best in this area is that all villages are incredibly cute! Just stone houses, paved roads, no "normal" houses. A pleasure just wandering around the small streets. Around there is the Vikos-Aoös national park, with the mountain range Tymfi. The highest point is 2497m and called Gamila.
Vitsa: some 20min away from the main town of Monodendri, we sleep two nights in the hotel En Chora Vezitsa. Can only recommend it. Location just great just next to the church and main square, breakfast was with great Greek yoghurt (unfortunately never got anywhere else something as good as that one) and they also have a restaurant which has just awesome food. Only local ingredients from a surrounding of 20km, had great lamp from the grill. Just the location at the main square, shaded from a big tree and a view direction of the canyon is amazing. All bones were eaten by their dog so the plate was more than clean afterwards. Thessos, the owner, was very helpful with our next planning. He himself is a mountain guide so if you need more info or want to book something just contact him (I suppose also without staying at their accommodation). For the taxi ride back from Vikos to the hotel it was cheaper though just asking random locals but just ask beforehand before leaving, then you can compare the prices and still have the security that something will bring you back for sure.
Vikos canyon: the hike through the canyon usually starts in Monodendri from where you will walk down to the ground of it. If you stay in Vitsa it is no problem either, just a little bit longer. The whole path is nicely marked with red signs and in the end not really difficult to miss anything because you just follow the river. We got once lost though because we were too close to the river and not on the hiking path anymore, if this happens just turn around to the last sign and try again, there were enough signs. Something to keep in mind is the weather: in spring there is the snow melt and therefore I read there can be a lot of water and some passages even not passable anymore, in September it was completely dry and we could have walked just along the empty river bed the whole time. This means on the other hand that there is not much water and you should bring enough. If I remember correctly at the first part there was a spring where you could refill your bottles but better bring enough. Close the village Vikos there lie the Voidomatis springs in the gorge, when we were there they were dry as well. Was funny to see though that several people went down just to see these, when you already go there try to walk the whole canyon to get a better experience and then you still have the springs at the end on your path. We ended then in Vikos and went back up to civilization. That is a crossroad with signs to Vikos and Papingo so it would also be possible to continue even further but then the ride back gets also longer. In Vikos we just went to some restaurant and asked which options we are having to get back to Vitsa, apparently some official taxi just left, so some old guy drove us back for 50€, unfortunately he did not speak any English but tried his best being a good guide/driver and told us the names of all towns which we saw on the way.
Drakolímni lakes/refuge D.Georgoulis from Mikro Papingo: although Thessos told us it is only a half day trip just with keeping the distance and vertical metres in mind it is rather a day trip if you are not a trail runner. Highly recommendable though, the hut serves food and drinks and also answers all your questions where to continue and which options there are. The hike starts just from the end of the road in Mikro Papingo and if you want to make it shorter just go till the hut, from there it was around an hour further to the lake. From there you will find a great view towards the mountain range and all its highest peaks.
Day 3: From our accommodation we hiked to Monodendri and then down to the canyon and all the way to the town Vikos. From Vikos there should be some kind of taxi, locals told us that it just left so a old guy offered to ride us back to Vitsa for 50€ for two. Read online that sometimes it was 10€ cheaper but in the end it does not matter too much, the car would never be allowed to go on the road in other areas but for some remote mountain areas it works still enough. The hike took around 6h, the ride back 30min.
Day 4: As plans for later got postponed for a day we could use the day for another hike and started from Mikro Papingo (7), after the hike we drove to the Meteora monasteries. There I would recommend to sleep in Kastraki (8) and not in the bigger city of Kalambaka as it is closer to the monasteries and most hotels already have views to the monasteries.
Meteora info
Meteora is definitely one of the most famous and iconic sights of Greece, due to bus tourism I expect it to be quite overcrowded but thanks to Covid-measures we saw in total one bus there. The rock formations, on which the Eastern Orthodox monasteries are located, are quite unique geological examples, mixtures of sandstone and conglomerate and were
shaped over millions of years
. From originally 24, now still 6 monasteries exist. Just these on Mount Athos have a greater importance for the church. Some might know the name of the Linkin Park album "Meteora" as well, which was named after it because both things are supposed to be epic, dramatic and have great energy.
The monasteries were founded in the 14th century, originally they were only supplied with rainwater, nowadays they are connected to the normal water/electricity supply.
Every day of the week some monasteries are closed so if you stay there only one day there is not the chance of visiting all. The question is as well though if it is really worth checking every single of them as they are quite similar in the end. To each you pay 3€ entrance fee, legs and shoulders need to be covered but they differ a bit how strict everything is handled. It is said the all-female/nuns´ monasteries are stricter. We visited the first 3 ones from the following list:
Holy Monastery of Great Meteoron: it is the oldest and largest of the monasteries so it was for us an obvious choice to visit this one.
Holy Monastery of Holy Trinity: other tourists recommended us this one as it is one of the smaller, more remote and more difficult to reach ones. There is even a walk from the Kalambaka for around 3km to this one or alternatively just from the parking lot quite some stairs. It has a cute small garden and it was also used for shooting the Bond movie "For your eyes only".
Holy Monastery of Rousanou: it is close to the towns and run by nuns, as we wanted to see both monk´s and nun´s ones we started in the morning straight with this.
Holy Monastery of Varlaam: we did not visit this one, from the outside I think it looks the best of all of them. It is just next to the Great Meteoron so the views to everything around will be quite similar.
Holy Monastery of St. Nicholas Anapafsas: the closest monastery to Kastraki and we could nicely see it from our accommodation.
Holy Monastery of St. Stephen: this is also run by nuns. We did not visit it, other travellers we met said it is not that special and as it is the easiest to reach, just a short walk from the parking lot it is also the most crowded one. Which means on the other hand if you have problems with walking stairs this is definitely the best choice for you!


Accommodation: we stayed in the guesthouse Papastathis. Very nice owner, she spoke very good German and as well English and was happy to provide us with info. We just checked online which are still having capacities and went there straight away without reservation, got it then a bit cheaper than online as well. I would definitely recommend staying in Kastraki. From cheaper guesthouses like ours to more expensive ones (the Hotel Doupiani was recommended by a British couple we met), there is a big variety and a direct view towards the monasteries is just awesome.
Sunset spots: I have the feeling that since Instagram grew that much in popularity also sunset pictures are way more hyped. Not only in the mountains you can get nice impressions but also Meteora is famous for it, around the Holy Trinity monastery are some parking lots where you can enjoy a good view. For examples this.
 Day 5: The whole day we attributed to the monasteries. We visited 3 out of the 6, which still exist.
Central Makedonia, sights between Meteora and Thessaloniki
We ignored most of them due to time issues but here you can add easily 2 days for these things and see some more on the way. Either if you´re interested into ancient Greek history (Philip II and Alexander the Great) or into nature there is quite some more stuff to do, all recommendations came from a Greek friend who is from this area.
Vergina (9): there is the archaeological site of Aigaim which was the original capital of the Macedons and king Philip II was killed there. From him his son Alexander the Great took over and extended the empire very far to the East. There is a museum and the tomb of Philip II, which was just discovered in the 1970s and in comparison to many others found untouched.
Pella: became the new capital of Macedonia and is also the birth place of Alexander the Great. Today you also find archaeological sites there.
Pozar baths: thermal baths.
Edessa waterfall: as name says: waterfalls. When you are already around worth a visit but to be honest, I have seen more interesting ones in my life.

Day 6: in the morning we left direction of Thessaloniki (10). We did not stop anywhere on the way but there would be several options (see below) how to extend your stay in the north. The question in general is as well if you want to go to Thessaloniki as there might be more beautiful cities but we visited a friend there and thought it was amazing there and with the tips of the locals I can definitely recommend going there.
Thessaloniki info
We were lucky and got a tour from a friend through the town with a lot of historical and recent information about Greece, its people and so on. Many spots we would have otherwise never found.
Walk at the seaside: just start from the old harbour/pier or from the Aristotle square and walk towards the white tower, it is the symbol of Thessaloniki. Around the tower you will be msot probably annoyed by many people trying to sell you shit, either check the tower or just continue along the seaside and you will reach a Alexander the Great statue. In the distance the Olympus mountain range might be visible. Further you will find some modern art (umbrellas) and also many benches to have a rest and enjoy the view. If you know Cyril and Methodius (Cyril and Methodius were brothers, born in the 9th century in Thessaloniki and they created the Glagolitic script, the oldest known Slavic alphabet. Later Cyrillic alphabet was named after Saint Cyril. They were sent to Greater Moravia, evangelized the Slavs and brought them the alphabet) it will be worth continuing even further till the Temples of Cyril and Methodius which is a beautiful Greek orthodox church and in front there is a monument for the two saints.
Castle: Quite some walk from the centre but the view if worth it. On the way you can pass the Arch of Galerius, the Roman Rotunda and next to the castle walls there are some small shops (and also proper restaurants) to provide yourself with some drinks to have a relaxed evening sitting on the wall and having a proper view. For GPS search for the Trigonion tower, there is all the infrastructure and during night you will find many, many young people occupying all stairs, benches,...
Nightlife: due to Covid not too much nightlife happening in 2020 but once life is back to normal going from Pl. Katouni to Egiptou street (as well the neighbouring streets) will give you the best options for bars, clubs etc.
Best pita/gyros we enjoyed at our whole stay (and we tried many, many different ones): Mpoukia Souvlaki (English menu, English homepage)
Most famous sweet shop: Terkenlis. From there we got our tsoureki, a brioche covered in an insanely thick and awesome layer of either black or white chocolate and Terkenlis is really famous for these.
Another great sweet shop: Trigona Elenidi. From there you need to get their "trigono"!
Taverna: Kourmpeti/Kourbeti: great food and not that expensive.
With these tips you should survive some time in Thessaloniki and get some calorie bombs!
Beach: although Thessaloniki is located at the seaside there is no beach to swim around the city centre. But from the port/pier (also some museums and restaurants there) leaves a boat regularly to a beach.
Politics: every September the Greek prime minister is having a speech about the state of the economy in Thessaloniki. Along with this (as usual in Greece) come big demonstrations, left/far left demonstrating for a more human migration policy, against the economy policies; far right demonstrating in favour of getting some land in today´s Turkey back and nowadays some other against vaccination. Surprisingly next to anarchists and nationalists the vaccination deniers still seemed to me as the strangest group. Trash bins usually burn, police completely over equipped (for reasons though) and also demonstrators coming partly with helmets and gasmasks show you some different protest culture than in Central Europe.
Day 7: After already seeing the Olympus mountains from the shoreline in Thessaloniki, we started in the morning towards Litochoro (11). It is only about an hour driving and would indeed is super nice is, that you can first go a big swimming into the sea around Litochoro (we went to Plaka and parked here) and then continue to the begin of the hikes in the Olympus national park.
Olympus national park info
Most hikes start from Litochoro or from somewhere around there. To find the right time is not that easy: most popular months are September and October. In summer it can be very hot, in spring/winter there is snow and it would be for ski alpinism. As long as there is no snow it is mainly normal hiking area, to the main peak it includes rock scrambling/climbing though and you should definitely have some experience using your hands when getting up rocks. Olympus is the name of the whole mountain range, the highest peak is called Mytikas and 2918m high.
Visitor´s center: after leaving Litochoro and when driving closer to the start of the hikes we saw the Olympus national park information center. As there was still time we stopped by there and I can see it was more than worth it: the exhibition is pretty new, a lot of info, very modern and highly recommendable. It is for free, maybe plan around an hour to check it out (English and Greek).
Prionia (1100m)- Spilios Agapitos Refuge (2040m) - Skala - Mytikas (1918m) : this is the most popular and also easiest to organize hike. Prionia is a parking lot at the end of the street coming from Litochoro, includes some restaurants and other infrastructure. Would recommend it as a two days trip but for very fit people it´s also doable in a day (1800m vertical metres!); starting in the afternoon up to the refuge (make sure to get a reservation before, especially during weekends in early fall it will be packed with Greeks who want to ascent their highest mountain. The owner had German ancestors so communication in Greek, German and English all work perfect and from the huts we have seen it was the best organized and easiest to book. You get super-fast responses to adjust the trip in case something is booked out). You need a sleeping bag (hut sleeping bag) but in case you have non you can also purchase a one use one at the reception. Food and drinks are served and were good! The common trip is going up via Skala to Mytikas and then just going back down. Easy to organize and to find, just make sure you´re aware of weather (sun/heat, snow, wetness) and the length (it will be still a long descent if you do not want to sleep a second day up the mountain).
Thanks to our host in Vitsa we (actually he) came up with a better and less overcrowded suggestion:
Gortsia - Petrostrouga - Muses Plateau - Mytikas - (Muses Plateau) - Spilios Agapitos Refuge - Prionia - Gortsia: Gortsia is another parking lot between Litochoro and Prionia. It will be definitely a two days trip: for the first day either sleep at the Petrostrouga hut (Thessos recommended this as it is the smallest and therefore most cosy one on Olympus mountain with a view towards Thessaloniki but it was unfortunately booked out and we could not check it ourselves) or at one of the two at the Muses Plateau (Posos Apostolidis and Christos Kakkalos refuge; camping is there possible as well, can just get quite cold during night. These two huts did not have warm blankets due to Covid, so there a proper sleeping bag is needed; at Spilios Agapitos Refuge we were lucky to get warm blankets). For the Mytikas peak you will most likely go/scramble through the rock couloir Louki. Nearly everyone has a helmet and you can borrow it at one of the huts at the plateau (and then return it there again), we started super early when it was still dark so were the first one on that that day in the couloir and then it is also possible to go without helmet. But at the last metres several unexperienced groups roped to their guide passed us and we were happy that we were nearly down because they kicked loose quite some rocks. So either bringing a helmet already or borrowing it there. After returning you can either return the same way back to the car or choose to go along the mountain (called Zonaria) to the Spilios Agapitos Refuge, down to Prionia and then either walking or hitch hiking to Gortsia parking. Hitchhiking along the street is super easy, no crossroads, everyone going the same directions and for us it was super easy getting a ride for the few kilometres.
Due to the fact that all these huts were reserved we adapted both common above mentioned paths and did the following:
Parking at Gortsia - Hitchhiking to Prionia - Spilios Agapitos Refuge - Skala - Mytikas - Muses Plateau - (Petrostrouga) - Gortsia: in the afternoon up to hut A, as the Spilios Agapitos Refuge is also called, and in the next morning starting very early as a long day is ahead of you. We left the hut at 5:30 and therefore also skipped breakfast, at this time it is still super cold in September (bring gloves!) und unfortunately due to clouds we neither had a proper sunrise, via Skala we went to Mytikas peak. From there unlike the first option we descended town via Louki couloir to get a roundtrip. There is no option to borrow helmets in this option so either bring your own or be the first in the morning and be super careful (better using a helmet of course though!) and then going down to the Muses Plateau. We were lucky as we came late for breakfast and too early for lunch that at the Posos Apostolidis hut we got great omelette for breakfast, well deserved after being up for some hours and already having the highest Greek peak behind us. The cook promised that the omelette is made directly by the 12 Greek gods themselves. From the Plateau you have the best view to Stefani peak which is also nicknamed, for good reasons, "Throne of Zeus". After a break in the hut we descended further, a bit before the Petrostrouga hut we took a shortcut to reach Gortsia. Somewhere there we fucked up a bit and instead of following a marked path we went just down through the wilderness. But there definitely is a marked and good path as we found it later again. Saver might be though going via Petrostrouga hut, can have another drink or some food before being back down or even sleep another night on the mountain. The just to Gortsia and after a long day we were down again.
If you hiked black paths in the Alps, all these options are fine for you. If you are unexperienced and this is first time in the mountains plan enough time, check how your time is in comparison to the estimated times, check the vertical metres if you feel confident doing one thousand or so in a day, be cautious when climbing, check the forecast etc, etc.
Day 8: More hiking and then continuing with the car towards the south. Depending how far south you want to go or if you want to add more stuff on the way you need to decide where to sleep, just staying in Litochoro after a long hiking day and going south the next morning is one option already. We decided quite spontaneous: after reaching the car from hiking we started driving and did research just in the car. One destination on the way are the Thermopylae: not much to see there but as it is just off the highway it would be a pity to miss such a place, mainly known nowadays from the movie "300". We then drove to Kamena Vourla as it was very much on the way towards the south and internet research told that there will be beaches straight in the town.
Thermophylae/Volos region info
Originally the sea was going closer to the mountain, approximately where the road is today, so the gap between mountains and coast was much more narrow. This was the chosen fighting ground from the legendary 300 Spartans under their king Leonidas and other Greek city states against the mighty Persian forces of Xerxes. At this coastal pass the outnumbering power of Persians would come less into force and the Greeks could hold the stand for three day. The legend says that the Greek Ephialtes betrayed and showed the Persian forces a hidden shephard path through the mountains, surpassing the coast gap. This lead to the total defeat of Greek forces and today there is a small hill, where arrow heads for found and it is assumed that the last battle could have taken place. Opposite there is a Leonidas statue and also a museum (we arrived too late so it was already closed but apparently they show a nice 3D movie and the 3€ entrance fee is worth it, it is just a tiny museum in the end though). Some boards provide you with extra information, the stay will be though due to the lack of things short but as it is just off the highway it would be also a pity missing it.
If you want to extend you stay properly you have the option going to Volos and taking from there ferries to the Sporades islands. Unlike the other islands these are very green and you might know them from the Mama Mia movies. Skiathos and Skopelos are the most popular of these and also the closest to the harbour. Greek friends told us that these might be the nicest islands in their opinion because besides the beaches there is also some vegetation.
Day 9: Now the end of the Greek mainland road trip was coming closer and the only thing left in front of us was going back towards the South, this time the very south to Kap Sounion (14). It is a big temple with an amazing view to the sea, even Peloponnese was visible! It is famous for its sunsets and just closes after sunset for that very reason. After this we brought back the car (it is quite close to the airport, but make sure to check time for sunset and time for returning the car. f the rental company is not directly at the airport and they need to give you a ride you can also ask to be brought to the second last station of the metro as you save quite some money as they charge just for the airport station extra, excluding this fee, publics are very cheap in Athens) and took the publics all the way to Piraeus to start the next morning with a ferry to some Greek islands.
The second part of our trip then was to the Cyclades islands. To have it a big better distributed click here for the info about this and info about other Greek islands.