After describing in the first part the start in Athens and the road trip through the Greek mainland, I will continue here with the Greek islands. First some general info which exist and then getting more specific about these which we visited. Best is if you can arrange a flight back to your home country from one of the islands to avoid either a ferry or a plane back to Athens, saving both money and time. As we did not wanted to miss out on Santorin (spoiler: missing out would have been okay) and had flights back from there we chose it.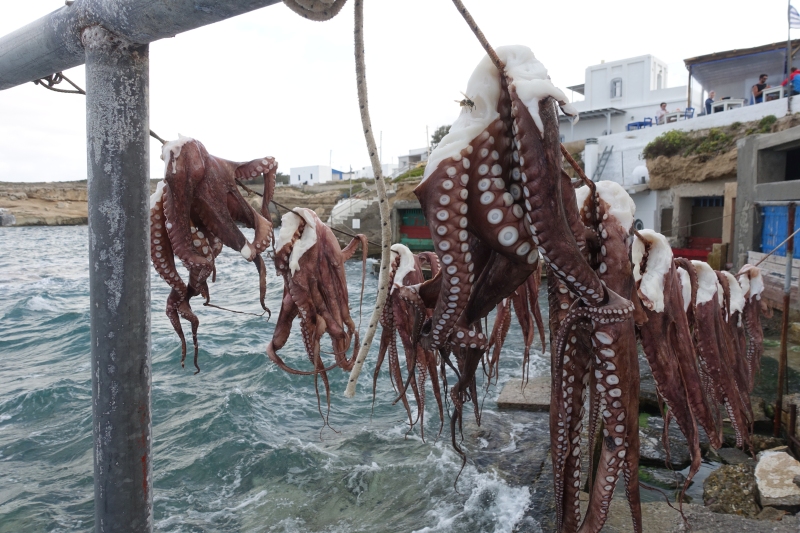 So to start with a short overview over the major Greek islands.
Overview Greek islands

Source, Wikipedia
Crete: it is the largest Greek island and already worth staying a week or longer there. Hiking, sea and so on, all the options there without changing the island.
Euboea: second largest island and just next to Athens, separated only by 60m from Greek mainland.
North Aegean islands: like the Dodecanese just next to Turkey but a bit more North, Lesbos and Chios being the most famous. Especially Lesbos should be beautiful, in recent years it got mainly bad publicity because of thousands of migrants stranded there. It is a horrible situation for migrants but also not easy for the inhabitants as they mainly rely on tourism.
Dodecanese: close to Turkey and include Rhodes, Kos, Karpathos and many others.
Cyclades: roughly between mainland and Crete there are the Cyclades. We decided to do our island hopping there as it was not too far with the ferry from Piraeus and many flight companies offer (cheap) flights to one of these. The largest is Naxos, most populated Syros. Most famous for touristic reasons are Mykonos and Santorini/Thira. More about these islands in the later text.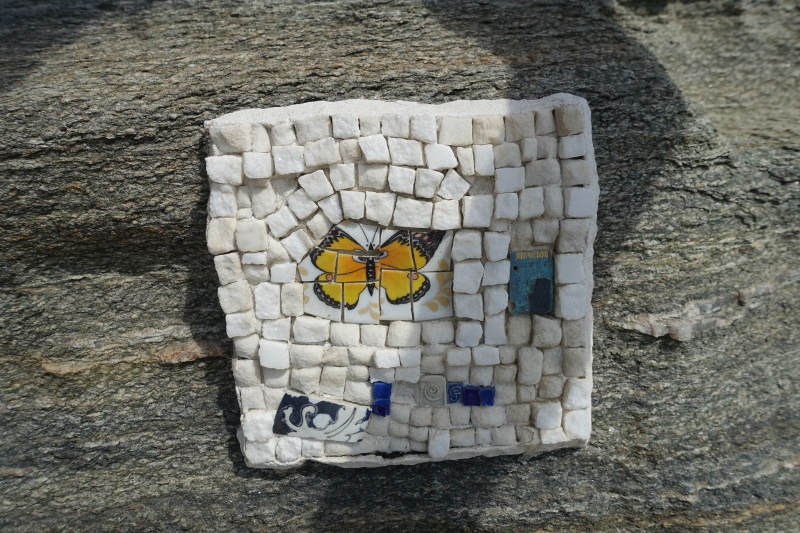 Ionian islands: unlike most others they are to the West of Greece. On the map they are not really visibile. Just off the Albanian coast lies Corfu/Kerkyra. Although being the seventh biggest Greek islands, the biggest of the Ioanian islands is Kefalonia. Very famous, especially for British tourists, is also Zakynthos. Ithaka is the second smallest of the group and known from Odysseus´name. Although there are also other explanations it is still the most likely that his origins lie on that island. Lefkada is the only islands connected via a bridge to the mainland. Here I was providing some info about Lefkada.
Sporades: in the North of Greece and ferries go from Volos. Unlike the other islands these are very green and you might know them from the Mama Mia movies. Skiathos and Skopelos are the most popular of these and also the closest to the harbour. Greek friends told us that these might be the nicest islands in their opinion because besides the beaches there is also some vegetation.
Argo-Saronic Island: they are just off the Greek mainland. The most famous of them for historical reasons is Salamis, where the sea battle took place. For tourists the most interesting should be Hydra, a small islands completely without car. Ferries leave from Piraus and it is only 69km. When I went there some years ago it was a super nice boat trip and we saw several dolphins on the way.
After we decided that a flight back from Santorini will be our choice it was about planning which islands to combine. We went in September so there were partly already less ferries but also in summer it is important to check which islands are easy to combine and have good connections for not going back and forth. There are super fast and expensive catamarans, mainly around the major tourist islands, and classic slower (car) ferries which sometimes cost a bargain. We used only comparisons to find the serving companies and then usually booked straight via them. It really makes sense to compare prices (we had 8€ vs. 60€, cheaper way slower though and on the other hand the same price and big differences in travel time). Getting your preferred schedule is not easy, mainly depending what are the musts for you and then which others to include, first I will give another overview which islands there exists and then I´ll give you our plan which worked out well and was organized with the great help of a Greek friend to combine known and unknown islands.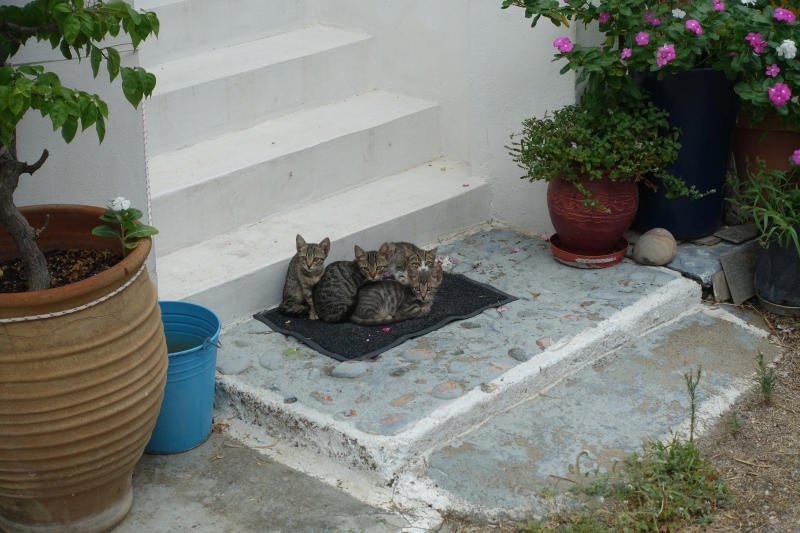 Overview Cyclades

Source; we went from 17/Sifnos to 12/Milos to 31/Folegrandos to 7/Santorin
When asking Greek friend for unknown small islands she suggested the following:
Amorgos (2)
Donousa (23)
Koufonisia (26)
Schoinoussa (31)
So for less touristic islands, especially around Naxos (14), these are your places to go to. As we decided to skip Naxos and include others it was not working well with ferries to these and stayed on the Western part of the Cyclades to avoid unnecessary time on ferries. Also in this area and good idea connecting it with lie Paros (15) and Mykonos (13). So if you decide to explore this area use one of the big islands as your hub and include one/some of the smaller to get a better picture and enjoy something less popular as well.
Thira/Santorini (7)
Ios (8)
Kythnos (11)
Milos (12)
Serifos (17)
Sifnos (18)
Sikinos (29)
Folegrandos (31)
To explain how and why we ended up with our tour: Santorin was fixed due to flight. Then we thought that Milos looked awesome, was often described as a secret tip (secret in comparison to Santorin but definitely not with the other islands). So it was then how to combine these islands the best and which to add, to making unnecessary ferry trips saves money and time and there are some companies connecting them for under 10€, whereas the fast catamarans take 50€ and more. Blue Star Ferry is a cheaper company, Seajet is an expensive one (still worth comparing prices and times though). We based our trip on the schedule of the Zante ferry company as this was the only (cheaper) one connecting Piraeus, Milos and Santorin and our stops in between should be based on this line. Now the help of our Greek friend got life/time saving. If you start comparing the possibilities yourself, every island is having some advantages, something might sound nicer from others and you might spend hours comparing two islands which are more or less the same just to have the perfect choice. Luckily this decision was taken from us: she recommended us Kythnos- Sifnos- Milos- Folegrandos- Santorin. After checking with the days available we decided that 4 instead of 5 islands would be better and after 5 seconds thinking she took Kythnos off the list (cannot imagine how many hours this decision would have taken me), between 2 and 3 nights per island seemed as a minimum to enjoy the time and not only hop from harbour to harbour.
Day 0: after finishing our road trip on the Greek mainland we went from the airport straight with the metro to Piraeus to sleep there and reduce the time needed in the morning to reach the port. Accommodation we just checked online shortly before and made sure it is around metro/our port for the next day to reduce walking times.
History of Cyclades
Name Cyclades: In the center of the group of islands lies the sacred island of Delos, like in a circle around most other islands, this is the origin of the name (kyklos=circle in Greek). Today it is on of the biggest and most important excavation sites of Greece and therefore as well UNESCO world heritage. Greek mythology made the island to the birthplace of the twin goods Apollo and Artemis. In 478 BC, after the victory over the Persians in the battles of Salamis and Plataea, the Delian League was found: under the leadership of Athens many Greek city-states united and there official meeting place was on Delos. Conflicts between Athens and Sparta lead to the Peloponnesian War and just 74 years after its foundation the association dissolved again.   
Volcanic eruption: the caldera of Santorini/Thera is formed of four overlapping calderas, the oldest being 180 000 years old. The most recent and hence most important one for todays appearance is the Minoan eruption, which happened around 1600 BC and was one of the strongest ever in the "recent" history with a Volcanic Explosivity Index of 7 on a scale 0 to 8. (Eyjafjallajökull had VEI 4 in 2010, Vesuv in 79 VEI 5). The settlement of Akrotiri was fully destroyed but due to the volcanic ash also frescoes were preserved and are part of a museum today. Older scholars think that the eruption led to a crisis and downfall of the Minoan culture on Crete as well but this thesis is nowadays disputed. 
Overtourism on Santorini: in recent years the problem of overtourism got bigger and bigger, a global middle class getting more wealthy and flights more cheap lead to a way higher mobility and especially smaller but very popular places fight with this problem (Hallstatt in Austria, Cesky Krumlov in Czech republic, Dubrovnik in Croatia, Barcelona, Venice). The number of overnight stays on Santorini increased from 3.3mil in 2012 to 5.5mil in 2017, not counted all the cruise ships which just stop shortly during the day and flood the island with their passengers. 90% of the island's income is earned from tourism, in whole Greece the industry is contributing 30% of the economy and employing 20% of the people. In general this sector was rapidly growing in the last centuries, the number of touristic arrivals  between 1998 and 2018 quintupled, between 2010 and 2018 doubled. In recent years not only the economical ties with China (via harbour shares) but also the touristic ones were strengthened.
Especially on a small Greek island such a major increase comes with effects: there is no natural water, so numerous desalination plants were built, apartment prices in Athens and on the islands rise because if is more profitable to rent via AirBnB than a whole semester to a student.
So if there's the chance avoid already overcrowded places or come off-season, as mentioned above there are so many other beautiful Greek islands with same/better beaches, sunsets and towns. Maybe get 10% less likes on Instagram because people root rather for Santorini than Koufonissia (who has heard of this island before?!), but it is worth it- for your stay but also for the local development and economy.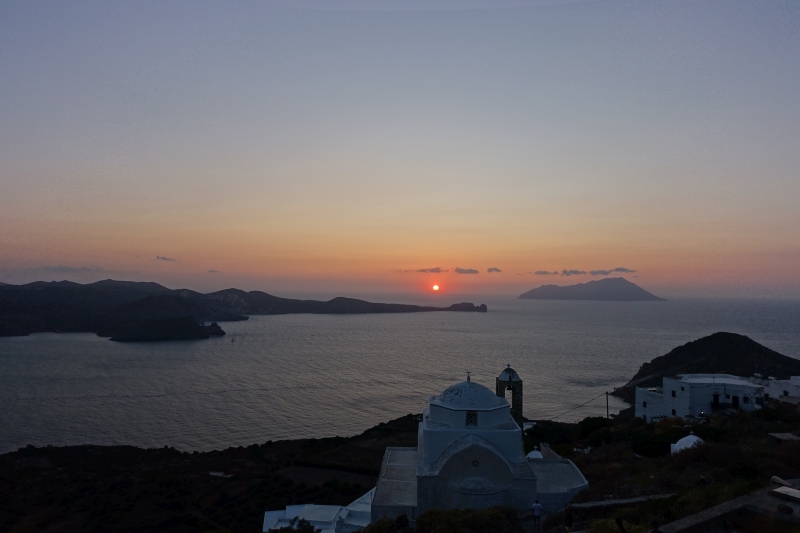 Sunset on Milos
Day 1: very early in the morning our ferry left to Sifnos. We went with one of the fast catamarans (seajet) as the price was more or less the same like with the slower (car) ferries. Comparing ferries and prices we did via Ferryscanner and also booked straight from their homepage, one ride was 33€ (something between 30€ and 40€ seems normal, depending on discounts, early bird,...) for us and took us a bit more than 2h. As we arrived before lunch time there was still plenty of time, with taxi we went to our accommodation in Apolonia, the capital of the island, as the next bus was just in an hour or so. In the afternoon we went straight with the bus to a beach and then made a longer hike back to Kastra/Apollonia. For more details check the box below.
Sifnos
Where to stay: if you do not plan a whole beach holiday staying in the capital Apollonia seems best. All buses and car rentals leave from here and there´s frequent connection to the harbour and all other towns.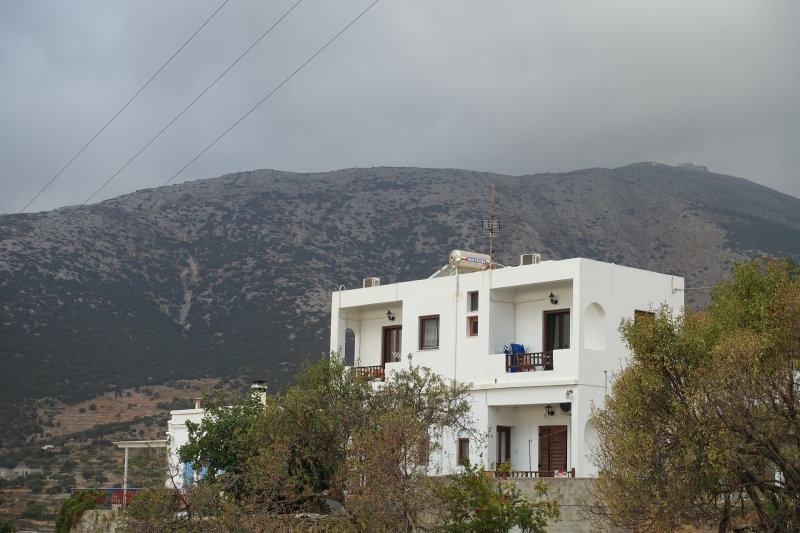 Our accomondation in Apollonia, right top balcony was ours.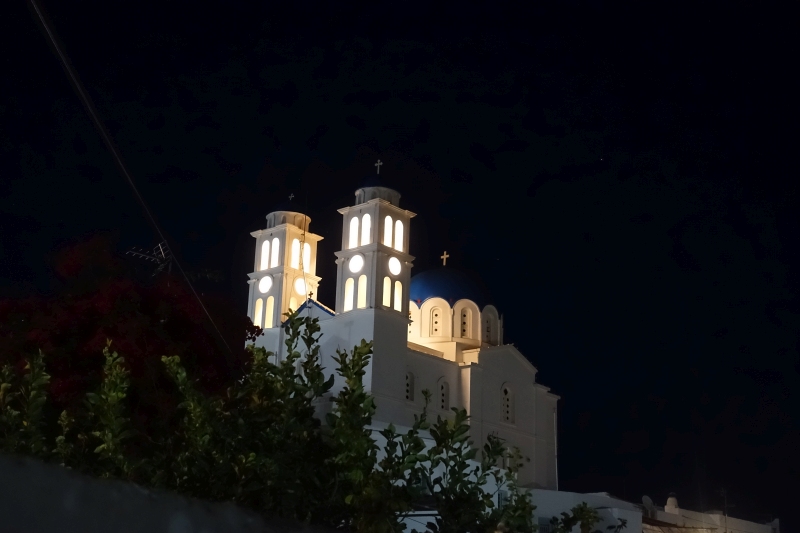 Kamares: The harbour is in Kamares, also some accomodation there but we were happier staying in the lovely center. Many shopping streets, many restaurants, famous especially for French tourists.
Platis Gialos: apparently it is the longest sandy beach on the Cyclades, well protected so no big waves. This is the place for a longer beach stay.
Where to eat: the following restaurants we got recommended from our great host. Asked for rather local stuff and think what we got were all in this category.
     Platis Gialos: To Steki: great, local cuisine just on the beach! (Restaurants I have seen on Tripadvisor with great reviews but more expensive and also kind of less cosy: NUS (many products from own farm, also very local cuisine and you get all traditional dishes!) and Omega 3 (fish restaurant where Tom Hanks also goes to). All three are within 10min walking so enough time before eating to check all menus and see what you like best.
     Apollonia: Pajas tips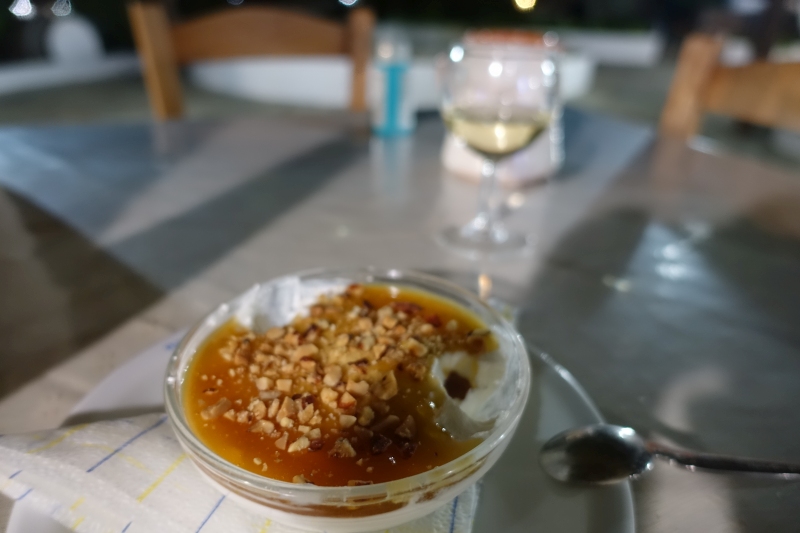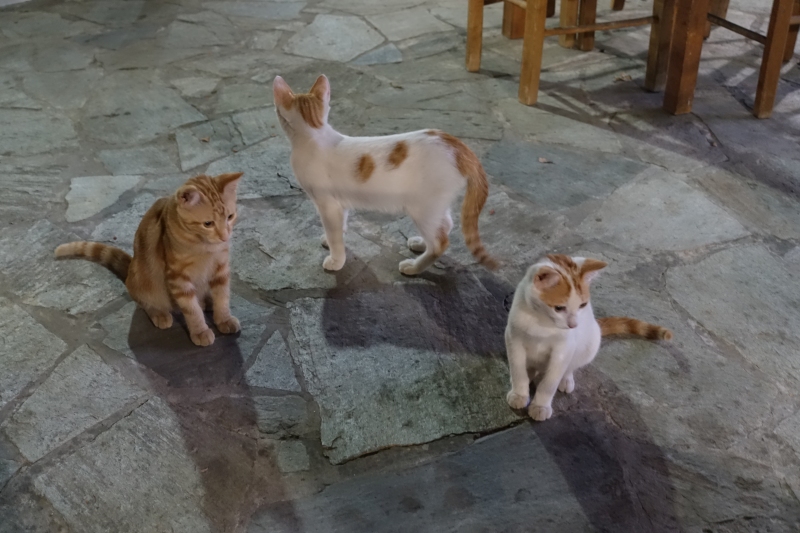 Where to go: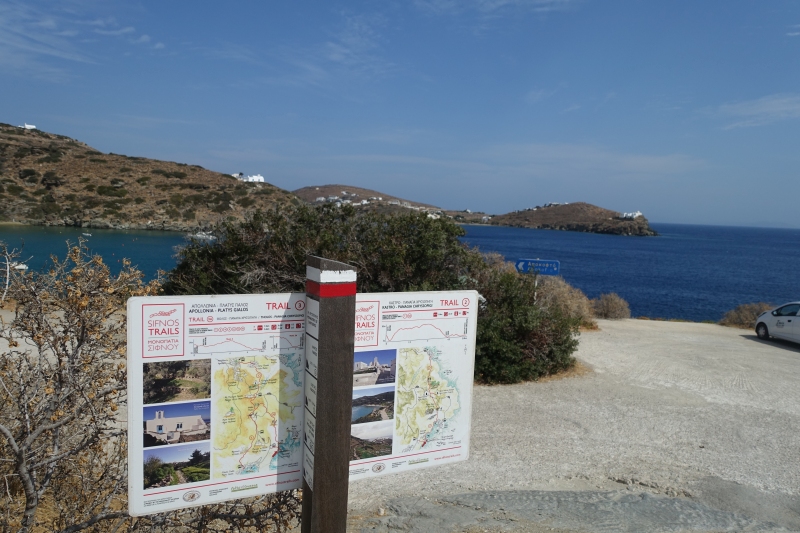 Hiking: Sifnos has an extensive well marked hiking trail system. Here you get already an overview. We tried the following:
Chrisopigi monastery to Kastro: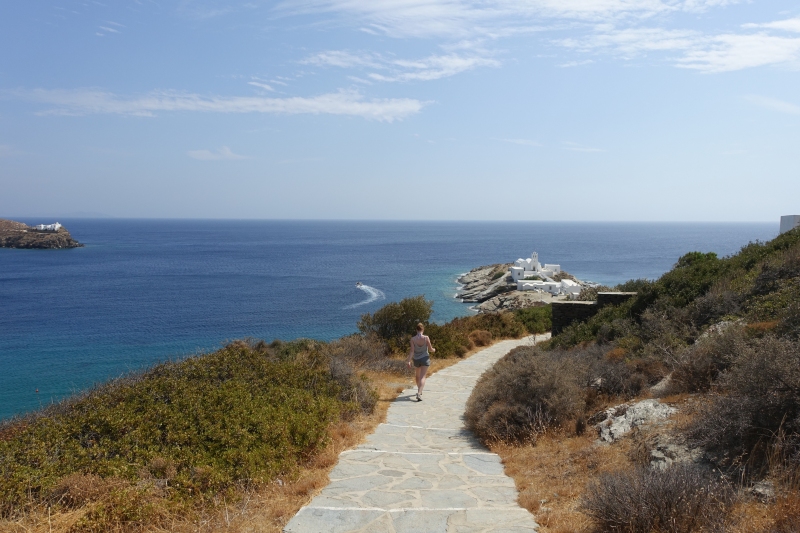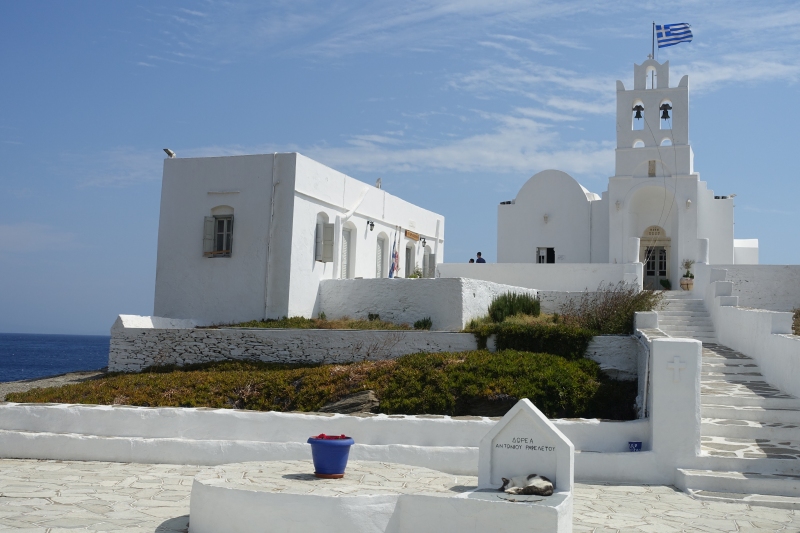 it is path number 2 and think it took us around 2,5h but rather plan a bit more time as you also pass several beaches which would be stupid not using for a break. We took the bus from Apollonia to the monastery, just tell the bus driver he will tell you when to leave. The monastery is super cool, just next to the sea and one of the most famous sights of Sifnos. From there we followed the hiking signs to two beaches and from Faros you walk via the inner land to Kastro. Many animals on the way and we were rather lonely, Kastro itself was over several centuries till 1836 the capital of the island.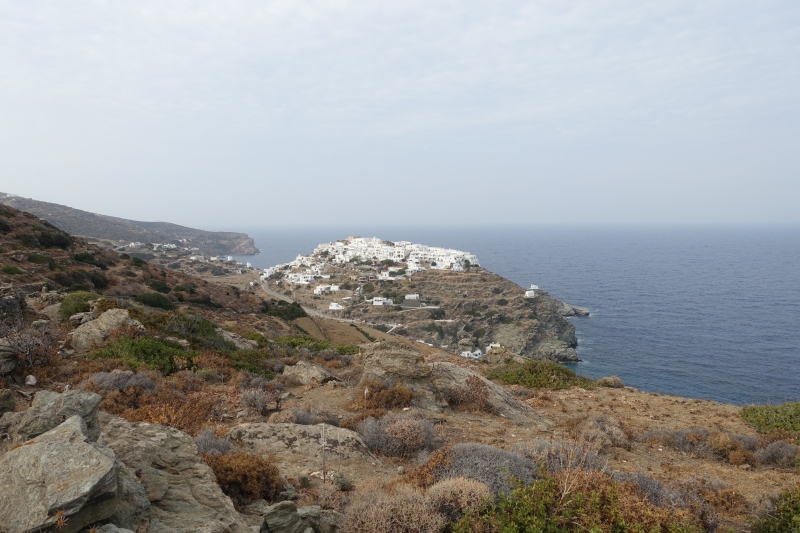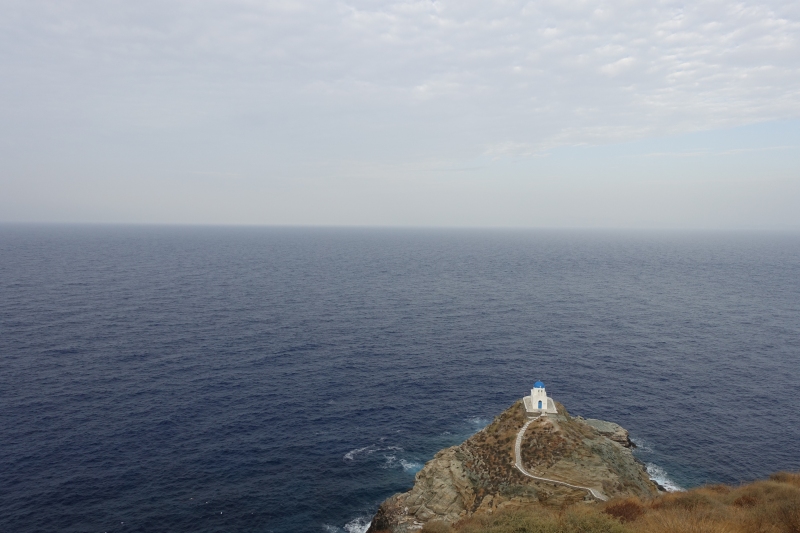 Now it is a small, cute town with many many churches. To go back to the capital just take the public bus, we came to late for that one and just hitchhiked. The only street leading to Apollonia so I bet you will find someone who takes you along. It is a perfect half/day trip to connect two of the major sights (Chrisopigi monastery and Kastro) with hiking and beaches and can recommend it!
Platis Gialos to Vathi: in the end we did not walk that one but I was very tempted the whole time. Great idea starting either at Vathi or Platis Gialos, some swimming there and then follow the hiking path on the coastline. It should take around 3h walking time, halfway there is the Fikiada beach and I think there is a high chance to find a rather private beach as it is only accesible with walking minimum an hour or so.
Kamares- Profitis Elias (highest peak)- Apollonia: for very motivated hikers I imagine the following also very nice: either as a roundtrip from Apollonia or taking first bus down to Kamares and start at the sea level. Possibility to include the highest peak of the island and quite a hilly hike in the end. Just check the different connection possibilities from their map, have not done it but if so I think I would have gone for the following option: bus to Kamares- Kapsalos (1,5h)- Panagia Toso Nero- Profitis Ilias (from Kapsalos 3h)- Fyrogia- Apollonia (from Profitis Elias 1,5h). So should be around 6h (GPX and overview) in total.
Churches: Sifnos has 360 churches, per day of the year one, per 7 inhabitants approximately also one. The Chrisopigi monastery is the most famous one, for this see the hike above, both with car and bus easy to access. Other famous church is the Church of the Seven Martyrs in Kastro, beautifully located on an isolated rock and connected via a path with Kastro.
Platis Gialos: it is the most famous beach and the most restaurants. We went there with the bus from Apollonia and then returned in the afternoon and took immediately the next bus to Vathi to see more beaches of the island.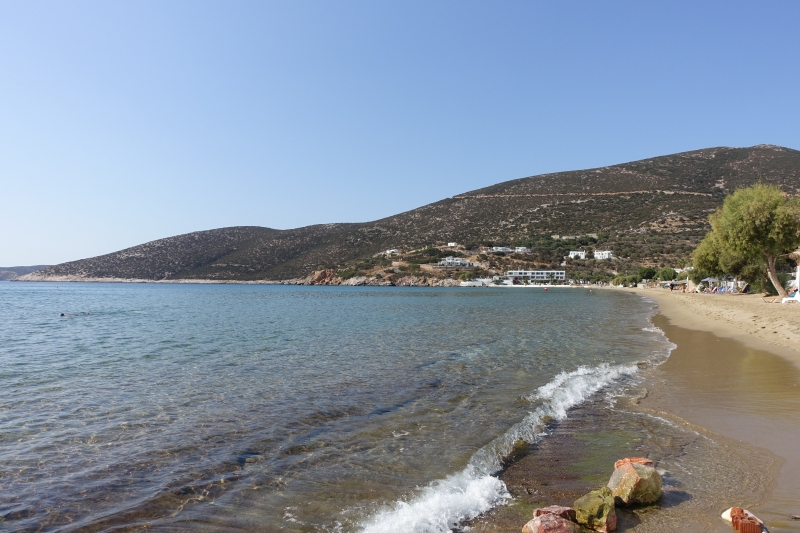 Vathi: also accesible with bus/car from Apollonia. If you are a motivated hiker there is a marked trail connecting Platis Gialos and Vathi and on the way you will pass beaches, where you will be most probably completely alone (see the hike).
North: in the North there are more churches and more beaches. Bus/car bringing you there but connections were less frequent than to the above mentioned so we did not go to any of these. Due to the wind we were also advised to use beaches in the South but this can change from day to day. In general good idea to get advise at every island which sides are recommended as the locals know what´s best with each wind.
Day 2: full day Sifnos. We went in the morning to Platis Gialos, lunch at To Steki, back with bus to Apollonia, then bus to Vathi, some swimming there and then back again. Dinner in Apollonia.
Day 3: in the morning taking ferry to Milos. After check-in went straight away to Sarakiniko beach.
Day 4: Forecast was very bad, we went with the bus to Klima, checked the stuff around there, then walked via a nice church to Plaka and strolled through the streets till hard rain forced us into restaurants.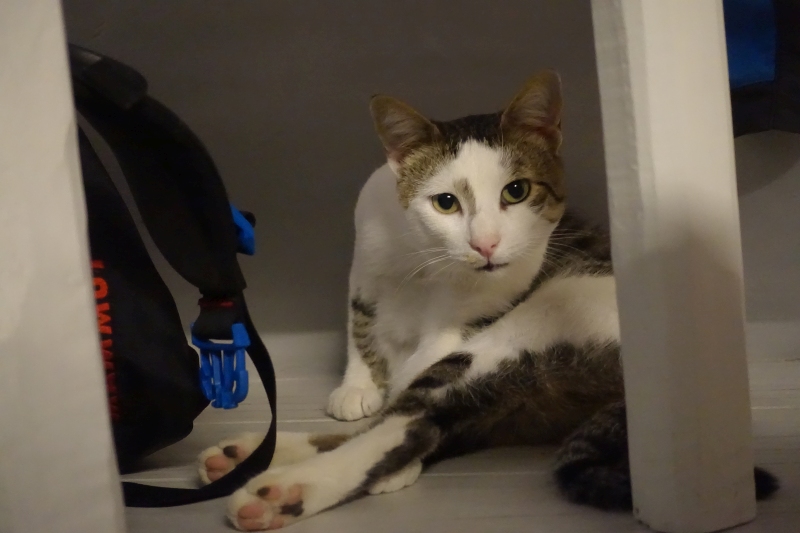 Day 5: Whole day to explore the off road paths of Milos. Starting with the Sulphur mines, then to Kleftiko beach, then more beaches on the very West and in the evening a nice restaurant just at the seaside.
Milos
Although it is on many lists showed as a secret tip, it is today far away from that. In comparison to Santorini yes but not to the other islands close by. But that does not matter as it is still worth going there as the island has just a lot to offer. Half the island is completely uncivilized, only having dirt roads so a fixed plan should be renting either a quad or some 4wheel vehicle to explore this part as well.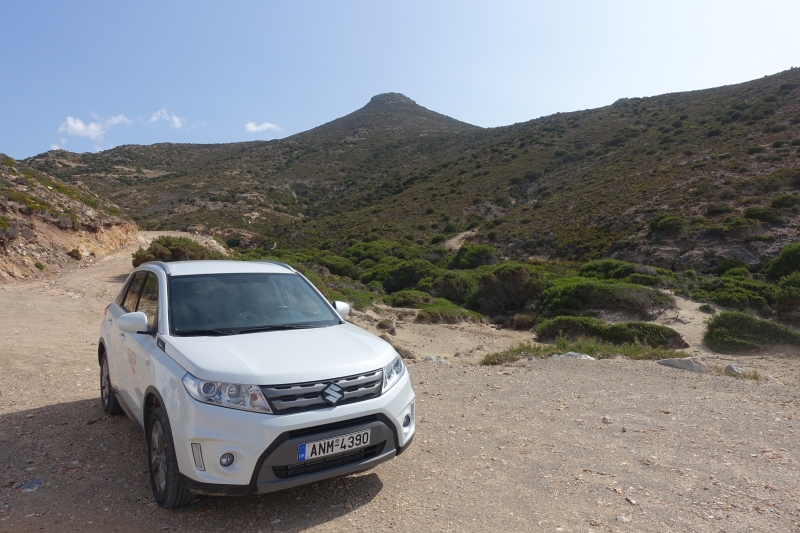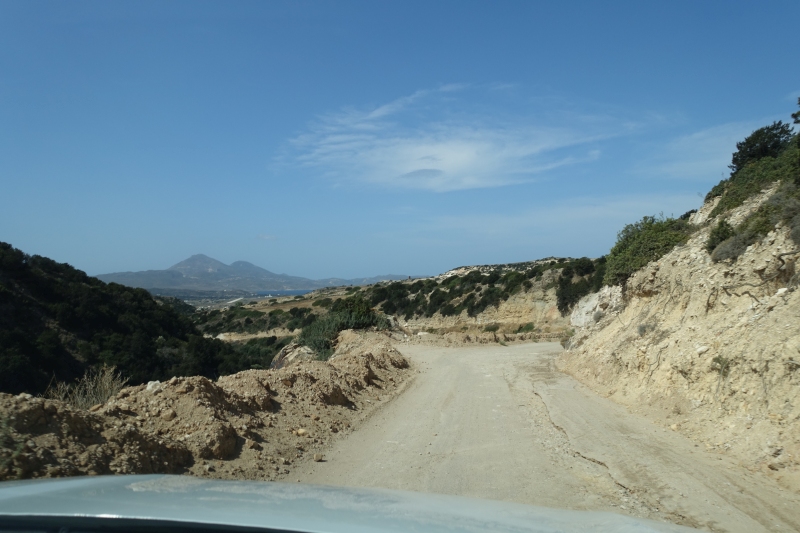 Where to stay: difficult first decision when starting the planning. In the end it does not matter too much, everything is close, buses/cars make everything possible so just check what you see.
We stayed in Pera Triovasaolos as we saw a super nice offer on Airbnb (had the chance to adopt the cutest cat over the period of our stay!) and I thought it´s nicely centrally located and it is possible to walk within 40min all to Sarakiniko beach, Adamas, Klima and Plaka. Some would say this is crazy but in my opinion still okay walking distance and trying to hitchhike shortens every walk. But I think for the next time I would rather choose a different town, where there are more/nicer bars to walk around in the evening.
Plaka/Milos: both names used for the city, it is the administrative centre of the island and offers in my opinion the nicest streets and restaurants. Klima is in nice walking distance and probably would be my next choice to stay (always depending on prices and quality of course as well, as everything is very close just getting the bus or a car one more time might make also sense than paying double/triple for the night.
Adamas: the harbour of the island. It is also okay, most car rentals start from here, also worth thinking to choose for a stay. Also the bus hub so no difficulties getting anywhere with publics.
Where to eat:
Archontoula: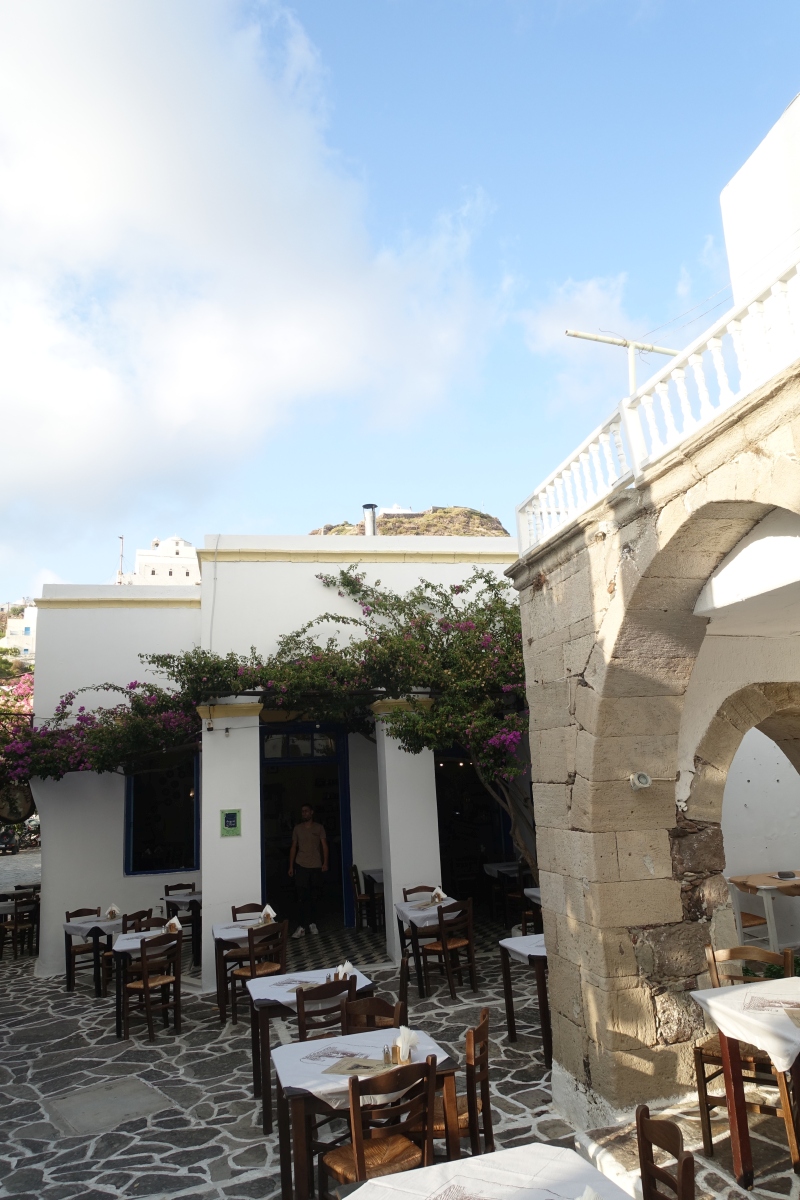 in Plaka we discovered a great restaurant with the best starter ever: some balls with melone sauce. Such a great orange sauce it was. When it started to rain heavily we just chose the first restaurant around and lucky us it was this, inside it looks also very nice and food was delicious, returned a second time to try it again.
Taverna Embourios: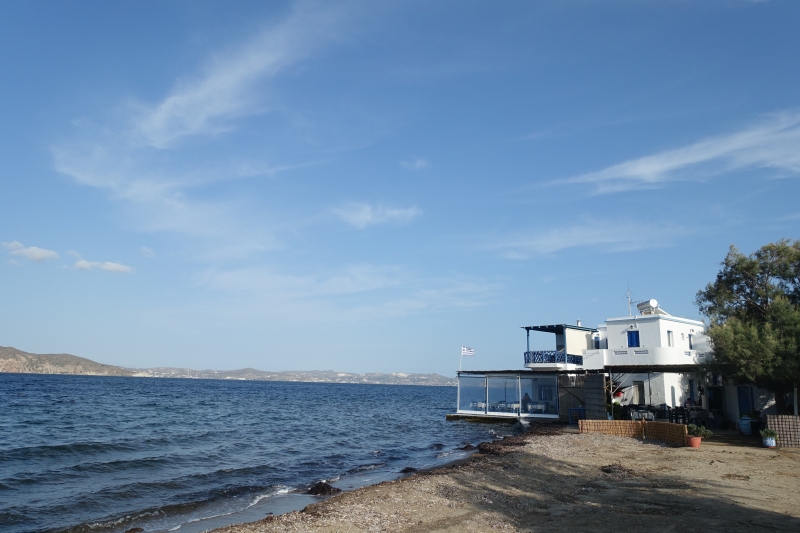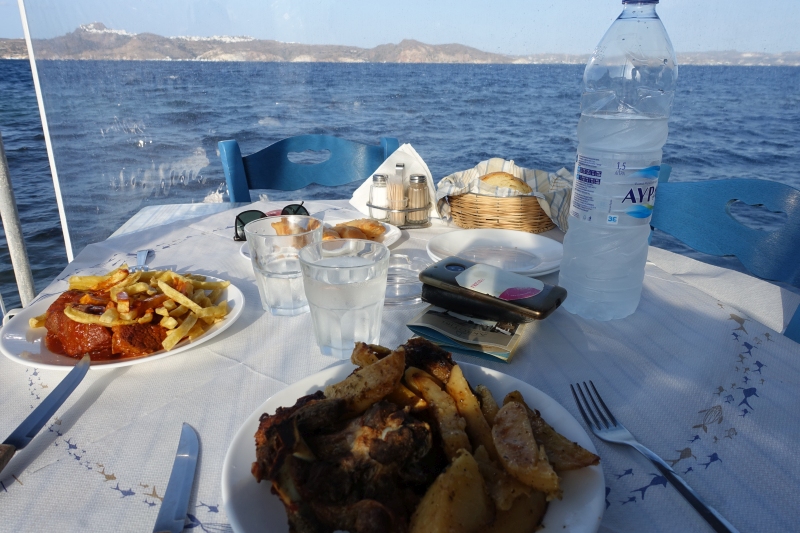 on the day went we discovered the West of the island we went at the to this restaurant. Just the best location, and super good local food.
Where to go: I will start with the stuff at the Northern part of the island, accessible by normal car and publics and later will inform about the remote areas.
Sarakiniko: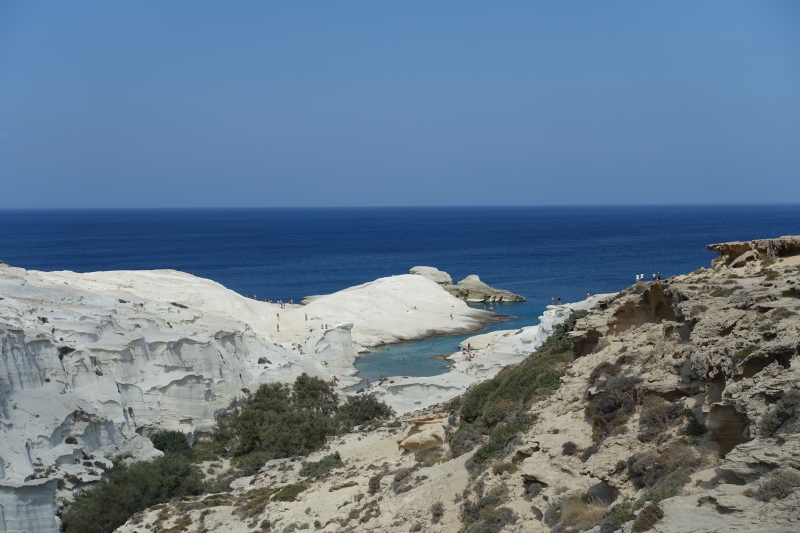 Up Sarakininko on a busy day, bottom on a windy, rather cold day.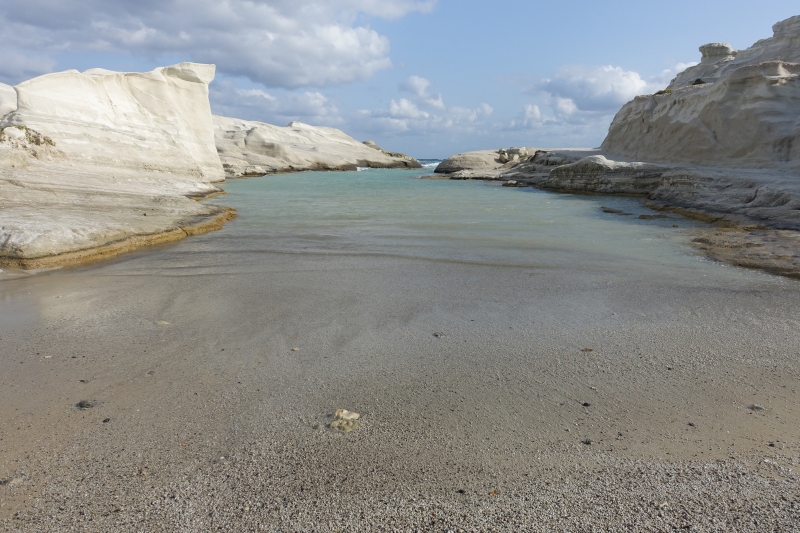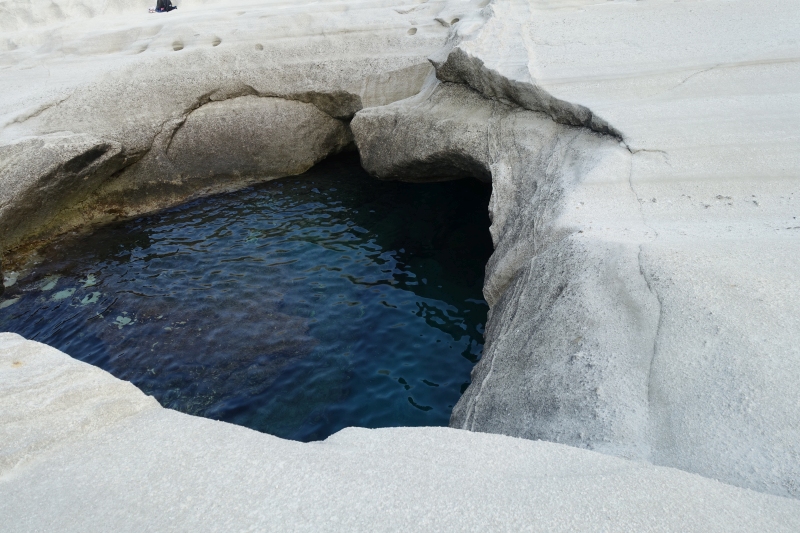 Same as above, on the windy day you definitely do not want to go into the sea here without fear for your life.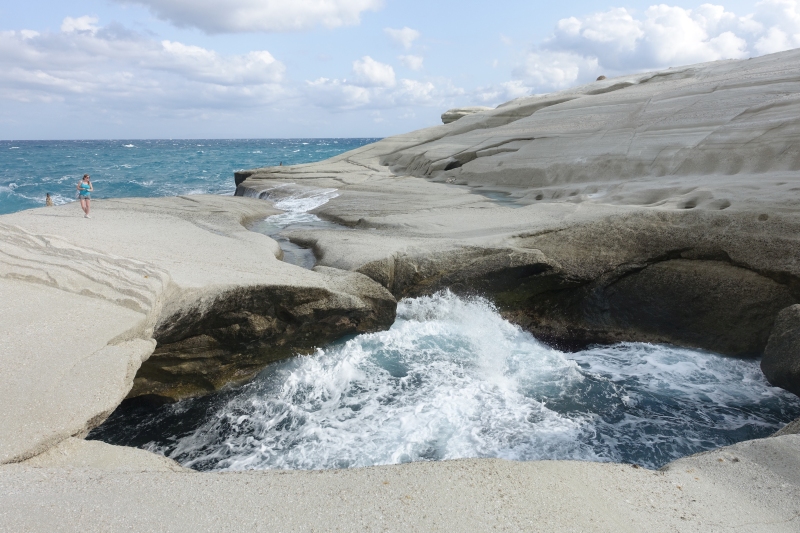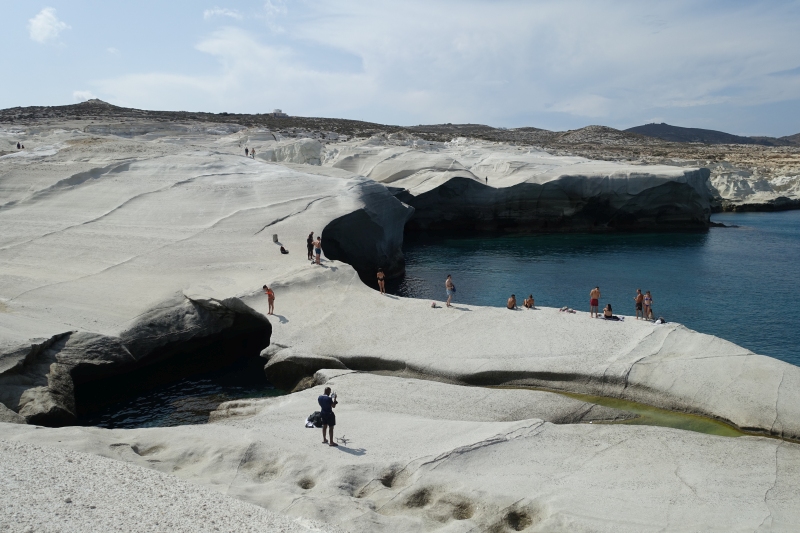 Also a bit off the sea more than worth wondering around to see amazing rock formations like this.
I think it is the most famous beach on the island. Amazing white cliffs, definitely despite being very popular a must. For cliff jumping, snorkelling,… just all perfect. Also take some time to wander around all the cliffs and see how far it continues. When very windy it can also happen that it is too wavy and there is no chance to go into the water without the danger of being thrown against the rocks.
Milos/Plaka: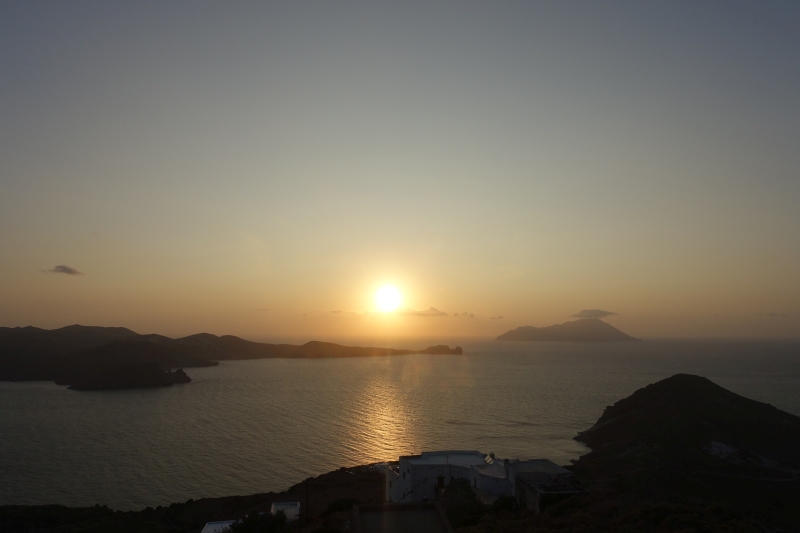 cute streets, many restaurants and some say the most beautiful sunset of all Cyclades islands. Something which might be true! Just get to the top of the hill/fortress and from there you have nice views. Another must. In the distance you see the inhabitated rock Andimilos. From here the following sights are also close and worth combining:
Klima: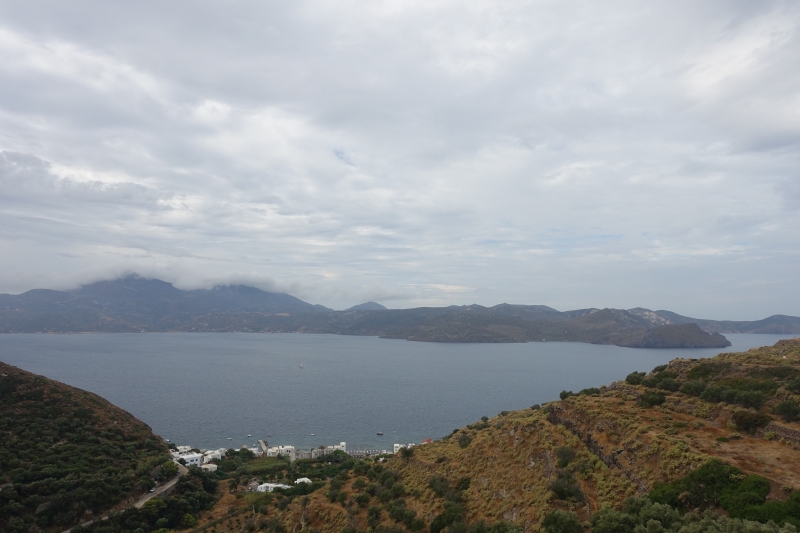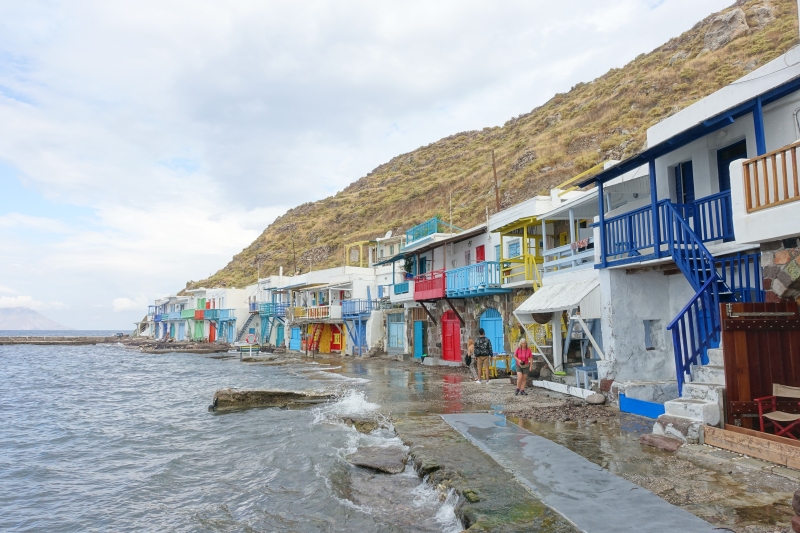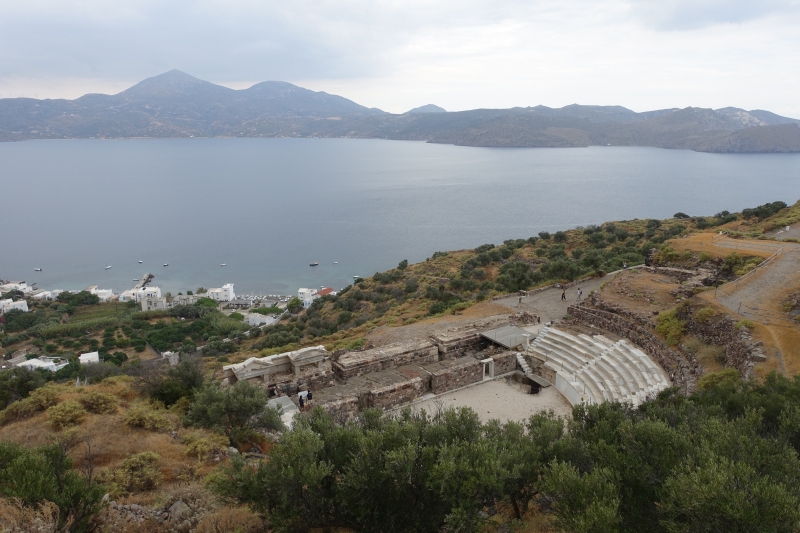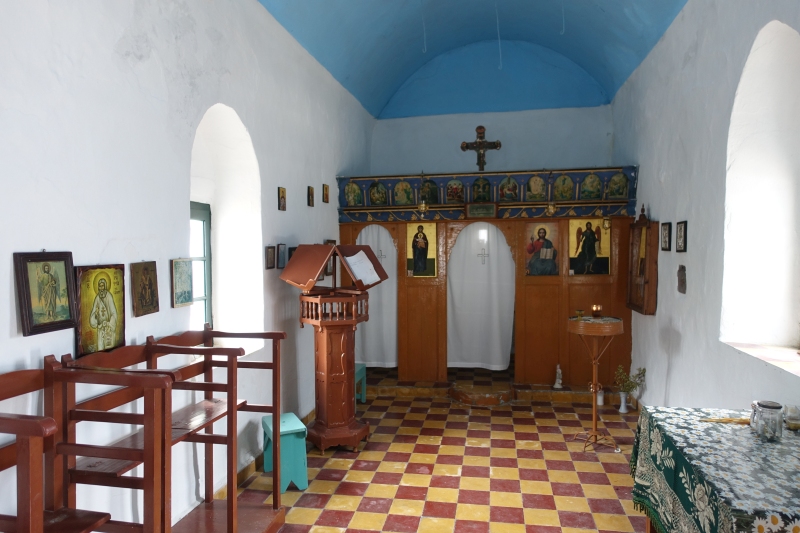 picturesque town, small fishing houses, no chance of missing this out either. Quite small streets going down so rather walk a bit there. Some people also talked about the possibility of sleeping there but it was too expensive for them. If money is a minor problem also a worth considering experience sleeping straight at the sea side in a former fisherman´s house. The first floors are still flooded with water when there is a wavier weather.
Catacombs: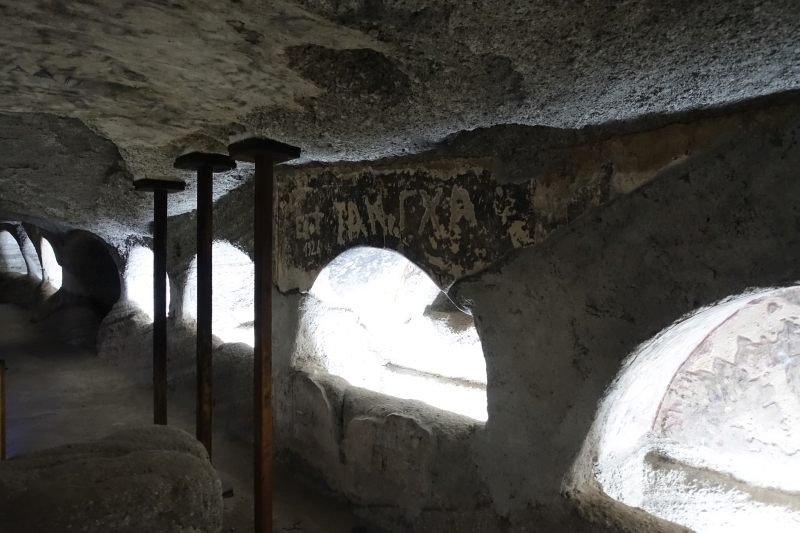 just a bit above Klima there are old catacombs. Next to the archaeological sites there were several tombs found from Roman times (1st to 5th century). They are one of the most important such findings and short tours are offered there. It is not really that special in my opinion but okay to check out. Depending also a bit on the tour guide how motivated he/she is and how detailed the info are. I got way nicer explanations than my girlfriend who went a bit later due to a small number of people per group (good Covid times).
Amphitheatre and other stones: just walk a bit around, next to Klima/catacombs, there are more impressive ones but as it is kind of just around the corner nothing lost with following the signs in that direction.
Firiplaka beach
Firopotasmos beach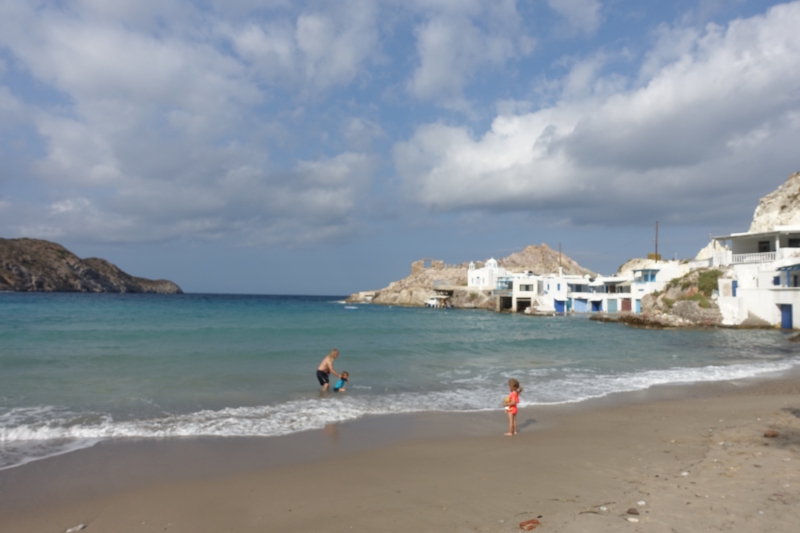 Kleftiko: another famous landmark. Most common it is to go there with a boat trip for snorkelling. Amazing clear water. We thought that we rather save the money and try it with our 4wheel car as there was information online that it should be possible. Host disagreed, car rental confirmed and even maps has the parking lot mentioned online. So no problem driving there, then it is around an hour down to the beach. I read that you walk through an area with snakes, have not seen any but maybe keep this in mind when thinking about your shoe choice. The last metres down to the "beach" were quite tricky. When keeping to the right and following the signs there is a well accessible bay but it is not what we wanted from the pictures we found. So continuing more to the left towards and there we also saw a tiny beach from where it should be possible to swim to the arcs.
Old sulphur mines: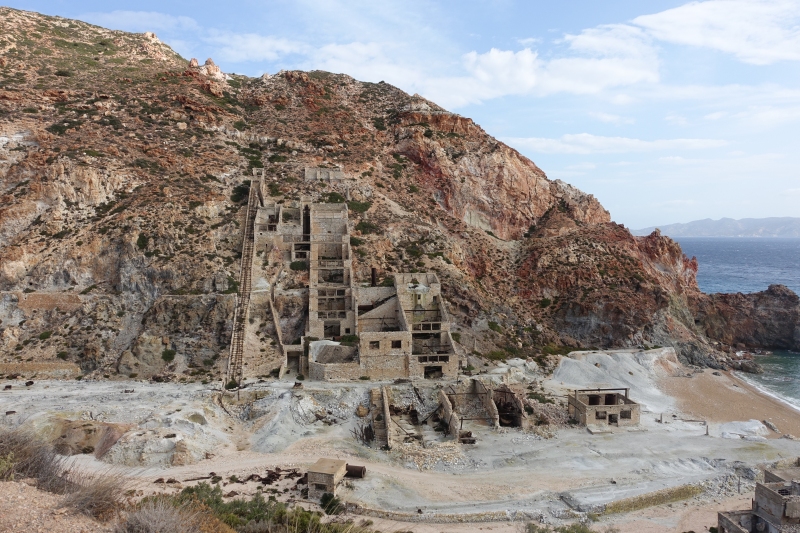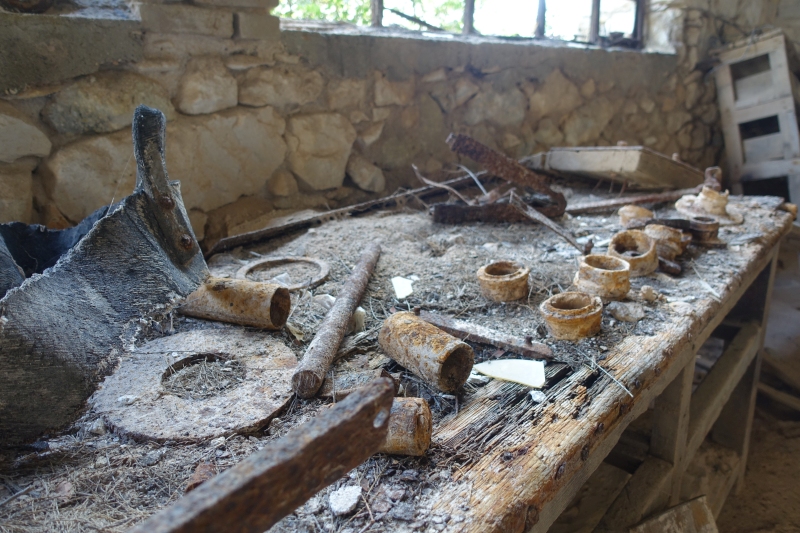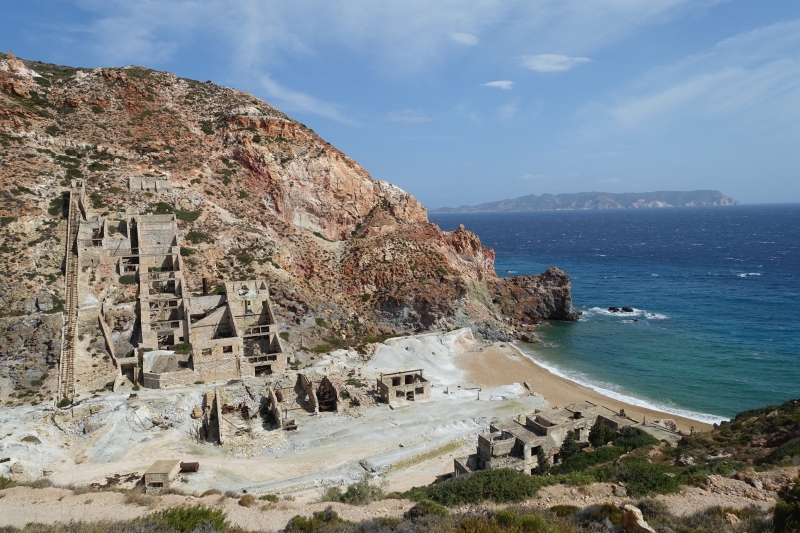 Agioss Ioannis beach: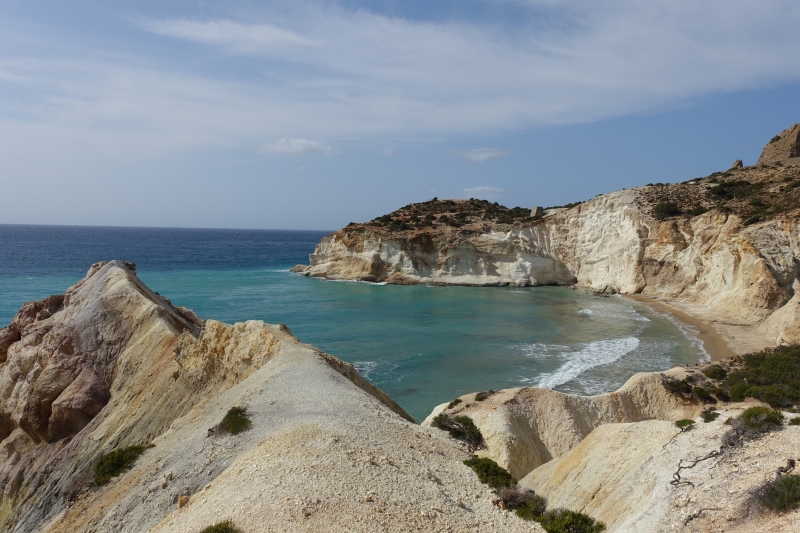 Recommendation from car rental company for the Western part of the island.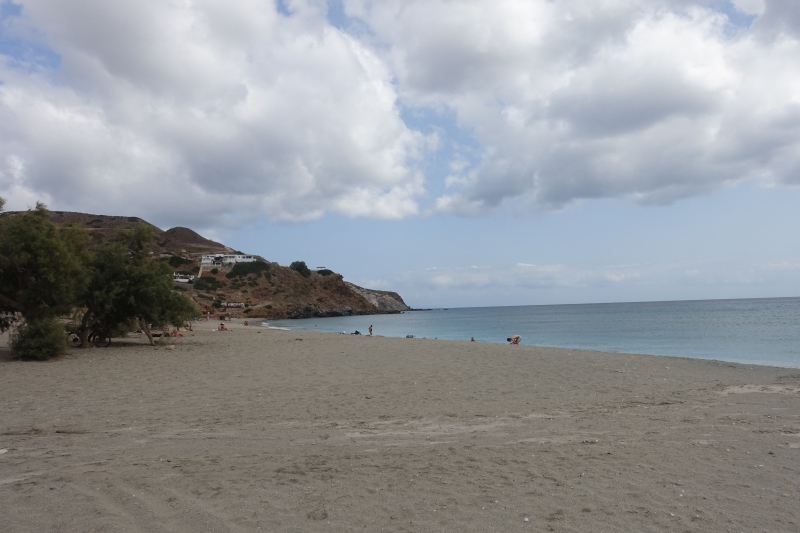 another beach, unfortunately not sure anymore which this one was.
Text
Day 6: Original plan was to rent the off-road car for two days but was not available so changed it to a normal one, cheaper anyways and used the previous day well to explore most things. Now we went again to Sarakiniko and explored all other beaches on the North (Papafragas, Firopotamos) and some in the South (Firiplaka,...). in The evening we took the ferry to Folegandros.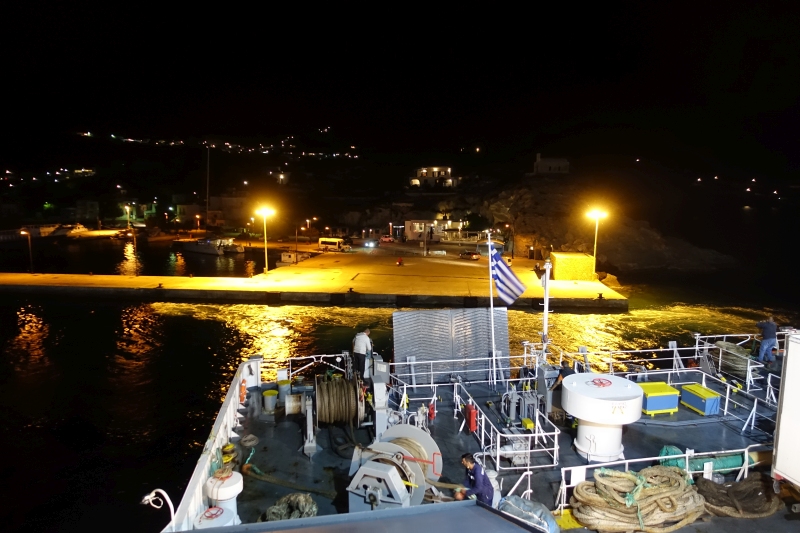 Day 7: Started with bus to Chora and then continued to Agali for a beach day.
Day 8: Rented a quad to explore more parts of the island and some isolated beaches. Ferry to Santorin just left at around midnight so were also lucky that we could just return the quad after the closing hours, just putting it back at the parking lot and leaving key on the window ledge. Our ferry (Zante) left around midnight, was two ours delayed or so, so we arrived on Santorin at 4am. Company was incredibly cheap though (<10€) and a proper ferry where you could also walk around and get a proper sea feeling unlike with the catamarans where there is no open deck. But as many trucks are also transported it seems to catch delays quite regularly. There are some apps to check the delays and the live GPS tracks, so there is no need to wait at the harbour but just checking on your phone is sufficient.
Folegandros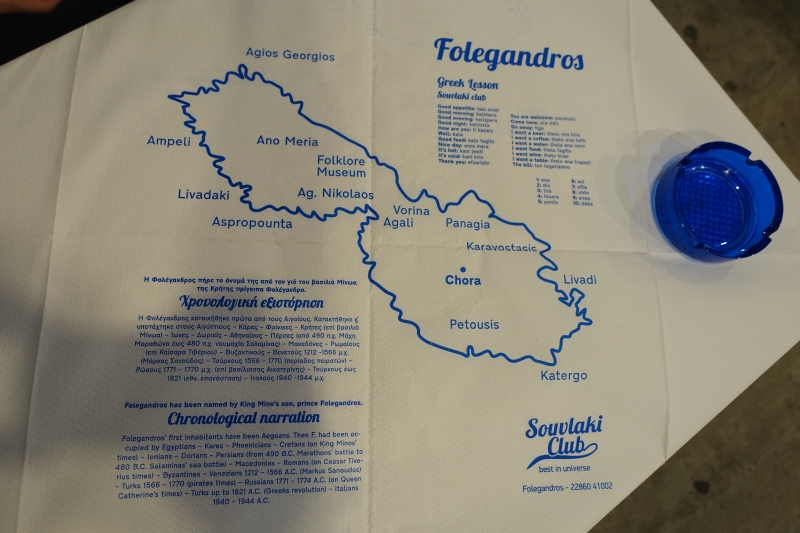 Not sure but maybe my favourite island of them all. Amazing clear water, Chora was incredibly cute and many not overcroweded beaches, as well some hiking paths so many things to do. Also very popular for nudists, so if you like sun bathing and swimming naked yourself, this is the place to go. Minimum is that you are not disturbed by others doing it, on the beaches there was a ratio of maybe half-half of naked and dressed people.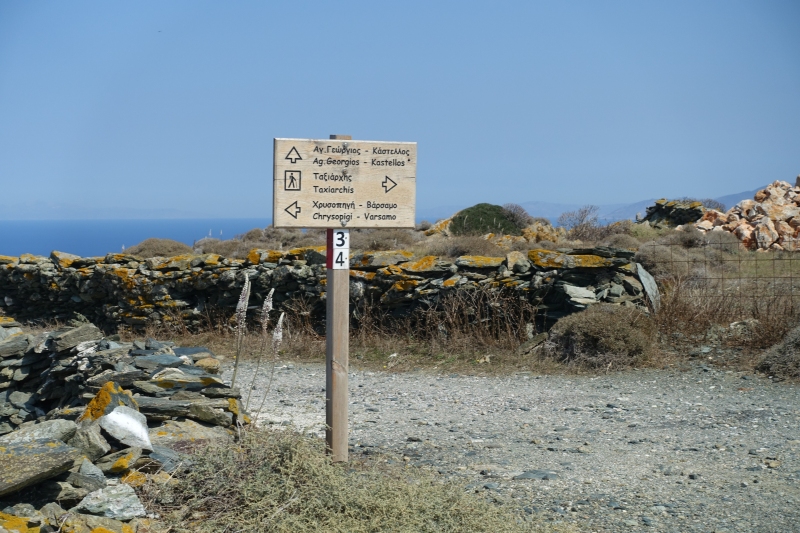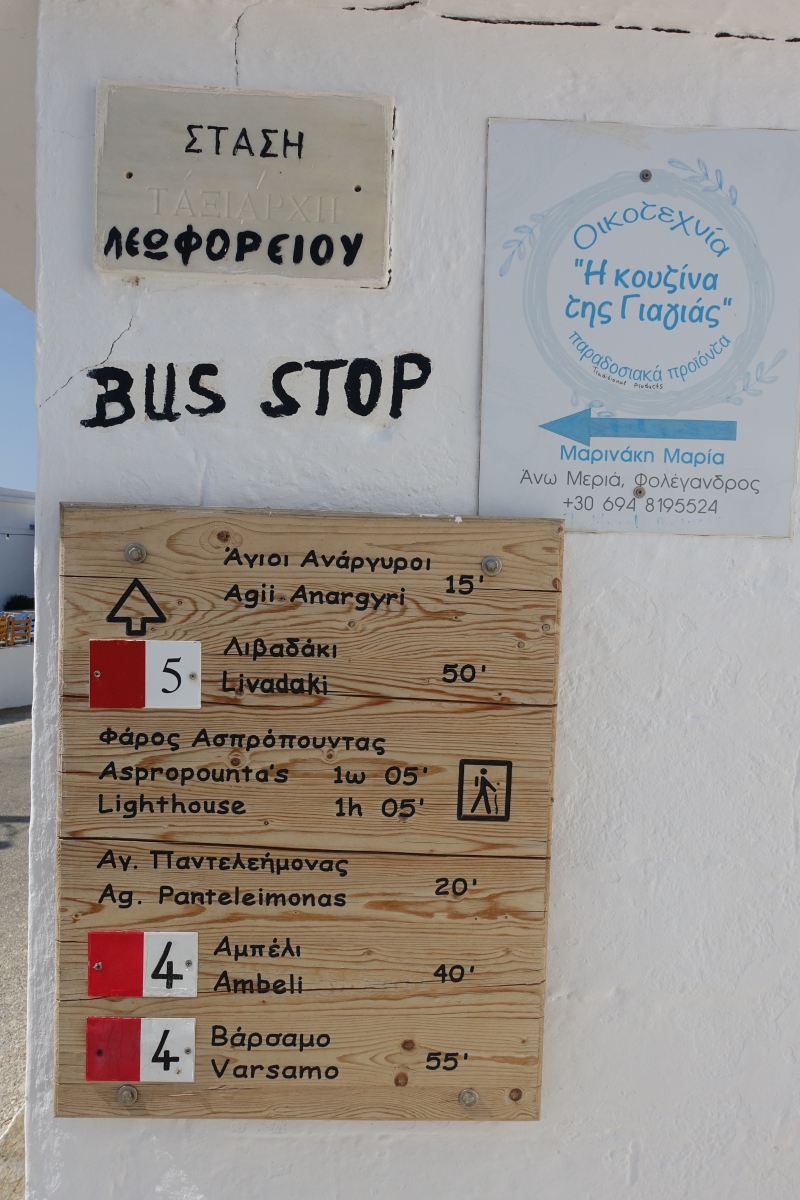 Where to stay: in the end there are three main options. We decided to stay at the harbour town of Karovostasis because the ferry was arriving late and leaving even later. Were also super lucky with the accomodation because we could stay till 1am on the departure day as no new guests were arriving. Bus connection to Chora is very decent. Our accomodation was the Alisideri Traditional Housing, there are 4 studios next to each other, rather basic inside but amazing with the view and the balcony. The owner is a super nice woman who took well care of us, especially with delayed ferries and picking us up from the ferry. We had the choice which room to take and went for the smallest because we could stay till midnight on our departure day as no new clients were to arrive.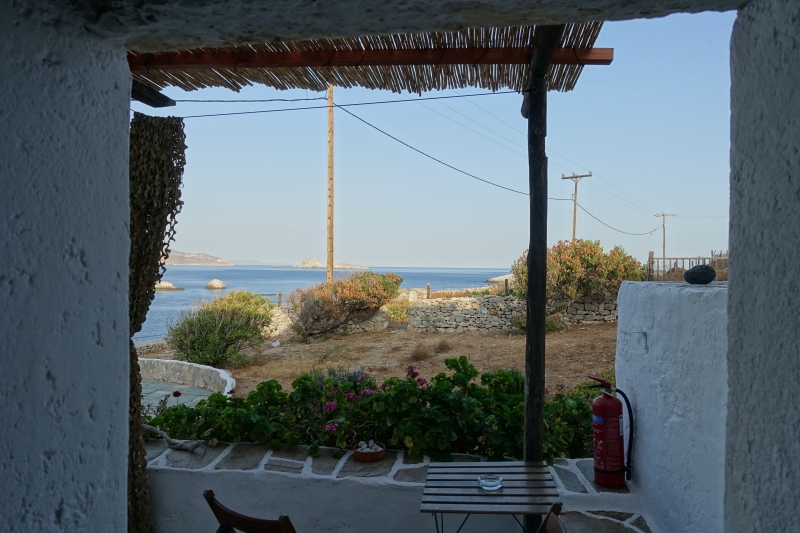 Alternatively staying in Chora. For such a small island I iwas surprised how many fancy hotels (in Cyclades style of course) were in the capital, but the streets and squares are amazing and I think it is also a great choice staying there, also all buses leave from here so you´re flexible into every direction.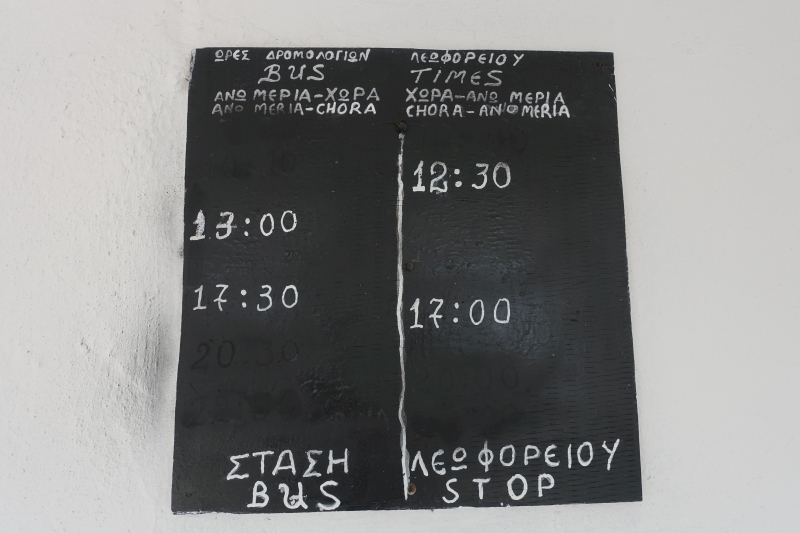 And just for a beach holiday probably Agali is the best choice.
Where to go:
Beaches: Agali (bus stop), Galifos and Agios Nikolaos are just next to each other and in walking distance. We chose the latter as it was the furthest to walk and therefore expected the smallest amount of people. Think it was the right choice, such clear water and snorkeling around the rocks and in between the rocks was like in the Caribbean. One restaurant was also there and had great fish and best view.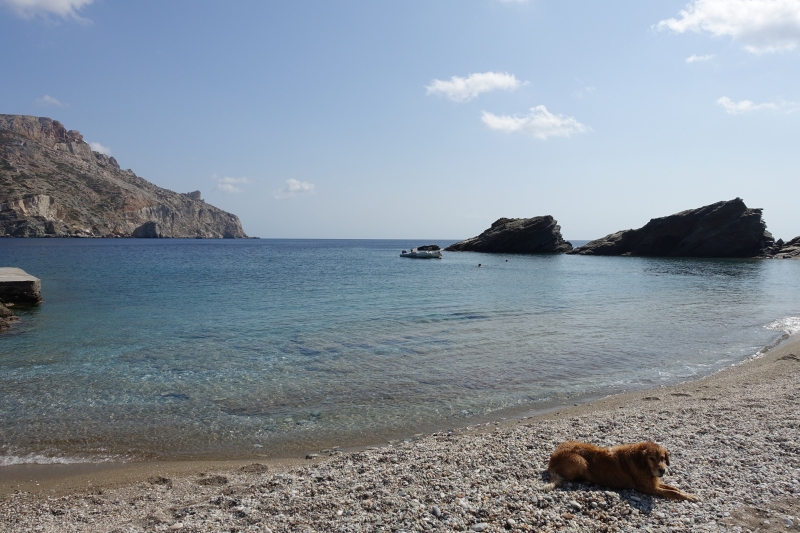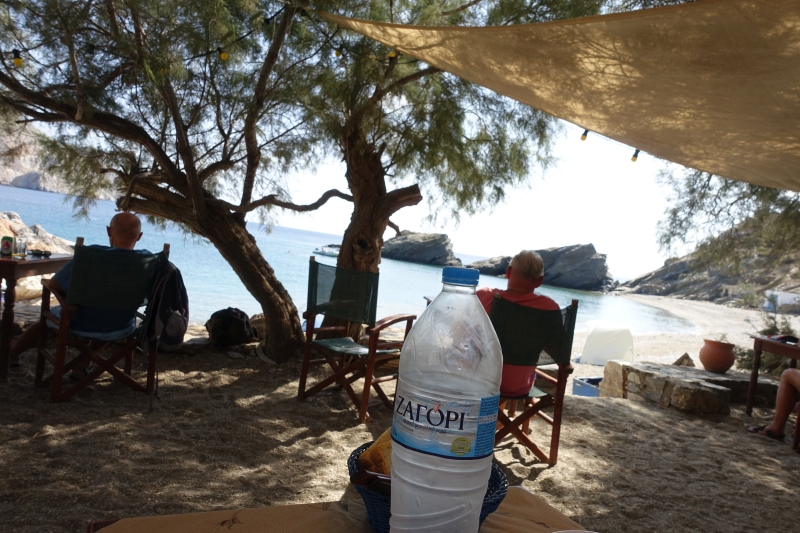 At the West of the island there are many small beaches (all looking similar and we often were alone). Accesible either via pedes or with the quads. Ambeli or Aghios Georgios are some of them, but all are very close and you can check out the whole Western part of the island easily in a day.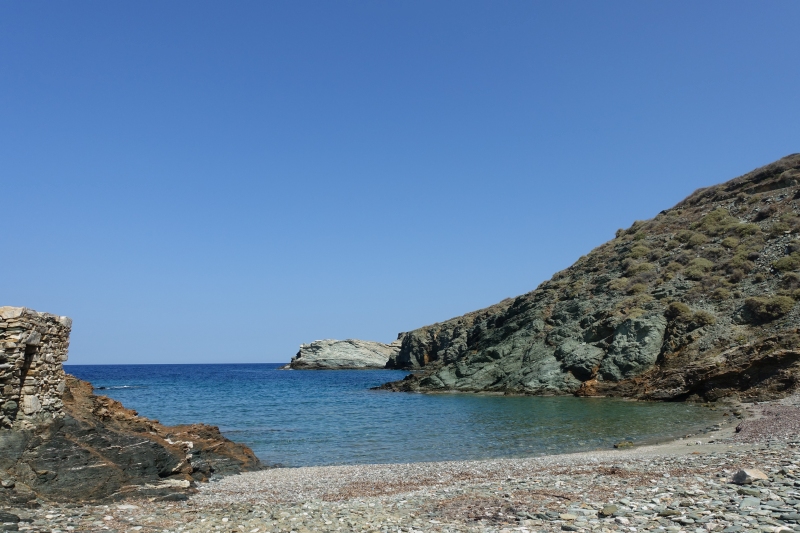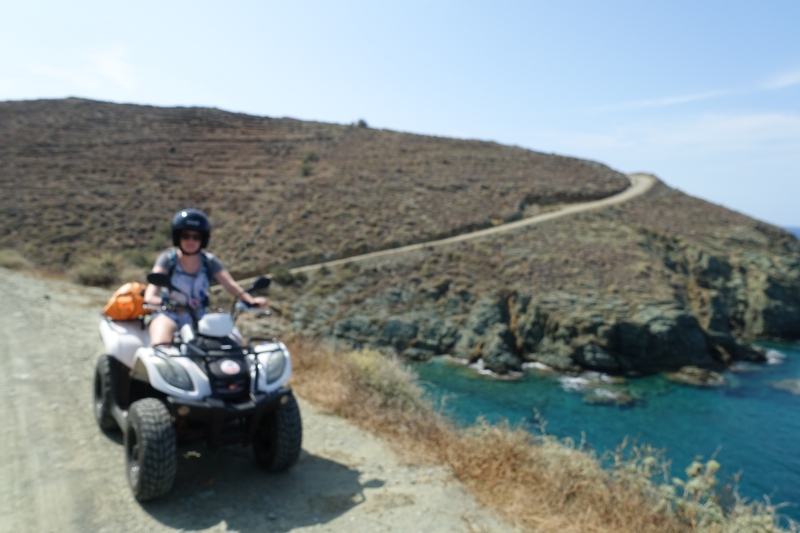 Katergo: probably the most famous beach, ferry boats from the harbour going there but also accesible first with quad or car and the last 40min walking. Super clear water and cool rocks to snorkle, so many fish to sea as well. But do not expect to be alone on that one.
Chora/capital: many restaurants and just so many nice streets, again a monastery at the top of a hill again with superb sunset. Unlike many other towns there were no cars and many plants and trees, so in my opinion it was especially nice.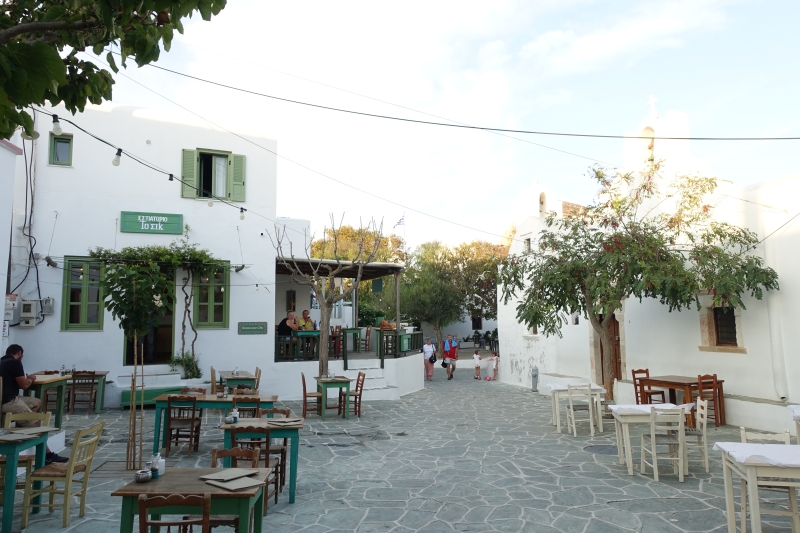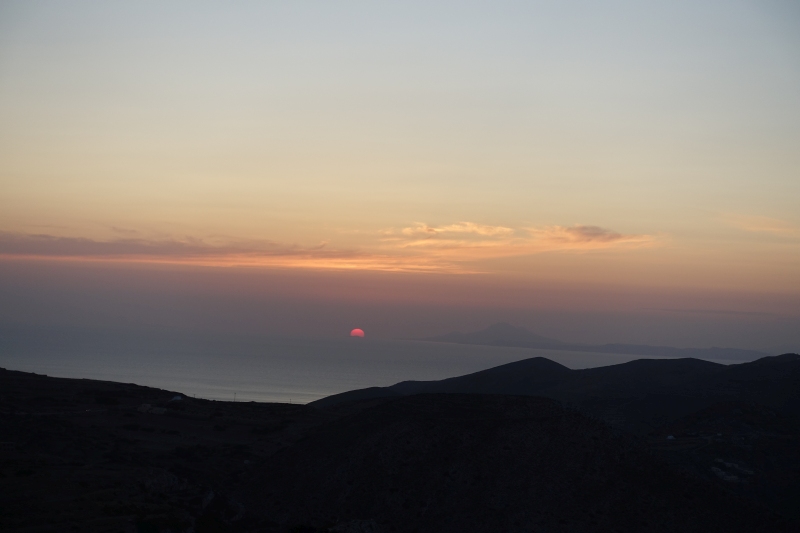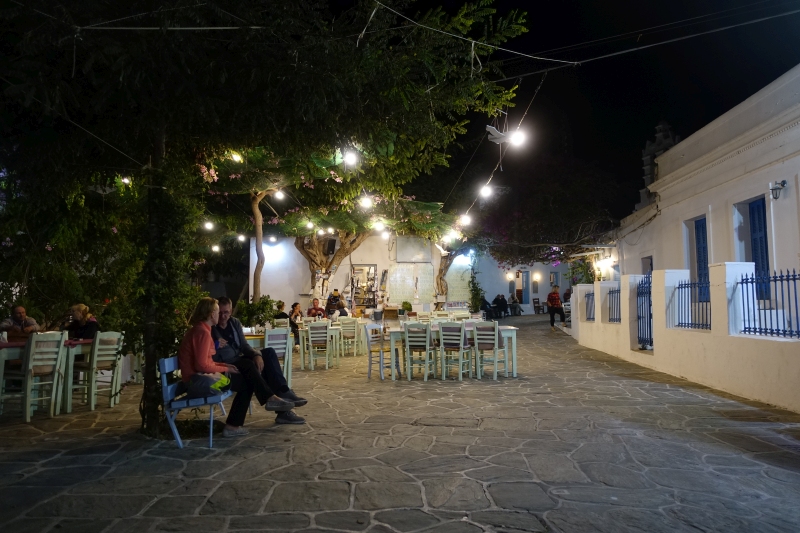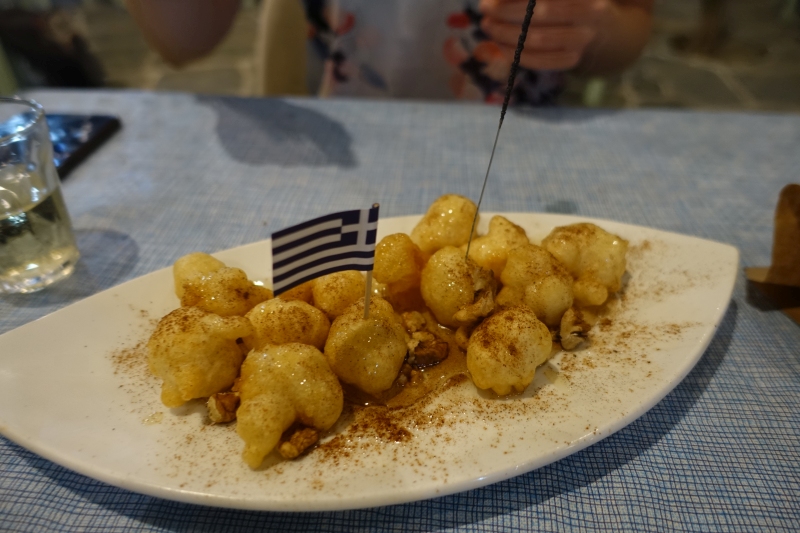 mehr text
Day 9: As our ferry was very cheap but did not had the most suitable times we arrived at around 4am, as this time there are no public buses, so we were forced to take some overpriced shuttle bus. After sleeping we went with the bus to Kamari beach and in the evening hiked to Oia.
Day 10: To the red beach and evening cocktail in Fira with the sunset.
Day 11: First half of the day we used for a boat trip to the volcanic crater and in the afternoon our flight back was.
Santorini/Thira
The most famous and most hyped island of the Cyclades, crowded off pandemie season with Asians and cruise ships, classic example of over tourism but still great pictures to be found online that it might seem worth going there. To be honest: not really in comparison to the other Cyclades islands, the sunsets on the other islands were as good, the houses as white, the beaches better and the food also nicer without having menus in 7 languages and poor waiters annoying you. Advanatage is the good flight connection, so it also made retrospectively sense to end there. If you just plan to go to Santorini maybe consider half the time there and half the time on Folegrandos
Where to stay: similiar choices like on the other Cyclades islands but bit different here: there is no harbour town so you need to take the bus/taxi up to the island anyways. Then one option for a beach holiday is some of the beach places, like Kamari, another option Oia at the North of the island and famous for its white houses and sunsets but I think the best option is the capital Thira. In summer it is also famous for its clubs and bars and you have great connections to all other towns and beaches. We stayed in Firostefani which is a 15min walk from Thira and the accomodation there was just so much cheaper. It is insane how expensive some parts here are, nearly every place has its private jacuzzi or infinite pool, never seen so many in my life but if you do not need your own private balcony towards the crater and sunset there are also plenty other places to find. We stayed at the Afrodete Hotel. Super nice owner, gave us several tips what we need to do. Checkin (arriving at 4am and key was at the door) and checkout (leaving in the afternoon, could drop our luggage in the meantime) worked super well.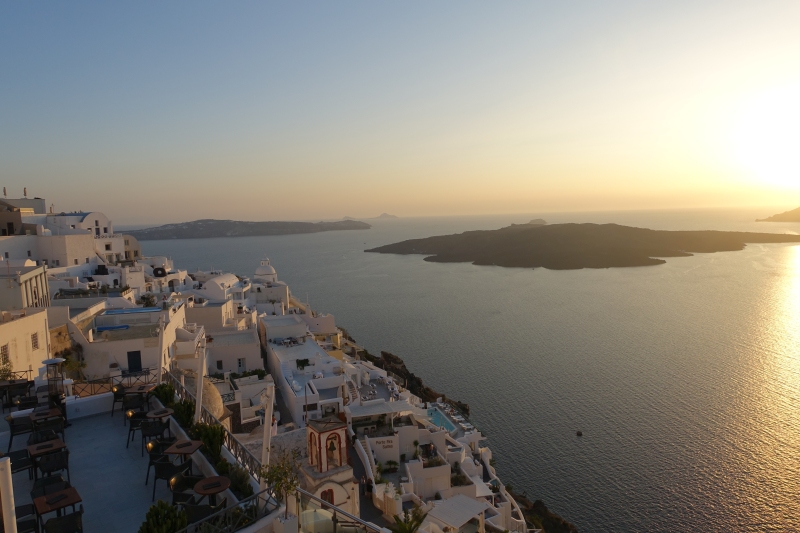 The view from Thira towards the caldera. Some pools are already visible here. Nearly no accomondation with a private pool.
What to do: maybe the best thing to do is to hike from Thira to Oia, best leaving in the afternoon to arrive a bit before sunset in Oia and have also enough time to stroll around there as it is way more beauftiful and cosy than Thira. The path follows the coast and if the weather is not as bad as we had it there are the whole time amazing views to the caldera and also to the island itself, it is very well marked and for the way back you can just take the public bus which leaves super frequently back to Thira.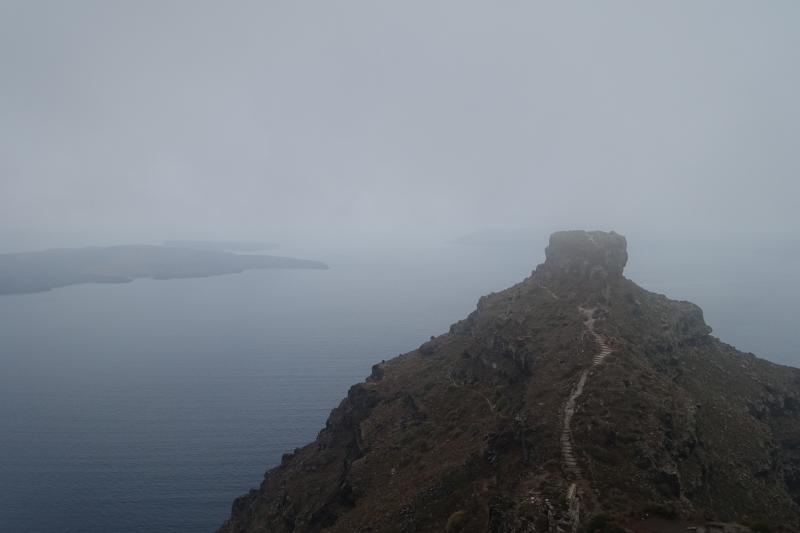 Oia: beautiful, typical Cyclades town, no cars but many tourists. Found maybe the nicest book shop. We have ever been to there: some internationals were years ago disappointed that there was no such a thing and set up there own. Great choice of books, in nearly every language and a lot of books also for your Greece stay (mythology,...), even if you do not need anything passing by for the atmosphere is more than worth it. There were also several shops with stuff from local designers and many nice restaurants.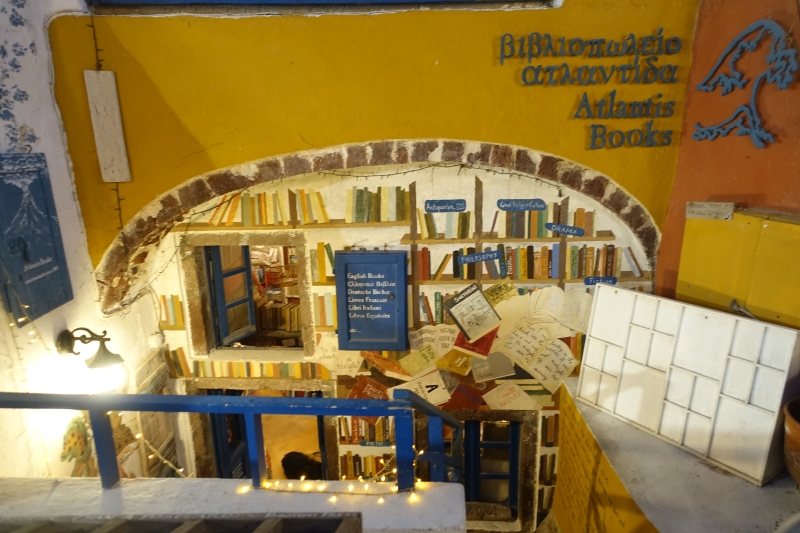 Beaches: we tried several but in my opinion the other islands had way nicer, bigger, more interesting beaches. But they are also nice on Santorin (just supposingly out of pandemy years very crowded) as the smaller ones were already crowded for us.
Kamari: long beach with long promenade and many sun beds, etc.
Red/Black/White beaches: taking bus to Akrotiri (there you also have museums and excavation sites of the Minoan eruption and the destruction of the settlement) and from there you can walk to the red beach or take already a taxi boat (if I remember correctly 10€ for a kind of day ticket) to it. The boat is the further going to the Black and White beach and just circling around but we could not use it as it was too windy and it did not go. But otherwise a great deal to see three different beaches and having some boat trip extra. Not all of the beaches are accesible by car or walking so boat is needed. The beaches have there names from the different colours of the rock, nice having 3 different coloured rocks/beaches in such a short distance but the beaches themselves are not that special.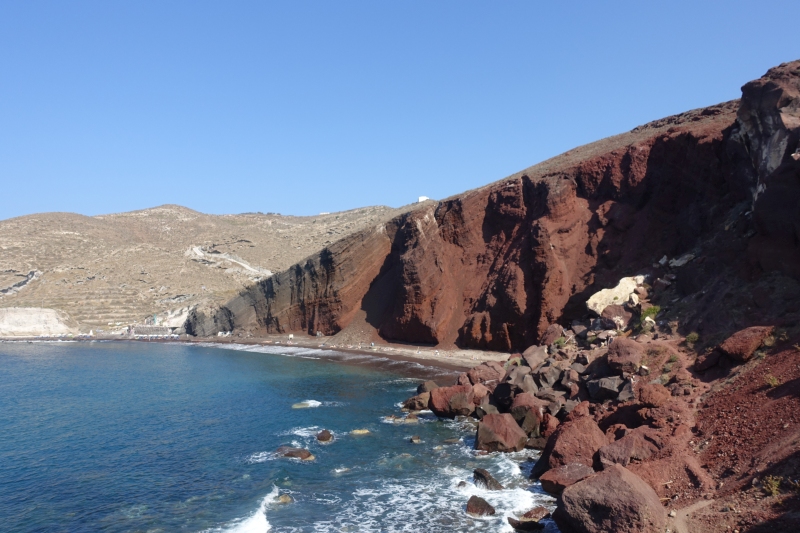 Nea Kamini: its un uninhabitated volcanic island around 1,5km off the coast of Thera and has still some active sulfur vents. The different boats bring you to the harbour and then you have some short tour and later also time for yourself to explore the island and follow the marked paths. The highest point is around 125m high and it´s advised to bring enough water and also proper footwear. Many different operators and you can go for very fancy cruises as well, we chose something for around 30€ which included the island and in addition a stop at some hot springs to swim there a little bit as well. Half day trip and worth it!
For reaching the harbour you can either just walk the stairs down or take the cable car. Theoretically there are also donkey rides available but seems more like a rip off for cruise ships.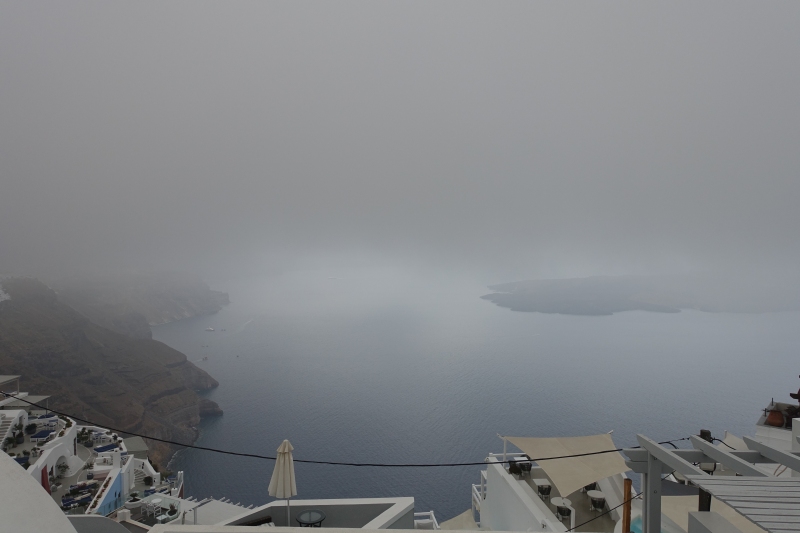 Nea Kamini is the island to the right.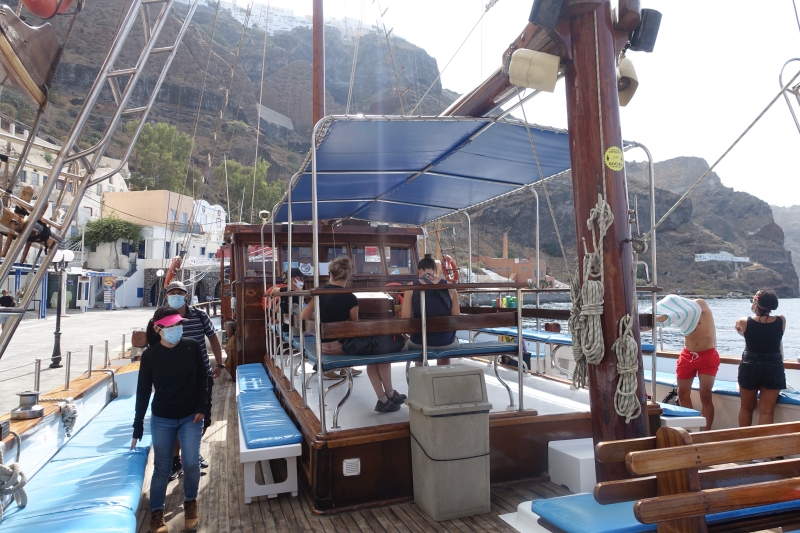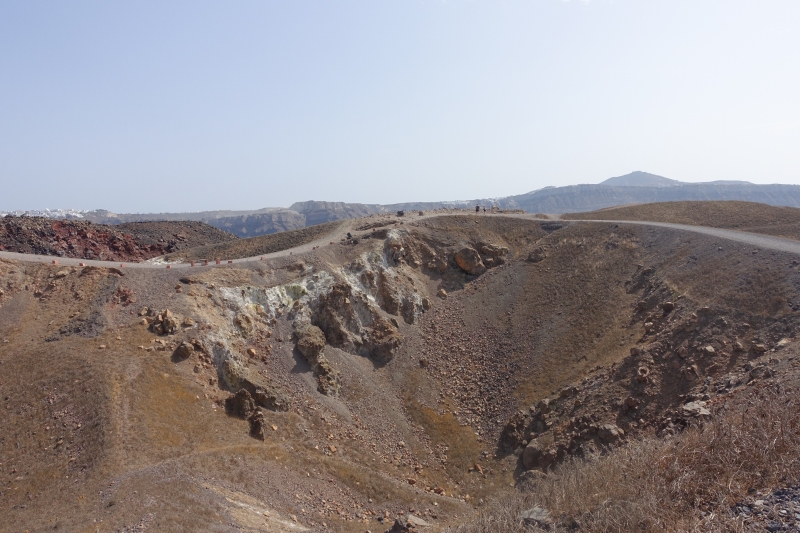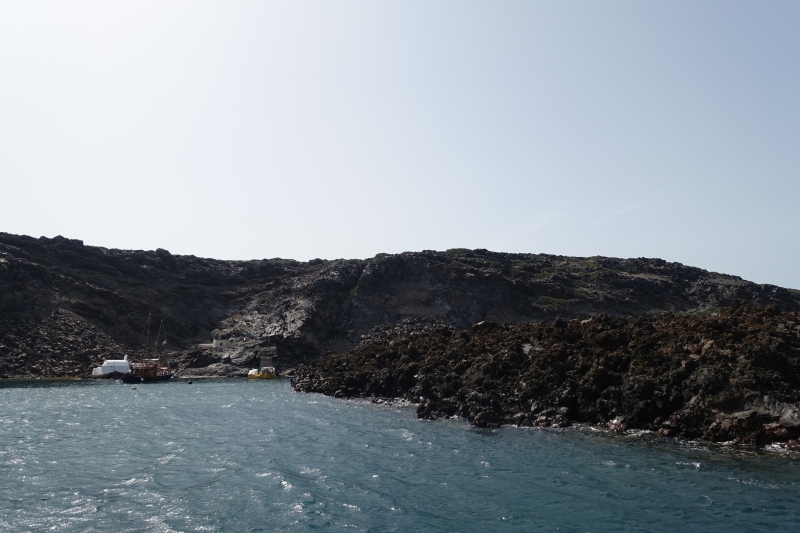 Sunset: as mentioned above combining it with the hike to Oia is a great option. In addition just choosing one of the many bars in Thira is also a nice and relaxing option. We got PK Cocktail bar recommended. Make sure to make a reservation beforehand to choose the best spots in the first row, they charge you some money but all will be taken off the bill.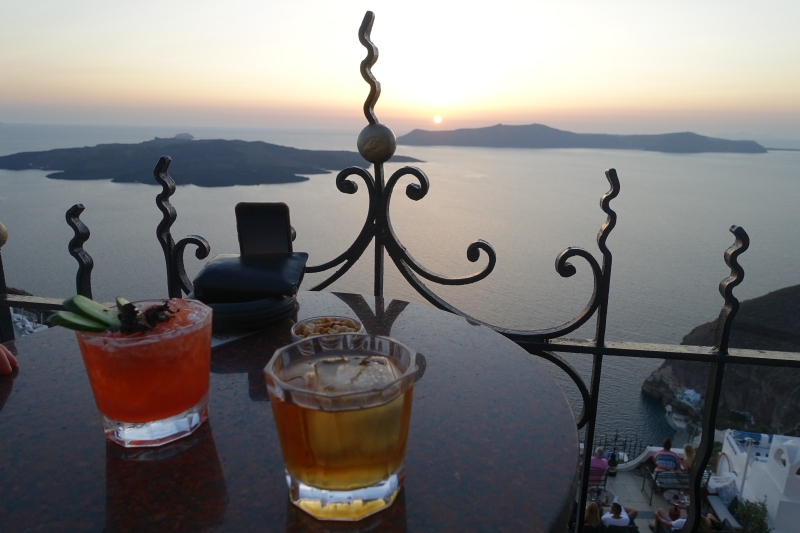 ...
That´s it. Hope some of our trip can help you as well for planning and feel free to get in contact, also if you have better/additional suggestions like the ones I mentioned here.