As my original weekend plans were impossible due to friends being sick, I was searching for some alternative, not too far and well accessible by public transportation. One of the first things coming to my mind was a crossing of the Totes Gebirge (dead mountains) on the Upper Austrian/Styrian border. There are many great options, from just one day to crossing the whole in 5d or so. The original plan with arriving Fri afternoon to Grundlsee and already sleeping at a hut (Appel-Haus) became impossible as it was fully booked out, when I asked 3 days before. No other hut convinced me of making it a 2 night thing (too short or too long distances for the second day, proper sleeping bag required, closed,...), so I decided just to leave Saturday morning for an extensive hike.
Pictures are from mid June 2022.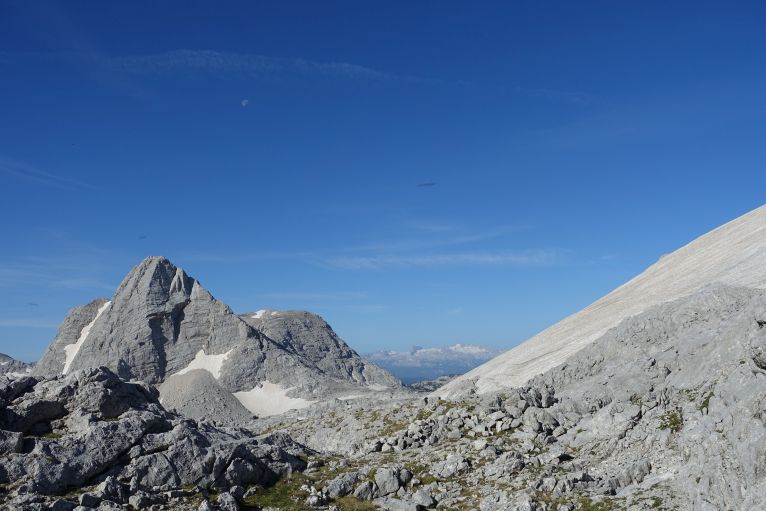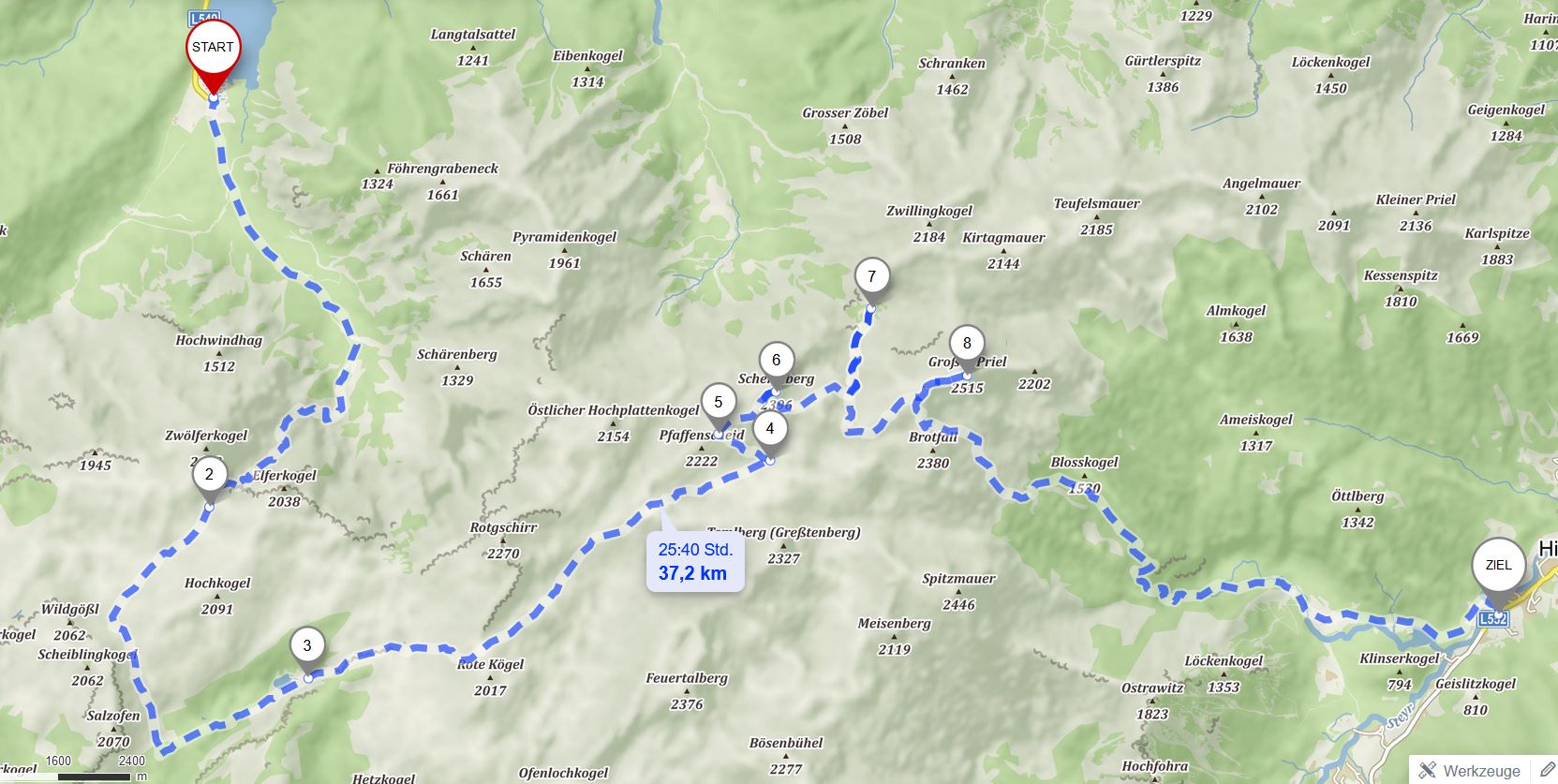 Starting at Almsee, via Grießkarscharte (2), Pühringer Hütte (3) and Schermberg (6) I ended up at the Welser Hütte (7). Second day up to Priel (8)and then down to Hinterstoder (Ziel). Source: mapy.cz.

Transportation
From Linz, I took the first possible train, leaving at 6:21 from Linz and arriving at 8 in Grünau/Almtal (Vienna option would be Vienna 5:55 till 8:55 Grünau). As it is still a long 13 km way to the Almsee I needed another option as the public bus doesn't go that regularly. Luckily, there exist a call taxi, which brought me for 6 € from the station to the lake. Alternatively hitch-hiking should work well too, only one road going back, and a popular lake leads to quite some traffic.

I decided to return via Hinterstoder to make good use of public transportation, and therefore arrive and leave from different valleys. There are buses approximately every hour from the station Hinterstoder Schiederweiher, less regular from Polsterlucke, which saves you around 45 min of walking, but missing Schiederweiher too. Left from Schiederweiher at 15:35 and returned to Linz at 17:05, Vienna would be 18:30.

If you arrive by car, you can either park at the Almsee or, to make it shorter, at the Almtalerhaus. With your car down you need to go from Priel back down the same path, not a dramatic change though but depending on if your interest is more into a peak or partly crossing Totes Gebirge.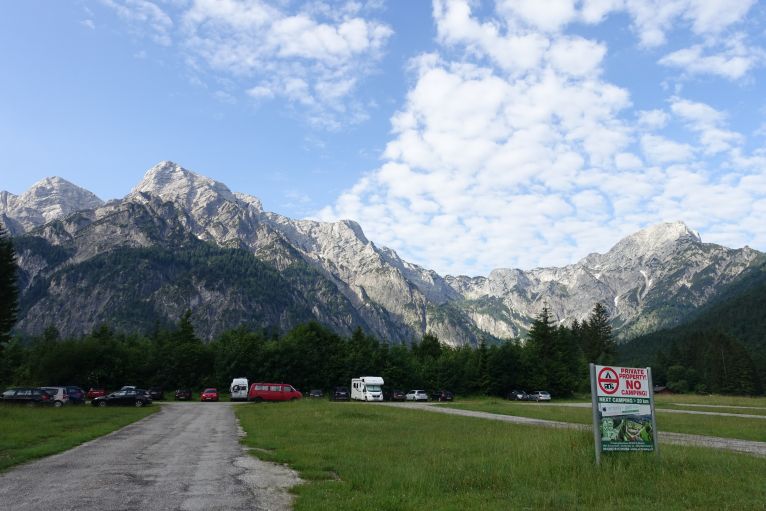 Hike
Day 1: it already starts from the arrival with different options. The shortest up to Welser Hütte from the Almtaler Haus (also possible to reach by taxi). 3h seemed for me too short for a full day hike, so I went to Almsee, also to have more of an experience of crossing the whole range.
The view the last kilometre before reaching the lake is already insanely beautiful, some 1000 m high, rocky walls welcoming you. From the parking lot you just follow the one and only path (and the signs) to the very end of the valley. After a couple of minutes there is a sign on a rock to Schneiderberg, a great option for low season or a half day hike. Ignoring this it is just always back and at some point you will reach a crossroad.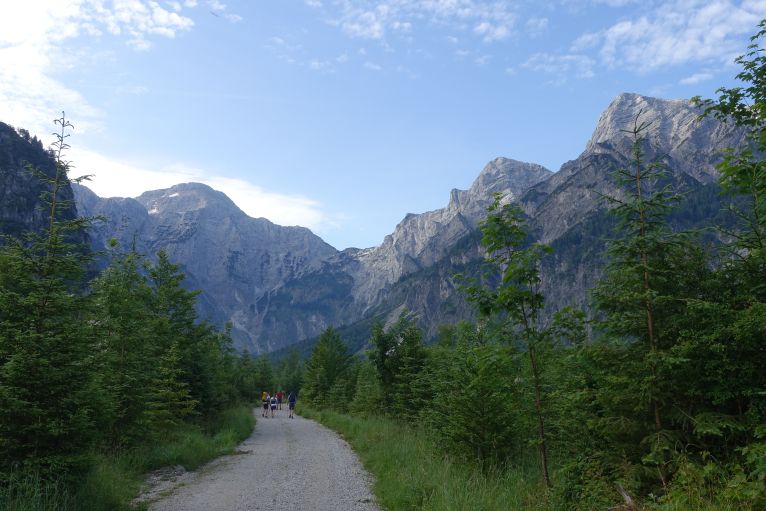 The shorter hike is kind of straight up via the Röll/Sepp-Huber-Steig to the Pühringer Hütte just next to Rotgeschirr, the bit longer version is to the right via the Grieskar. Both options are decent, I went for the latter for having it longer and seeing more different landscape. Knowing only the one now it is difficult to judge, but in my opinion it was worth the extra mile as the landscape was quite different to everything I saw later: more green, less snow than on the central plateau.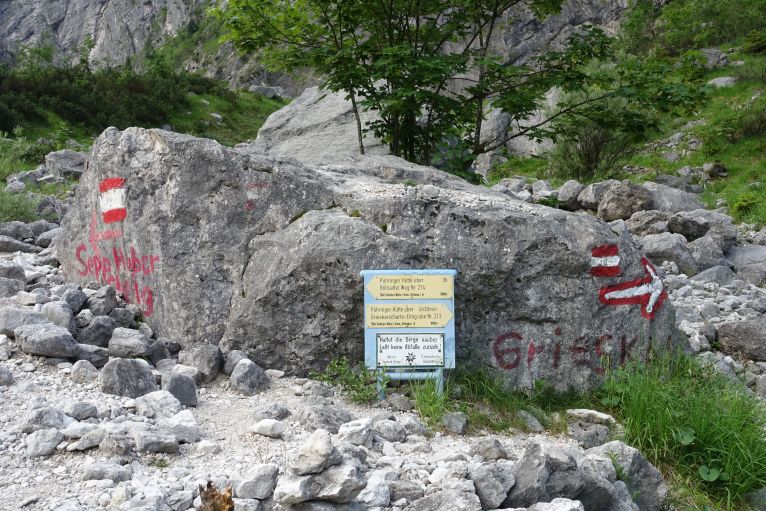 Crossroad, where to decide, which path to take uphill.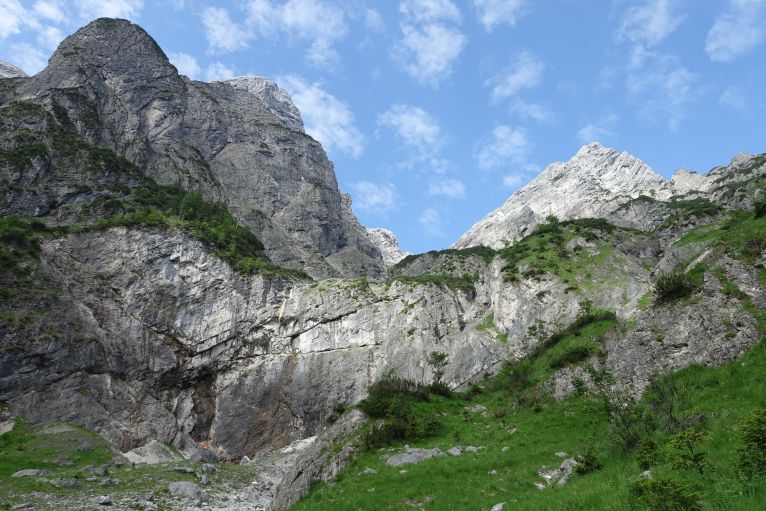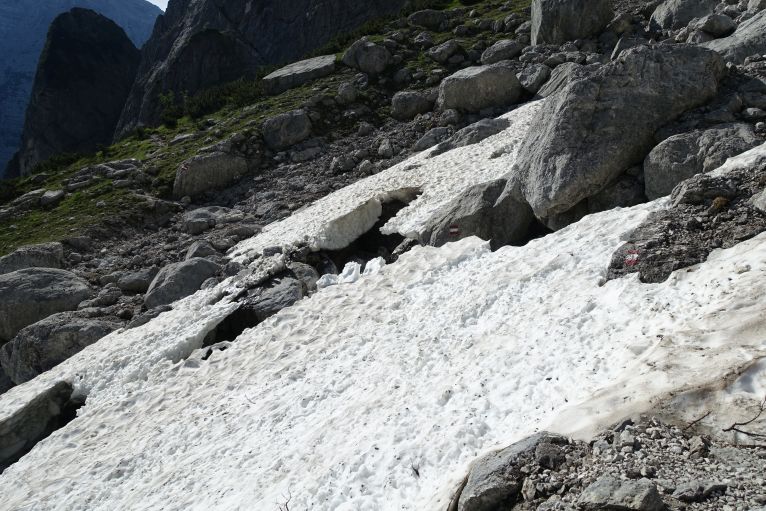 Be aware of snowfields over rivers, can be quite hollow underneath and easy to break through.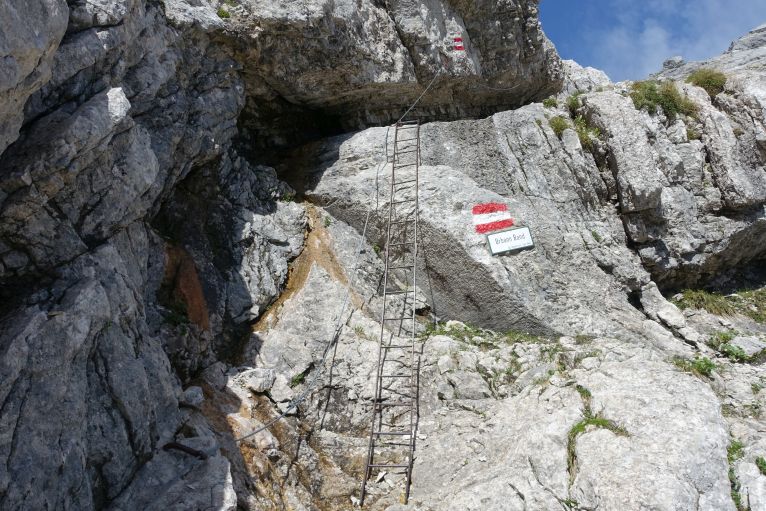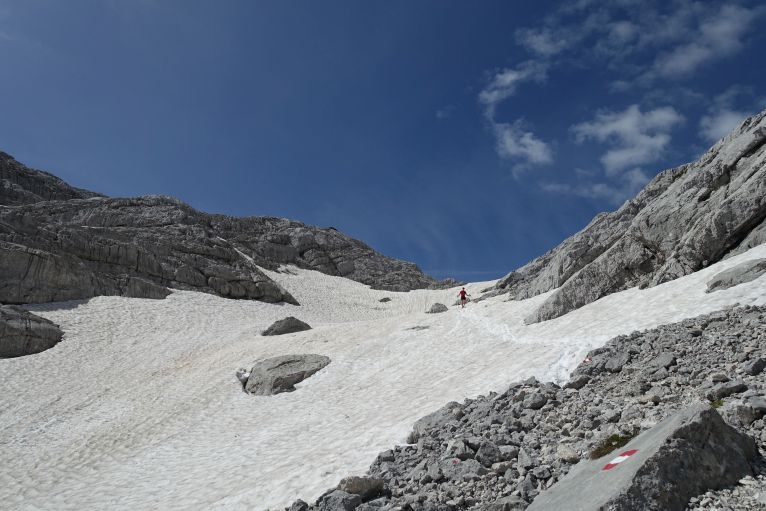 The first longer snowfield to walk through just before the saddle.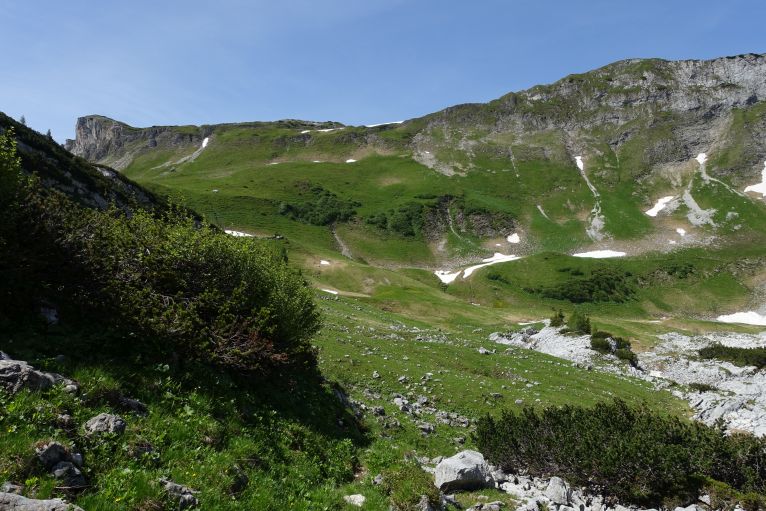 This part of the Totes Gebirge is way more green than the central path, great mix of landscapes just within an hour of walking.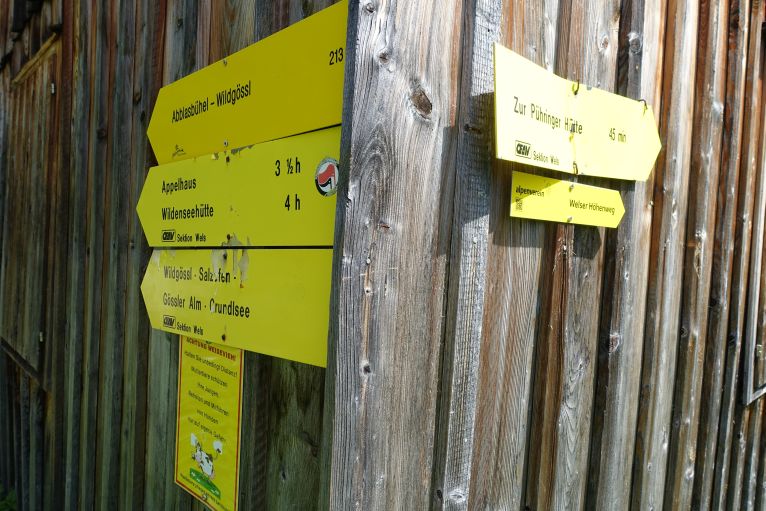 After exactly 4h (it's marked with 5.5h, but I was quite fast) I reached the Pühringer Hütte, my Austrian soul was quite happy to get lunch straight at 12.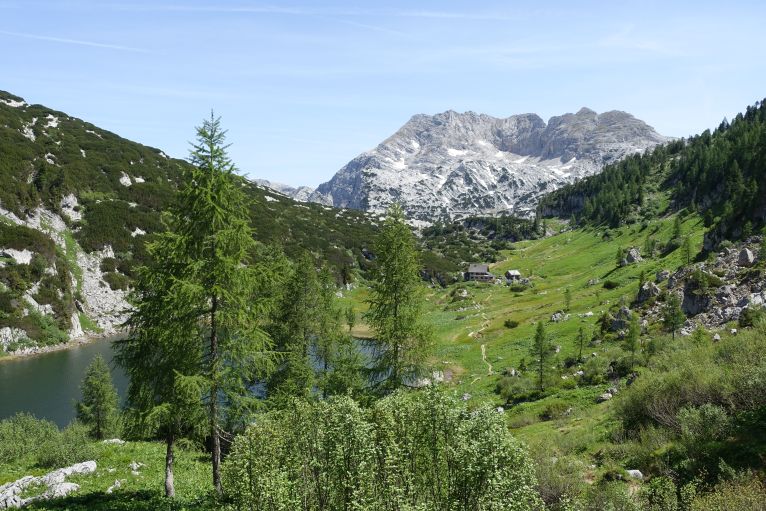 The Pühringer Hütte very nice next to Elmsee.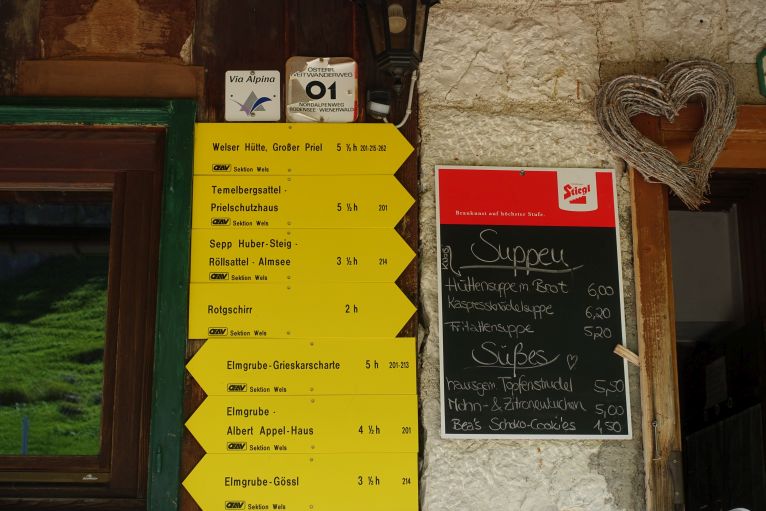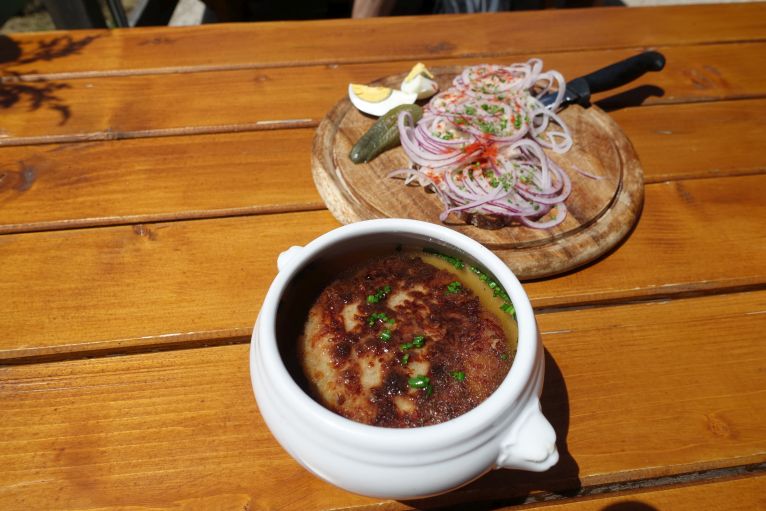 My lunch: pressed cheese dumping soup/Kaspressknödeksuppe and greaves lard/Grammelschmalz bread.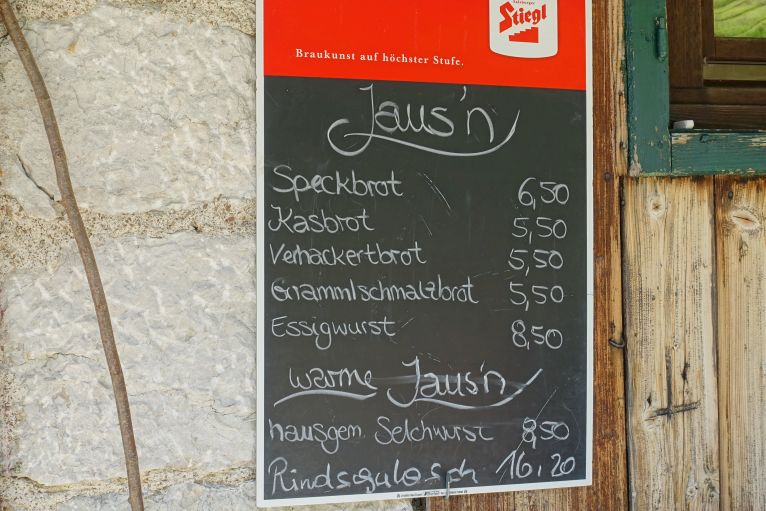 From now on it's a 4h hike to the Welser Hütte via a desertish-looking high plateau of karst, as it can get confusing in fog with only rocks and hardly a path, there are red white markings every few meters. On a bright blue day, of course not needed at all, but help for orientation is always good. During the whole day there was hardly any water available, neither shadow, so make sure to bring enough and refill at the huts. I had 2.5l for a day with 30 degrees in the valley and with drinking in addition in the huts it worked well.


Nearly the whole day was without phone connection, perfect area for proper digital detox tour as there is not even the possibility. Pühringer Hütte showed a spot, where it apparently worked. Surprising to me, not even on summit of Schermberg was a connection.


The big central karst plateau, some mountain pines but mainly rock and basically not a lot, surprising quite some insects.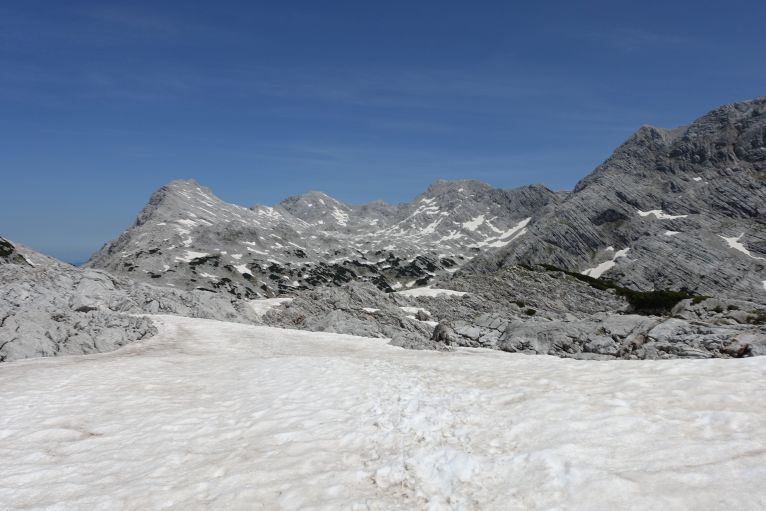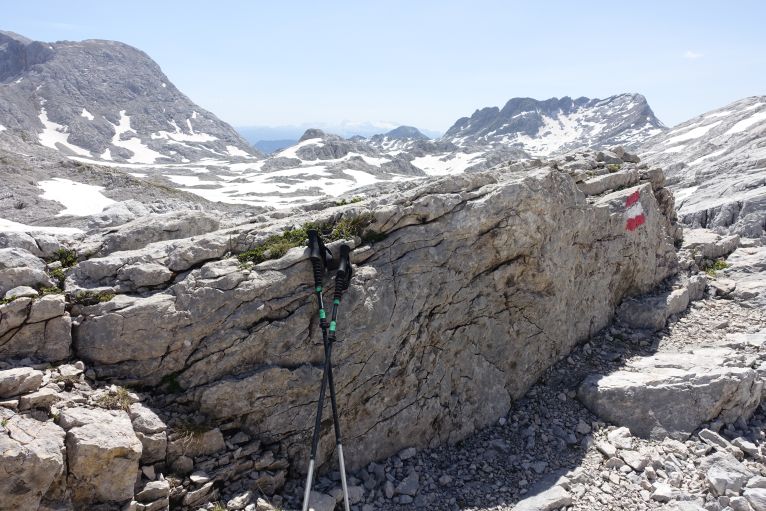 This was the most shadow I had in a couple of hours, was enough to rest a bit before continuing.
At some point there is a crossroad with a sign to Schermberg, my time management worked well and so there was the chance for a nice peak on that day too and going a bit crazy with the vertical meters. Just following the flags up and at the peak my watch showed that I did 2400 m only uphill, guess the majority can just skip the Schermberg to exaggerate a little less.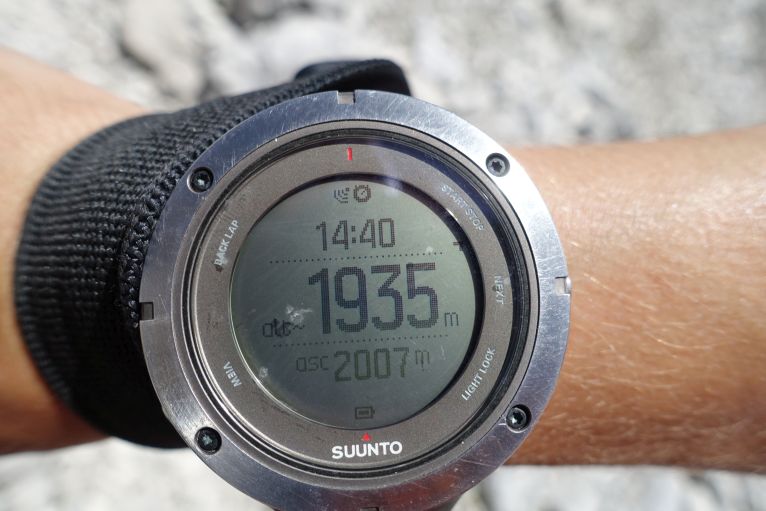 In the back the Dachstein glacier, always a great view.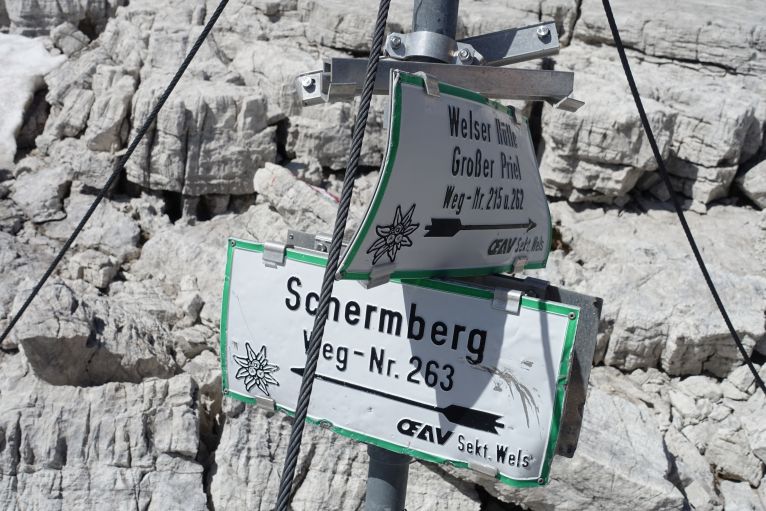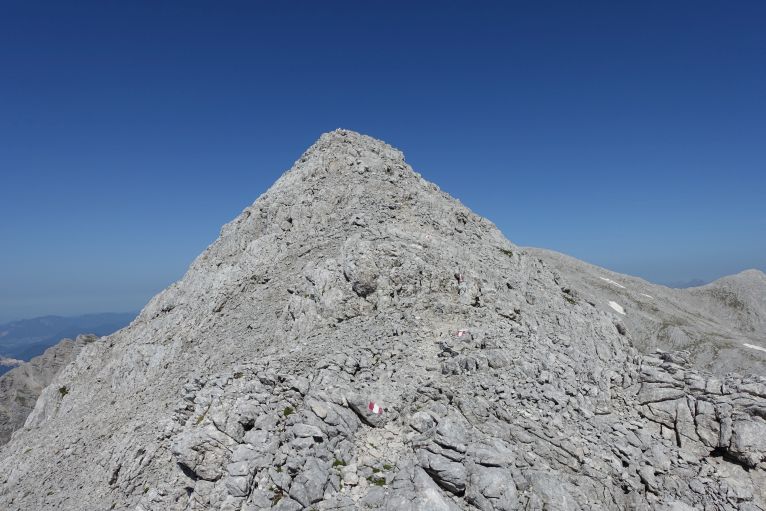 Top: the last meters till the summit, just rocks, rocks and rocks and many red flags for orientation. Bottom: the unusual summit cross.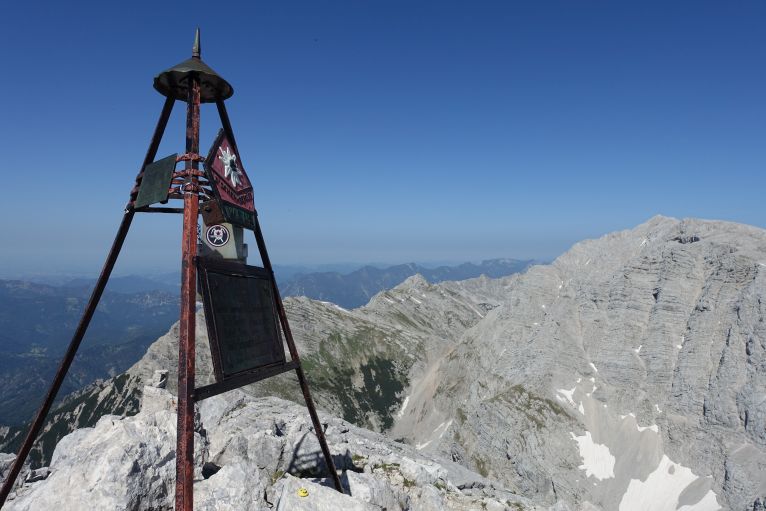 Luckily the path is not the same up and down, so a few meters down the peak there's a crossroad leaving to the left and shortening the hike to the Welser Hütte therefore a lot. Time estimations say that including the peak is approximately a detour of 90 min.
Via many snowfields, with quite tired legs and a decreasing motivation, I slid and walked down. Soon there's the connection with the path to Großer Priel and then the hut is not far anymore, occasionally it gets visible. Just before reaching the gut, some ladders challenge your skills a bit one more time.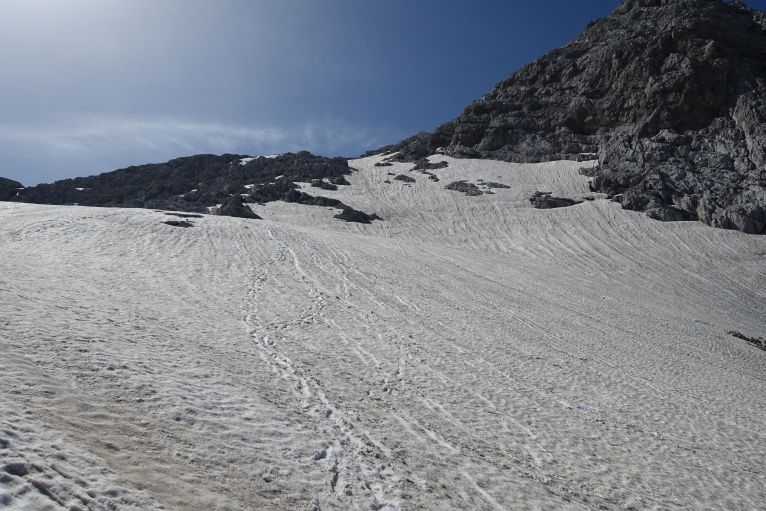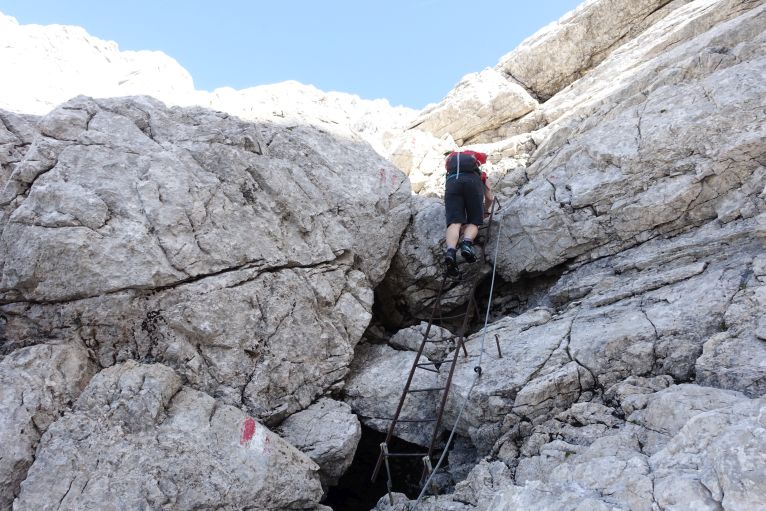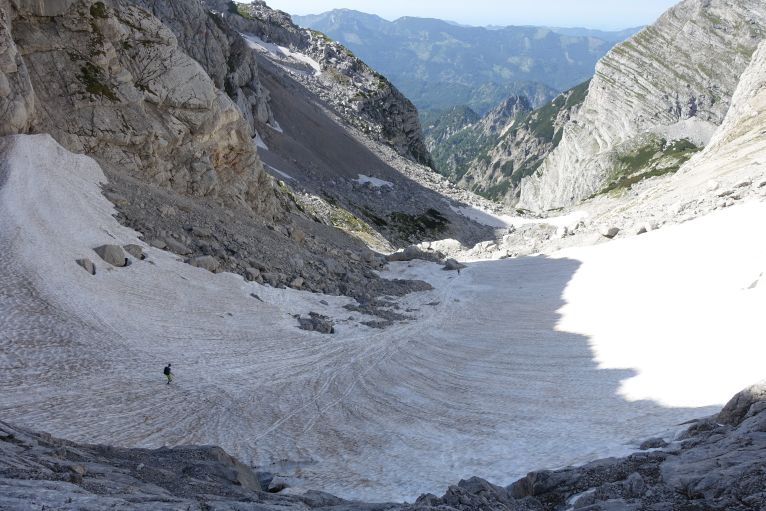 Day 2:Today's plan was not as excessive as the day before, but due to the heat still challenging. Following the same path up, I descented yesterday, after half an hour the crossing for Schermberg, another half an hour till the crossroad between Großer Priel and Pühringer Hütte, turning left and now always up, think impossible to miss. Especially the last meters towards the peak are great as the red summit cross is clearly visible, and you approach it via a not too exposed ridge. Priel is with x! meters the highest peak of the Totes Gebirge and offers, usually as every highest peak, a great view.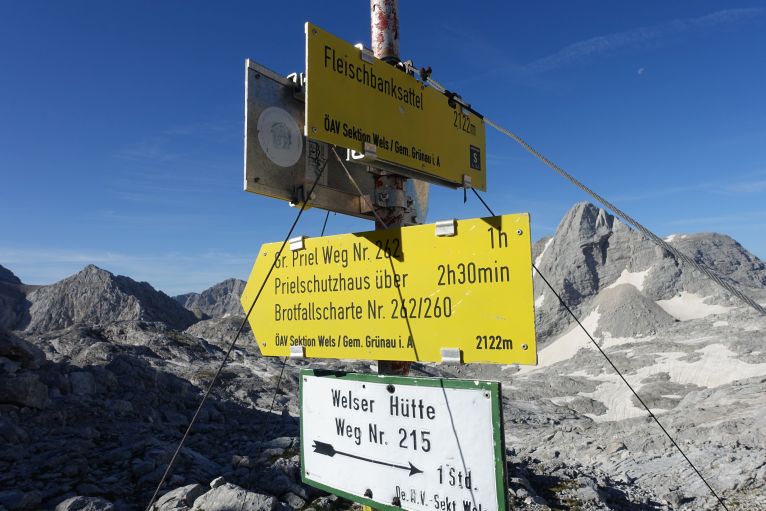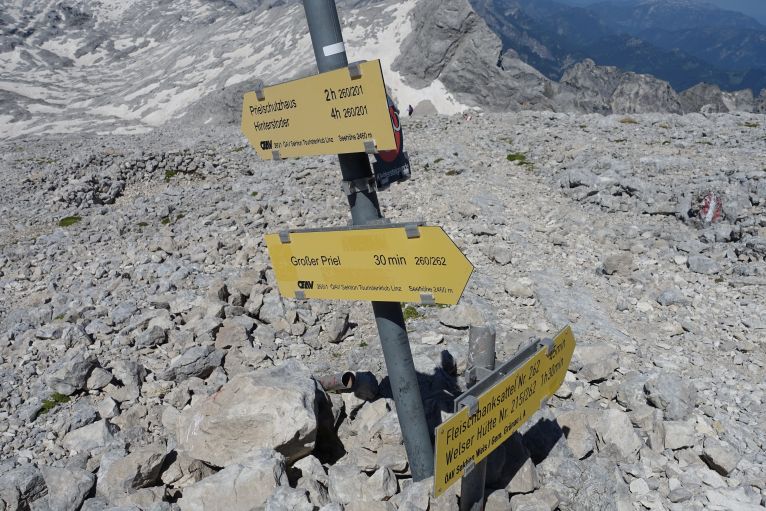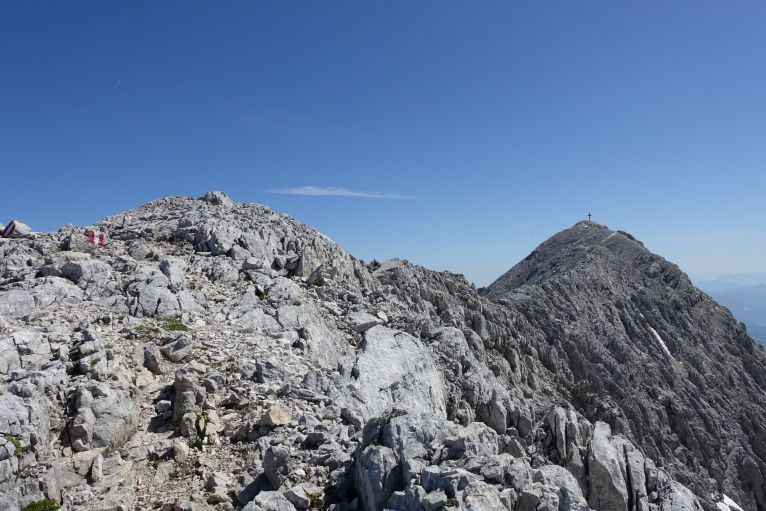 In the last years the peak became more popular due to one of the longest via ferratas, which exist. It is the longest in Austria, more than 2000 m long and covering 900 vertical metres.
Now just all the way back. At a crossroad, the decision between descending to Hinterstoder/Stoder valley and Almtal needs to be done: I went for Hinterstoder to have more unexplored paths and more of a feeling of crossing the mountain range. Shows the advantages of arriving without car too. Around 2h it is till the Prielschutzhaus, there I stopped for lunch.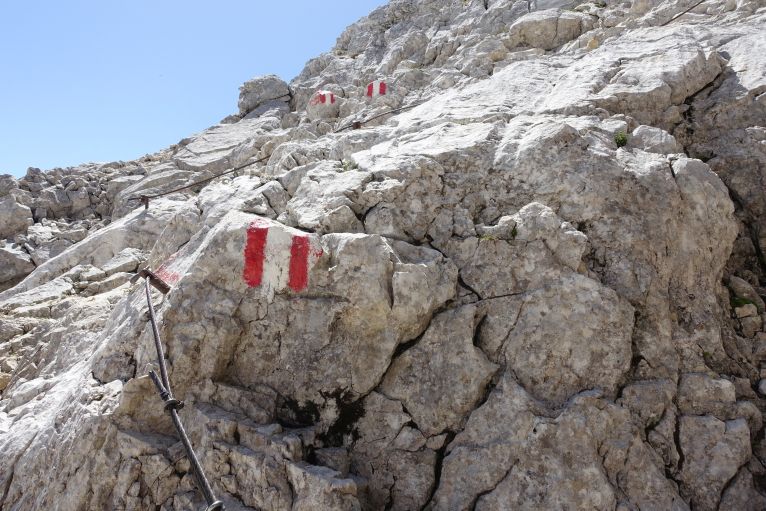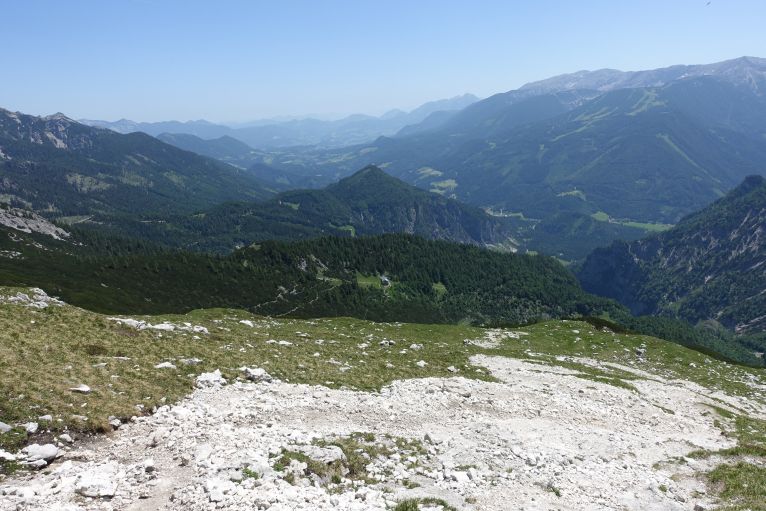 In the middle between the trees the Prielschutzhaus, in the right back the skiing resort Hinterstoder-Höss.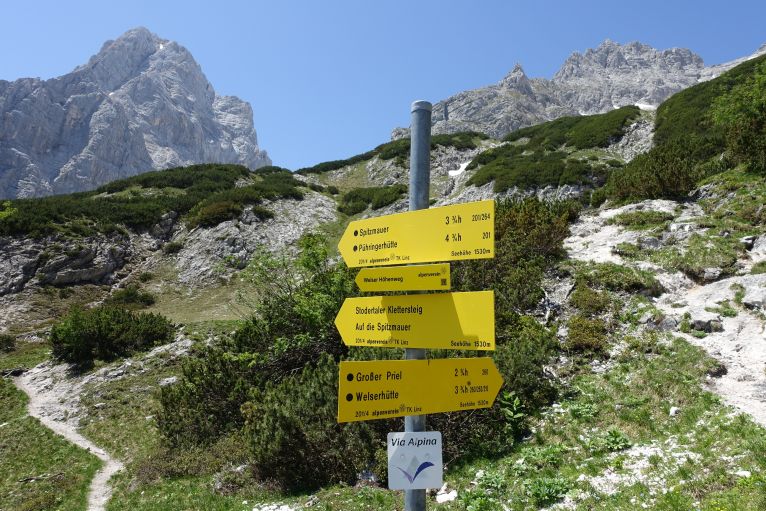 One of the nicest located signs, in the left back Spitzmauer, right back Großer Priel, the cross would be bit further to the right.
From the hut it's another 2h down to Hinterstoder, after 1.5h approximately at the Schiederweiher, some years ago in a TV show elected as the most beautiful spot in Austria in that year and since then being sometimes a bit crowded. From there another half an hour to the car park, from there towards the main road and a bit left to the (visible) bus stop. When I walked by the lake, I realized that this trip starts and ends at each one of the most beautiful lakes in Austria.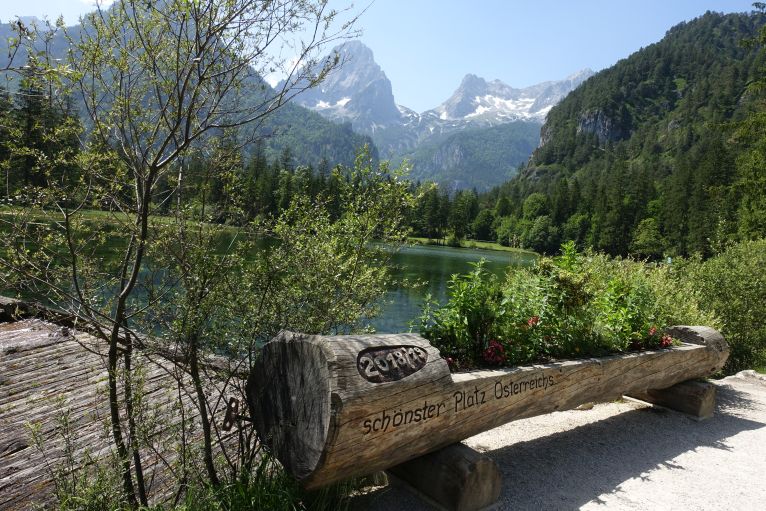 Famous Schiederweiher, with the right weather Spitzmauer is mirroring perfectly, can be crowded, on my day it was hot enough that no one seemed to bother walking around a lake (without a swimming possibility).
Huts
Welser Hütte: in difference to the Prielschutzhaus there's also the sunset visible, my food was good, classic pressed cheese dumplings for 11€. The menu was bit limited because the chef (and female part of the owner couple) was in the valley with a broken leg and sending the soups via the cable car up.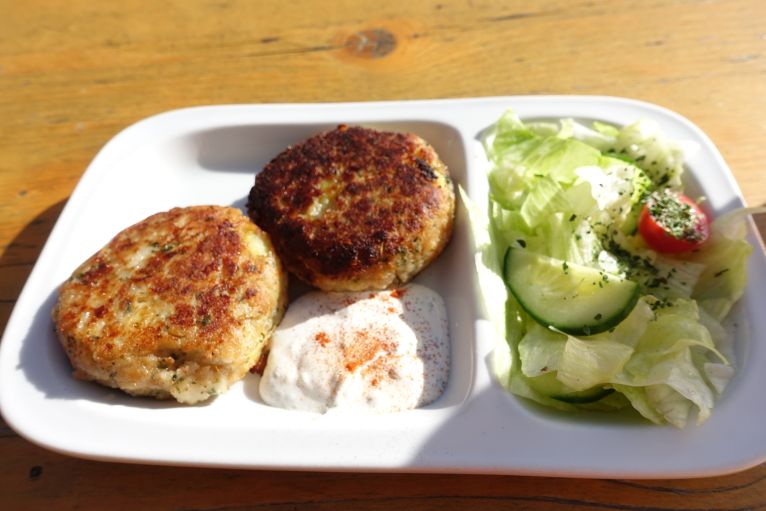 Top: another Kaspressknödel for dinner. Bottom: the beds of the Welser Hütte.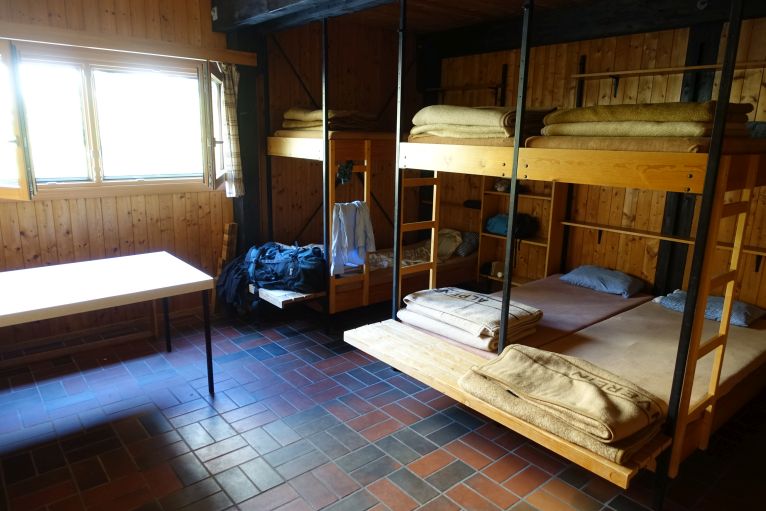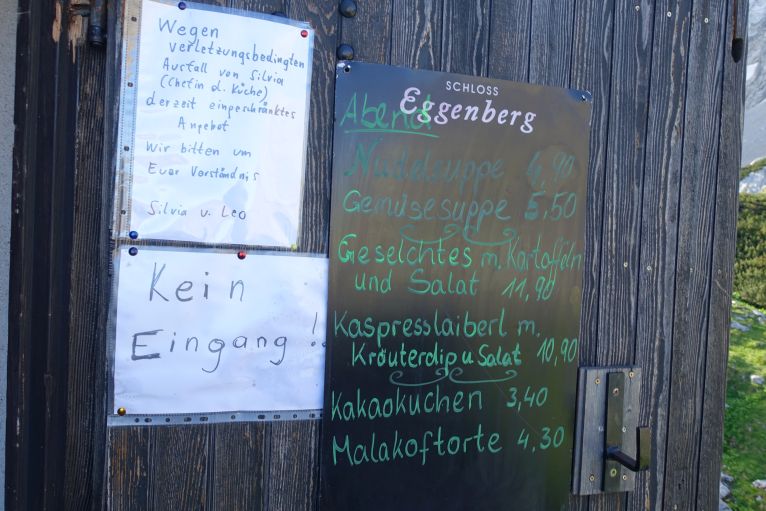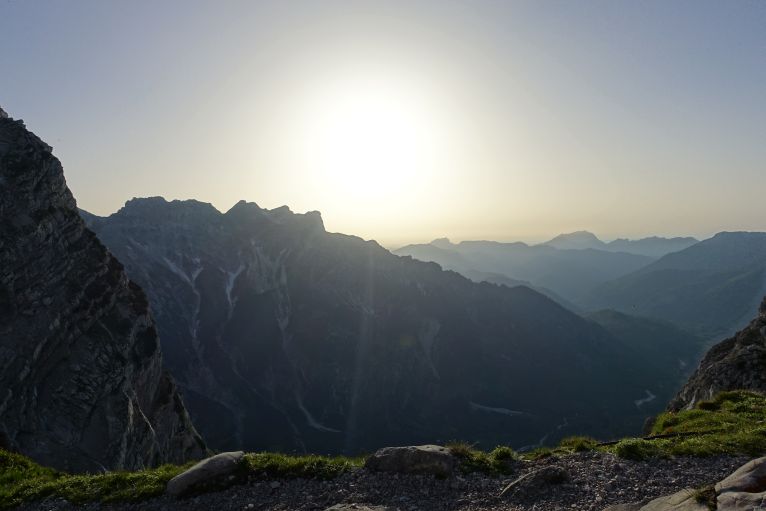 Top: Great view from the terace towards the sunset. Bottom: best views from the toilet window in the morning.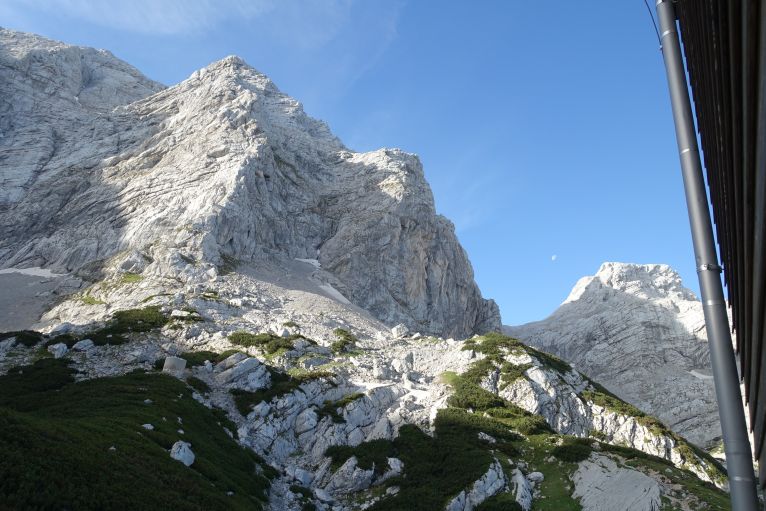 Prielschutzhaus: very nice terrace, Käsespätzle were very good and chef super friendly, amazing view to Priel and Spitzmauer.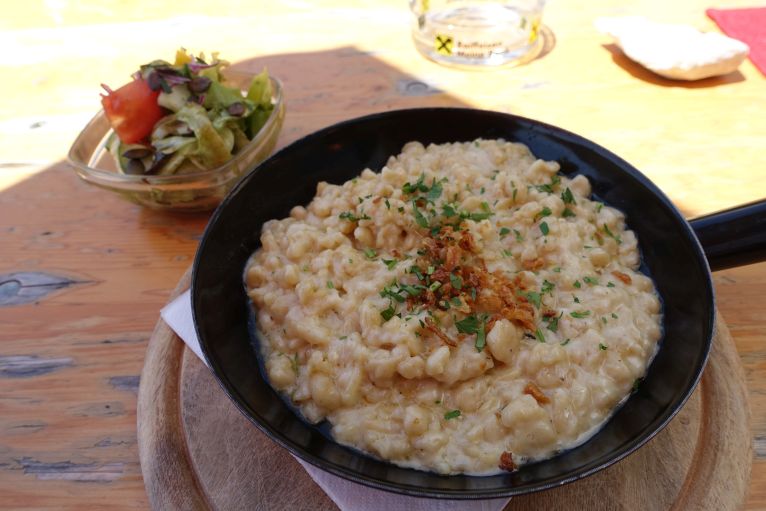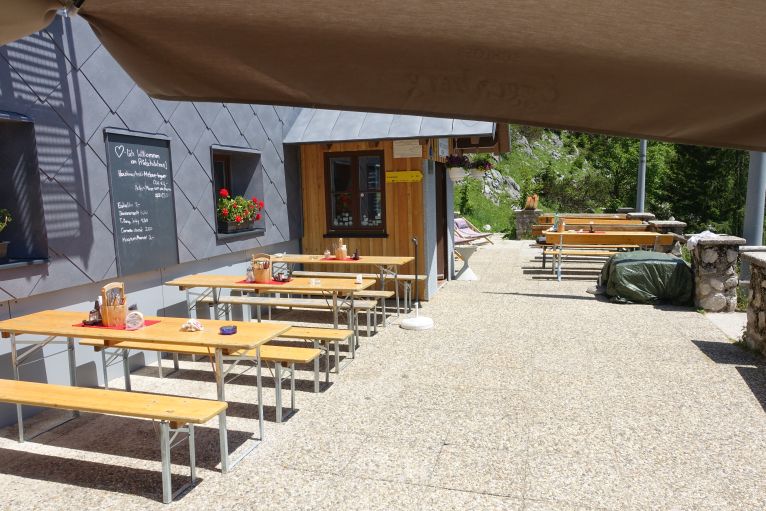 Variants
During the text I tried to give some different possibilities, here a very brief overview, how else it can be done
1 day
Almsee- Grießkarscharte- Pühringer Hütte- Röllsattel- Almsee
2 days
My tour was on day 1: Almsee- Grieskar- Pühringer Hütte- optional Schermberg- Welser Hütte. Day two, Priel and down to Hinterstoder (alternatively just down to your starting point if the car is standing there or if it sounds better for you).
Following alternatives are possible: going up via the Röllsattel and saving 1.5h.
Going up from Almtalerhaus (reachable with the above-mentioned taxi) and having a 4h trip instead of 8h+.

3 days
Via Ferrata tour: 1st day to Prielschutzhaus from Hinterstoder. 2nd day doing the Priel-Ferrata and descending to Welser Hütte. Third day the Tassilo Ferrata to Schermberg and from there either down to Almsee/ Almtalerhaus or Hinterstoder.
Crossing of Totes Gebirge: 1st day from Grundlsee to Appel-Haus. 2nd via Pühringer Hütte just as I did it to the Welser Hütte. 3rd day, as well as me, via Priel to Hinterstoder.

4 days
1st day, from Bad Ischl to Ischler Hütte (2.5h). 2nd day via Wildenseehütte (unfortunately closed) to Albert-Appel-Haus (7h). 3rd day via Pühringer Hütte to Welser Hütte (8.5h). 4th day via optional Priel and Prielschutzhaus down to Hinterstoder.